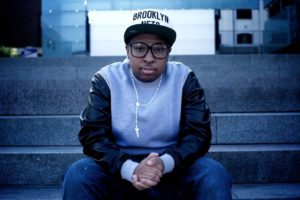 It's no secret that many music fans have grown weary of today's sound. Some may even say there's lost hope in today's generation. Enter rising Brooklyn artist Sincurr. Noting Lupe Fiasco and J. Cole as key influences, the Caribbean rooted upstart blends an R&B sound with throwback New York flare. He recently dropped his debut project "U.F.O. (Unofficially F***ing Official)". So we invited Sincurr to GYBU to share his story and insight on the album in this edition of our "BuzzN" iNterview series.

Firstly Sincurr, congrats on the album release! Let's begin by talking about your musical approach. How would you explain your style of music to our readers?

I'm a mix of content, lyrical analogies, and a bag of fun. I'm like a story teller but not a preacher.
Brooklyn has a lengthy history of birthing some of Hip Hop's biggest legends such as Fabolous, Mos Def, Talib Kweli and Gang Starr. How has your borough affected your talents and what is it about the area that has shaped such strong artists over the years?

I think it's just the overall environment. I've always felt as if I was born in a different era or time, like I've been reincarnated. When I wake up in the morning, I leave my house. Right across street, I see the projects. I live in an apartment which is unfortunately located near such an area. Seeing people waste their lives away on the corner is painfully sad. I feel like I need to speak to reach everyone on the corner all across the world. As long as I touch one, that's all that matters.
You utilize a blend of R&B and Rap into your productions. How do you approach recording a song that features both elements to it? Do you lay the melodies down first, the the verses or vice versa? Please share insight into that with us Sincurr.

Well first I listen to the beat work out the melodies, like the feel of the song. I then work on the verses then come back to the chorus.
Let's switch gears over to the debut release Sincurr. The title is very unique, "U.F.O. (Unofficially F***ing Official)". What made you decide on using such a title? What's the meaning behind it?

I feel like where I am mentally and lyrically, I'm just above where I am right now. The title basically means I'm as official as it gets but just not recognized at the moment, you know?
We can relate to that explanation sir. Let's talk production for a moment. Who did you work with on "U.F.O." and which of the beats is your favorite. Gotta pick one! (Laughs)

I worked with a variety of people such as Teezy from Texas and a producer named Glo from out here in New York.
Wow… which one is my favorite? (Laughs) I think "Good Enough" because it just speaks the truth, which a lot of people in the urban community and the world furthermore can relate to.
Speaking of that, the first single you actually dropped prior to the album was "Good Enough". This song, along with "Sense 2 Me", I feel are your most potent tracks. It's a deep record that forces listeners to think. What was the inspiration behind the lyrics. Also, can you share with us which vocalist you collaborated with? You guys did a great job!

"Good Enough" came from my soul. I was at a point where I took my three year hiatus from music and decided that it was finally ready to share my music. I had dreams and just knew it was my time. All the pain we hold, the lies we live, I just had to speak on it. "Sense 2 Me", now that is just an awakening that I had. It's true what they say, people don't like to see you go for your dreams and progress. I just got tired of bottling things up and that's where both these songs came from. I felt like I had to let it out or I would explode.
With the first single and album out now, what's next? Are you planning to release another single, maybe a video? "Good Enough" could make out for a great visual!

That's funny that you say that I've been thinking about doing one for that track. I probably will do that now. The most important thing for me at this point is doing shows in different states, working on a new mixtape and my first independent album.
Speaking of which, do you have plans of performing around your area? If so, please feel free to share that with us. If someone would like to collab together or inquire about a hook or something along those lines, how could they contact you?

I actually have a show August 16th at 7 p.m. at 96 Lafayette St. in Manhattan. I'm working on shows in other states for each month as well.
If someone would like to contact me, they could contact me at sincurrbooking@gmail.com. I'm pretty good with responding. I love to collaborate with different styles and genres.
Every upcoming artist knows how pivotal their internet presence is these days. Please drop your social here so the people can keep updated with you and experience your journey together.

No problem, here they are:
Twitter: @sincurr
Instagram: @sincurr11
Snapchat: @sincurr
Facebook: @sincurr
Sincurr, it's been great having you here with us today. Get Your Buzz Up was created with rising artists in mind and it's always great getting to know more about new arrivals such as yourself. We'd like to give you the opportunity now to share whatever it is you'd like among our readers. Feel free to give some shout outs to if you like.

Just want to shoutout everyone who has worked with me with on this project such as Trevor and Become A Star Studios. I also want to shout out all the people who supported me and all the dreamers out there. Whatever your dream is, may it come true!
It's always refreshing seeing newly emerging artists not following trends and keeping traditions alive. Although Sincurr may be a freshman, he has some great songs featured on his album and the heart of a lion. Something tells us we will be hearing more from Sincurr in the coming times. Make sure to keep an eye on GYBU for future releases from the Brooklynite and dial him in on social media. It's time to phone home now, until next time!