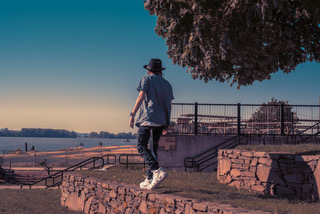 Alec Bolen has now set out on a quest to cross over from a mere Soundcloud artist into the ever so popular digital streaming world. The course leading up to this journey started roughly two years ago, the Oregon emcee has released a total of three projects. Those include "These Walls", "Celestial" (a tribute to Netherlands producer, Moods) and his latest body of work, "Rosewater". The soon to be twenty-four year old has a distinct voice and a delivery that ranges from fast to slow. It's safe to say we can compare Alec's style to the story telling type of Hip Hop that helped propel the genre into notoriety. GYBU was put onto the young riser thru his most recent video, "Autumn to Winter". So for our next BuzzN iNterview segment, we dive into Alec's inspirations, creation process for his albums and what to expect from him in the coming times. Join us in the conversation below.
GYBU: Alec, it's a pleasure having you with us! Born in Portland and raised in Saint Helens, the area has seen a powerful submergence of potent Hip Hop over the past several years. How has the music and culture of the PDX area influenced you personally and as an artist?
Alec Bolen: From Mic Capes to TYuS to Aminé, the PDX scene had inspired me beyond words. Especially because a lot of the artists out of PDX have been nothing but supportive and willing to give me advice anytime I've asked for it. Theres so many great artists coming out of the Northwest right now.
Cold Bones, Third Eye Goonies (comprised of Miidnyte, SON*TAVO, and Nobody), Zach Krause, JVSTN JOY, P1LOT, WoodyBeast, Mike Bars, Astral OG, Myke Bogan, Decent at Best. Some of the amazing artists coming out of the Northwest who are beyond dope.
When we first came across your music, one of the things that stood out most was your voice and flow. It reminded me of a younger Q-Tip. What artists inspired your sound the most? Also, how would you describe your particular musical style?
Wow, are you sure you have time for that? (Laughs)
Well outside of Hip-Hop, I've been largely inspired by The Beatles, Bob Marley, Led Zeppelin, Michael Jackson, Pink Floyd. I could legitimately go on and on all day about artists who have inspired me and how. Music is life (laughs)
Kendrick Lamar, Drake, BIG KRIT, Saba, Chance The Rapper, Eminem, Jay-Z, Mos Def, A Tribe Called Quest of course, The Roots (Particularly Black Thought), Rakim, XXXTentaction (RIP) all are emcees that have inspired me greatly. Again, who has inspired me and in what ways, thats's an interview worth of information all in its own (laughs)
So before we get into your current state of affairs, let's take a trip back into time. After seeing the "Autumn to Winter" video, we started doing some research to get to know more about you and found your Soundcloud page. Let's talk a little about "These Walls". Only four tracks deep, you smashed every song found within. This was also the first time we hear you over a Moods beat for "Rain". This was the dawn of your "Soundcloud Rapper" days. What was your mindset when you went into creating this, your first official project?
"To Pimp a Butterfly" by Kendrick Lamar just had come out and so did Logic's album "Under Pressure". I was already in the space of writing for a project and was figuring out what to do with the small success of my song "Rain" (which I had released as a single prior to the EP). So listening to those records got me super inspired. I wanted to stick to a concept so I stuck with the ideas that surrounded "Rain". Which is based on some real stuff that happened in the town I'm from (Shout out to Hunter Pearson with the amazing vocals).
I also wanted to keep that connection with my town and stick to something everyone could relate to. What I wrote about in that record is my life and upbringing in the environment my hometown provided. How it affected me, the people around me and so forth.
I have to say, "These Walls" was pretty deep! Not long after the release, you followed up that EP with "Celestial". This EP featured all beats from the Netherlands producer and shows your funkier / experimental side. Where "These Walls" was more Hip Hop / spoken word. Why did you decide to rock all Moods beats for this project? When comparing both EPs, they're total opposites of each other. Why is that exactly?
I LOVE Moods. He's legitimately one of my favorite producers of all time. I hope to one day be able to work with him.
Like I said, I'm really into concepts, but after "These Walls" I was inspired to make something a little different from just a story of a person or something of that nature. I started doing writing exercises and got really into object writing and wanted to bring that into my song-writing. I also wanted to make a record that was like a documentary about the universe. So those things just kinda came together. In that record, it's like I'm giving you a tour of the universe.
That whole EP is still one of my favorite pieces of work I've done to date. I was able to write for some one else for my first time on that record. Shout out to the very talented Alonzo Chadwick!!!
"Rosewater" is the new vibe and more so your real first album outside of the four track EPs. It seems as though you took the best elements of "These Walls" and "Celestial" and refined them for this one. You have those spacey type of beats but with a rapid fire, multi-syllable flow. What happened in between the two years of "Celestial" and "Rosewater" that lead you to this point in your career?
The biggest thing that changed within that time I'd say is the structure of my song-writing. It's kinda something that's hard to describe, but I started to understand how to go about structuring my songs in everything from rhyming to cadence and flow to even melody. Every piece of music for me, from albums to singles, are always learning experiences. I feel like everything I do just furthers my progression as an Emcee as well as a song-writer. I'm always growing as far as skill level goes.
"Rosewater", although bursting with colorful wordplay, is a concept album that focuses on love, relationships and the ups of down of it all. Was this inspired by a personal experience Alec? Why did you choose these subjects as the album's focal point?
It's definitely inspired by personal experiences. Every song is about relationships and experiences I've had with women. During the making of this album, I went though this phase of feeling like I wanted to be in a relationship. When it ultimately didn't work out, I decided to channel that energy into making music.
I'm also a very deep thinker as it as anyway so mixed with the creative energy, it just all came out. It was honestly like the songs just wrote themselves. I feel like all my best music comes out that way.
"Autumn to Winter", your first official video from the album and in general. You were able to work in the rose into the video, sticking with the theme of the album and cover art. I've been dying to ask you what the story is behind the video and the album title. (Laughs)
I heard the word "Rosewater" and I, for some reason, just loved that word (Laughs). I don't know what it was, but it just sounded so smooth. I instantly was like "this is gonna be the name of my next project". And again, everything was just coming together. From the beats to the concepts behind the songs, it all just came together and fit perfectly I felt.
As far as the video.. I'll just say this cause you gotta' kinda interpret it your own way. I'm alone in a house I use to share with someone and the signs of the other person being there are still present. The running vehicle, the running shower, the running washer and dryer. All representations of me not previously being there alone.
What's next up for you Alec? Any more videos coming up? Maybe new music or a project announcement? Spill the beans! (Laughs)
We definitely got some more stuff coming for Rosewater! I've been getting an incredible response from this record so I'm definitely gonna be doing more for it. As far as other things.. dropping Rosewater really inspired me, so I went straight back to writing and have another album ready to record (laughs)
It's gonna be called "BLUE SKiES" and I'm honestly super excited to get started on it. More info coming soon!
For anyone interested in staying updated with breaking news or maybe to listen to your prior work, where exactly can we located you on the interwebs?
Follow me on IG, Facebook, Twitter, you'll get all updates on myself and my music through those social media platforms.  You can find streaming and purchasing links for "Rosewater" as well as the link to those social media plugs through https://alecbolen.hearnow.com
You can find my previous work (including my EP's "These Walls" and "Celestial") on my SoundCloud .
On behalf of GYBU, we'd like to thank you for taking the time to chat with us. You gave us some great insight behind the man and artist. Before we bring things to a close, is there anything else you'd like to add in to the convo?
I appreciate you guys taking your time to really check me out and provide some awesome questions for me to answer, this has been a blast.  I just want to say thank you to all the people who have and who do continue to support me, you guys are so beyond appreciated!  And to all the people who are just now discovering me, thanks for taking your time to take a trip into my mind! Stick along for the ride.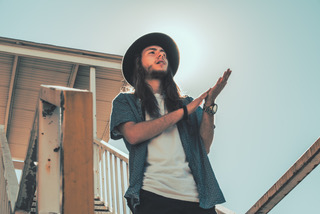 Many may say Hip Hip is a dying art while others may argue that the next gen of artists don't appreciate true lyricism. Whatever the case may be, individuals like Alec Bolen continue to keep the art form alive. All the while driving the culture down a new lane in the universe. GYBU would like to once again thank Alec for speaking with us and wish him success as he continues on his pursuit. Make sure to check out "Rosewater" and stay in touch with him via social media. This has been another BuzzN iNterview segment. catch you buzzers next time!