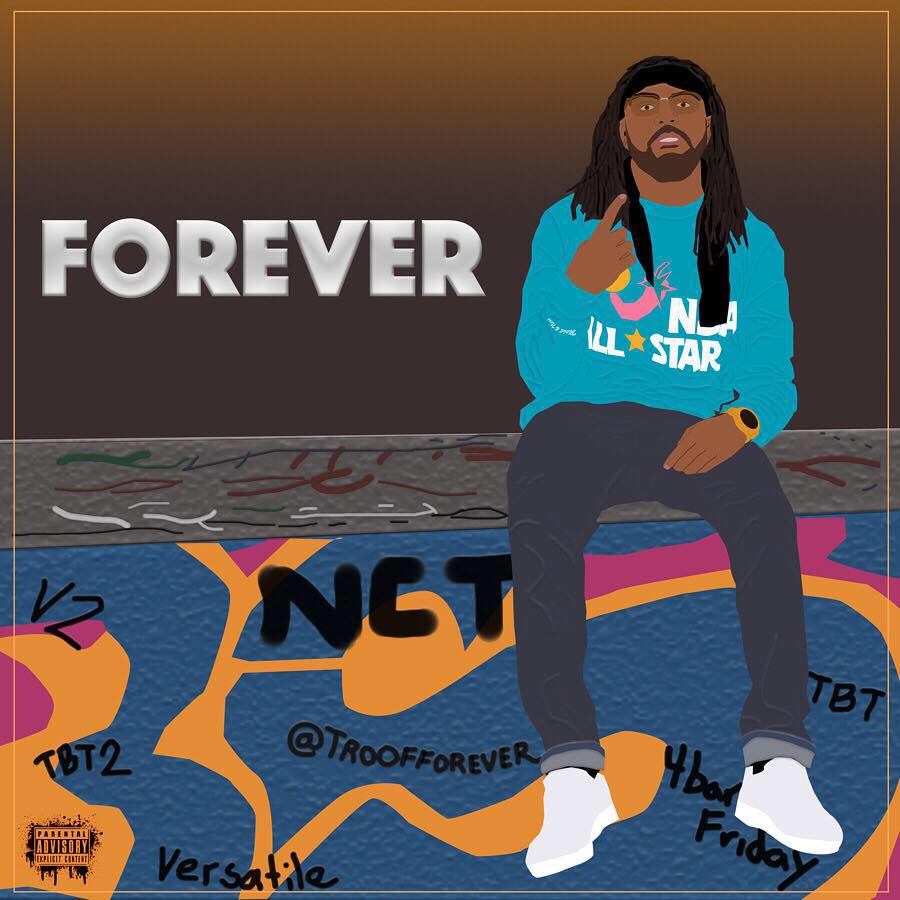 Washington D.C. native TROOFFOREVER has came a very long way since we first felt his presence on the 2013 project, "Versatile". From that freshman entry, Troof has released "Versatile 2" and two separate installments of his "Throwback Thursdays" projects. With years of experience under his belt when it comes to writing and recording, the DMV standout premieres his next outing, the "Forever" EP. Quite arguably his best work to date, Troof presents six well constructed songs that properly showcase his knack for crafting infectious hits. With his mind on his money, the D.C. talent aims at landing his name within the musical history book. GYBU has been a fan of his since we first came across his video for  "Sincerely Yours" in the first quarter of 2017. So it was only right that we dive into each of the EP's tracks and give our opinions on them in the following GYBU album review.
Get Paid
I've now listened to the EP numerous times and this jazzy as hell, Ace On The Beat production has got to be the standout song of "Forever". That's highly evident seeing as though TROOFFOREVER selected this as the introduction track. From first listen, it's easy to say that the DMV resident will draw in comparisons from Curen$y, Fabulous and even J-Cole. The laid back, buttery flow that Troof provides is the ultimate relaxation anthem for all of the thoroughbred hustlers out there. The horn and flute ensemble propels listeners into complete relaxation as the emcee shows what a Kenny G Hip Hop collab could sound like. "Get Paid" is a definite head nodder and an ideal record to kick the project off with.
G.G.T.M.
The topic of discussion once again is getting to the money and TROOFFOREVER sprinkles his distinctive DMV demeanor over some southern fried production courtesy of Mark Henry. Where "Get Paid" finds the spitter delivering a relaxed flow, "G.G.T.M." finds him in go mode. "Sick of being broke? Go get the money. Keep it moving, never fold. Go get the money. Stay up out the way and go get the money. Get up off your ass and go get the money". His no nonsense approach here shows the rougher side behind Troof's mentality. This song also displays the rapper's strong ability to pen some sick similes and metaphors. I'm still picking up lines even after listening to this multiple times. Loved the drums and effected organ parts, especially the tail end of the track.
Gotta Get It Ft Crackem$tan & Treaypound
The first of three songs to carry features, TROOFFOREVER combines forces with Crackem$tan and Treaypound for track three of "Forever" titled "Gotta Get It". As with "G.G.T.M.", this selection carries strong hints of southern sounds. Fans of the No Limit Records era will swear this song was a lost session from Beats By The Pound. As a matter of fact, if we were back in that time frame, I could very well see these guys on one of their movie sound tracks. This is obviously the street record of the EP. However, Troof is still able to keep in his true character and delivers slick talk that would make Max Julien's Goldie character approve.
To The League
Ace Character does a splendid job of crafting a sound familiar to the DMV area. Full of energy but still carrying a smooth swagger to itself, "To The League" is what commercial friendly, D.C. music sounds like. With a name like that, it wouldn't surprise me the least bit if you hear this in the background to an ESPN show or in the foreground of a Redskins, Nationals or Wizards game in the not so distant future. I'm not sure if that's a harmonica sound in the chorus but it's a great fit over the drum programming and thundering bass line. The arp melody in the verses  and the beat change up in the third verse are the finishing touches needed to make this song a big league entry.
Whoa!
Keeping up with the explosive energy, producer Mark Henry makes his second appearance and does so with an incredibly produced instrumental. To even try to verbalize what all is going on thru the beat wouldn't do the audio justice. One thing is for sure though and that is Troof was really feeling this one going in to record. As the beat first begins to build, he starts revving up with a whisper style delivery. This isn't only Henry's second showing as TROOFFOREVER once again looks to NCT member Crackem$tan to join in on the money stacking festivities. Unlike "G.G.T.M.", this record is tailored to a more diverse demographic. Another sub-woofer friendly joint, $tan and Troof form up like a rap ying and yang. The hook is strong, you will surely find yourself chanting "getting that money like whoa" and "out here getting to the bag". 
Sex So Good Ft Whitney Sweetwine
As we previously stated in the album review introduction, we first got put on to TROOFFOREVER via his "Sincerely Yours" video. That song carried a strong vocal feature from Whitney Sweetwine. They now reunite for the R&B infused, female friendly "Sex So Good". This song stands out on it's own and is the only song found on "Forever" that doesn't have money as a focal point. "Sex So Good" IMO is created from the classic late nineties / early 2000's R&B / Hip Hop formula. After further listening though, it's deep Go-Go roots can be felt. It gives of slight vibes of another DMV favorite, Wale. Off all the songs featured on "Forever", "Sex So Good" carries all the right ingredients that make up a global hit. I'd love to hear an EP from these two if they can find creative spark they found on their past two encounters. Spin this one when your enjoying a night out with your boo.
"Forever" has absolutely no filler material whatsoever and that's something I can appreciate from an artist. Troof mixes rap, Hip Hop, R&B, Go-Go and elements of international music into his songwriting. His beat selections also combine these genres perfectly. Although five of the six songs have a strong focus surrounding making money, never is this topic done so in bad fashion. TROOFFOREVER's sly sound and top shelf metaphors makes this EP a project worthy on playlisting and streaming for some time. My top three songs of the album in no particular order are "Get Paid", "To The League" and "Sex So Good". GYBU has been speaking back and forth with Troof and can share that he plans on dropping a video for "Get Paid", so stay tuned for that. While we await for that, go ahead and fully indulge in "Forever" via Soundcloud, making sure you repost and add it to your own playlist.