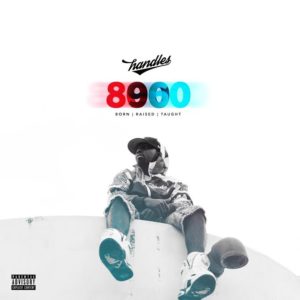 We first caught notice to Virginia-based emcee Handles here at GYBU around 2012 with the release of the DJ Suss One-hosted, "Done Thinking". Even back then, he was repping Hip Hop to the core. Fast forward five years later and the coastal native blesses us with his latest audio effort, "809060".
Containing thirteen tracks in total, Handles looks towards an assortment of producers to help bring his concept project to life with OSYM at the helm of it all. The title is symbolic to three specific decades that each holds it's own uniqueness to the artist. Those three points focus on the era he was born in, a time when Hip Hop was it's purest and the critical time frame of the civil rights movement. With a limited amount of guests including Skyzoo, Handles aims to carry on the tradition he's been doing since he first touched base here on our site.
With that said, join us as we dive head first into "809060" below.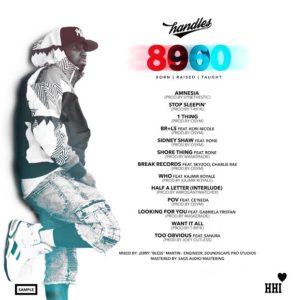 "Amnesia" starts the album off. Synethestic leans on a fast paced drum selection that give this particular song an overwhelming sense of urgency. As the title says, his aim is locked on letting listeners know he never went anywhere. Handles holds no punches as he effortlessly expresses his self thru verbal intercourse. Don't be surprised if you need to hit rewind a few times as the wordplay is crazy enough to leave you in a state on amnesia. This was a great choice to kick the project off with.
Following along the same lines as it's predecessor, the T-Rifik-produced "Stop Sleepin" keeps the naysayers woke over the mafioso-sounding brass sections and crashing cymbals. The sample may sound familiar as it was first made famous by Jay-Z. With the way Handles juggles words here, how could you not stay wide awake?
With his presence now felt ten fold, Handles leans more towards the sixties era for "1 Thing". Stuttered percussion and the gentle piano chords of OSYM soar over the emcee's vocals. The song's main focus revolves around police brutality, the media's shock methods and the continued violence in America. Thru all the mayhem he asks just one simple question, who's joining him in making a positive impact in the community?
The album's first guest feature is from Kori Nicole on a second OSYM production, "BR+LS". One of the album's more commercial sounding singles, the title is an acronym for break it, roll it, light it, smoke it. A sure hit among marijuana enthusiasts, the Virginia artist also uses weed references to compare how high his music can actually get you.
Once the smoke clears, we visit the eighties era on the Run DMC sounds of "Sidney Shaw". Sampling the drum break that made "Peter Piper" famous, we get treated to the first of back to back appearances from Rone who sounds like a new school John Legend. Upon further listening, you'll hopefully catch on to the song title. Sidney Shaw was a character in the 2002 movie "Brown Sugar" played by Sanaa Lathan opposite of Taye Diggs. Google the movie and it will help shed light on this tune.
Maskerade whips up some funk for "Shore Thing" where we find the Eastern Shore lyricist being subjected to a traffic stop and speaking about his basketball dreams with Rone making a second appearance. Handles uses b-ball terms and expresses life as he knows it from his neck of the woods.
It's now time for Handles to strap up his laces alongside Skyzoo and set out to "Break Records". With Charlie Rae providing the subtle chorus, Handles finds himself in a relay race that lands him at the finish line. These two make a great combo with H leading off and passing the baton to Skyzoo for the second verse. An added clap in the third verse really adds to the depth of the production end here.
With Kajmir Royale on the beat, Handles slips back into storytelling mode for "Who". We find H in a scenario where he meets a woman at an art gallery. A convo sparks up and the lady seems to be interested in Handles. As the story plays out, a stark revelation is revealed that the woman in fact has a man. The emcee ultimately says one of them has to go. This leads into "Half A Letter (Interlude)" that reveals the outcome of that ultimatum. The Virginia artist then goes into an explanation of why the decision she made was the best one. I love how he combined these two songs together to tell this story.
"POV" features Ce'Neda and an emotionally driven piano number by OSYM. For this song, Handles offers up his outlook on life and his music career from his point of view. It's a starving artist's theme song and explains the thought process of an emcee.
Continuing to deliver radio friendly records, Gabriela Tristan joins Handles for "Looking For You". Known mostly for his lyrical prowess, he steps out of his comfort zone for this album and creates songs such as this to appeal to the ladies.
Things get back to bars with the T-Rifik-produced, "Want It All". Full of organ riffs and an assortment of drums, this record is bursting with adrenaline and is a perfect workout song.  He also revisits the nineties and thumbs thru a list of artists he grew up listening to. Handles has been in music for some time now and "Want It All" is the perfect way to sum up his run this far. The chorus alone will have you ready to chase after your goals.

Handles teams with Sanura for the last track of "809060", the  Joey Cutless-produced, "Too Obvious". He offers up life advice and contemplates all the hard work he's put into his career so far. To better explain things, check out the video he dropped for the song below.
The Eastern Shore native does an outstanding job of piecing this project together. He's able to keep his lyrical stance all throughout the album. Plus with help from the talented singers featured within, he's able to make most of the tracks commercial friendly which is something emcees seem to struggle at doing. The three era theme is also carried out thru the entire album and the more you listen, the better you understand his mission behind it. My top three tracks are "Amnesia", "Break Records" and "We Want It All". If this is the first time you're hearing Handles, this is the album that perfectly defines his mindset and character.
Listen and purchase "809060" down below.