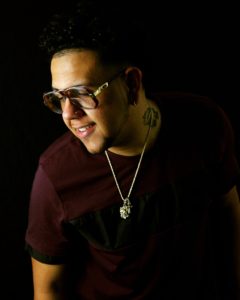 Hey Johnny Gucc, for those new to the name, let the readers know who you are and what you do.
I'm an Artist/SongWriter from Elmhurst Jackson Heights Queens NY. I make music for me and the family.
How did the name Johnny Gucc come about?
For years I played around with several names until I came across Johnny Good. After a smoke of the finest weed in Queens my brother Carlos said "its gucc! Johnny Gucc!" Fast forward a couple years here we are.
Who were some of your musical influences on the come up?
Eminem and 50 Cent are 100% responsible for my initial look at the hip-hip/rap world. Neighborhood friends then put me on to Mobb Deep, Nas, 2 Pac. A bit later my ears opened up to Chris Brown, R Kelly, Drake, basically anything with a pulse and melody.
When did you know music was going to be a career for you?
I knew music was it for me early in highschool. It just felt like such an exhale everytime I rapped, I could'nt see myself doing anything else. It was not until mayb 
6 years later
, that I actually began to take it serious and move around with it.
Lets talk about the new single 'Babe Ruth', take us through the concept and what you want fans to take away from listening to it.
Babe Ruth is a playful approach at a bad one that nobody had a chance with. Its a lyric that shoots down that imaginary pedestal we all set each other on. I want my listeners to pull confidence out of this record, to bust a move and imagine society's wieght lift for a few minutes.
Is 'Babe Ruth' a single to a specific project? If so tell us more about it.
It will be part of a project, specifics are still a bit unclear but this project will reveal another side of myself never seen before.
What are your promotional plans for the single?
We're aiming to up the promotion, way more then past projects. This is the first Gucc record that will sit easy in a club. We plan to take a more visual approach and bring it to a party near you.
What is a Johnny Gucc stage show like?
 A show with me is an energy rollercoaster. We start by just meeting each other, then we jump into some excitement. With adrenaline pumping and goosebumps popping it's always a story cleverly told. A show with me is very direct, we can shake hands, have a drink, laugh, sing, and network.
What's next on the agenda?
Next on the agenda is a big visual for Babe Ruth and more music.
Where can we find you online?
By the grace of god I'm easy to find. Johnny Gucc eveything, very googable.
Instagram/Twitter : Johnnygucc_ab
Any last shouts?

I wanna shoutout my beautiful mother Luz. My beloved brothers Carlos, and Gonzo. My day ones Jp, D, Gav, Aus, Ak, and Juelz. My super talented team Kaydence and Abso, I love you all for believing thank you.