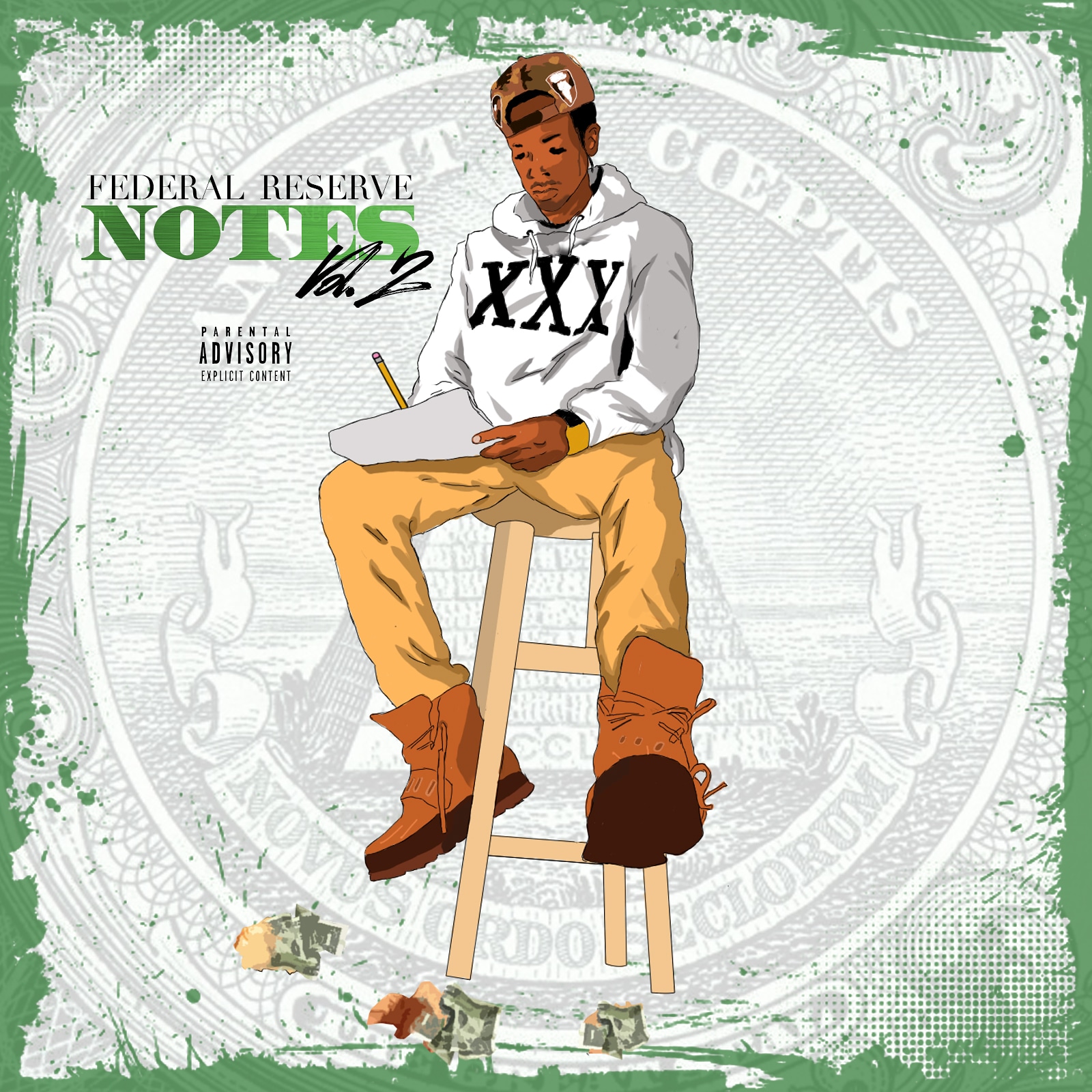 Since late 2015, GYBU has been closely following New York lyricist, Francheyez. We featured a slew of singles and videos from him since that time. Francheyez has a knack for spitting witty punchlines and delivering over the top metaphors. Aside from that, the Bronx emcee gives us deep life stories. He can hop between Rap and Hip Hop, creating both new and old school flavorings. His latest project, "Federal Reserve Notes Vol. 2", displays this explanation to the fullest. Featuring thirteen tracks in total, listeners are treated to a slew of original production and a few remixes. Being fans of his music, GYBU had to dive into the album and shed light on some of our top picks. Read all about it down below.
Man Of The House – The introduction track and for very good reason. Franch came up in the same Bronx streets that have become infamous over the past several decades. With time comes maturity, kids and responsibilities. With New York still on his mind, the lyricist steps to the mic and unloads his mentality on this cut. Over a eerie, reversed instrumental, Francheyez spits ferocious bars. The kind of bars that made the Rotten Apple a staple point in this thing we know as Hip Hop. This is grown man music, a must here for all the o.g.s.
Nightfall – Another of our top picks, "Nightfall" was previously featured on GYBU when it debuted back in the summer of 2016. As previously stated in the review introduction, this is one of Francheyez' deep life story tales speaking about loyalty, his deceased "brother" and what occurs during the nocturnal hours. The song doubles as a tribute piece for those lost to the plight of the late night city life. In the chorus he raps, "when the night falls and the slugs fly / bet a thug cries over lost lives / when the night falls I'm on every grind / trying to get by like a drug high". His metaphors are equally as sharp with lines like "I'm squeezing off til I have arthritis" and "don't have the same cards, I'm playing solitaire". The instrumental cuts like a razor sharp knife against your soul. This is one of Francheyez' best tracks IMO.
Pain Release – Of the thirteen songs on the mixtape, this record is the most lyrically diverse. The video for the single was premiered via Grind Mode Cypher's YouTube page. In case you weren't yet aware to Francheyez, the artist has been putting in serious work with the GMC brand, appearing in numerous cypher videos. "Pain Release" is as conscience minded as we will see from the NY rapper on the mixtape. The title basically describes what to expect from the song, unloading feelings. From inner city violence to Trump to simply getting shit off his chest, Franch does a splendid job of pulling us into his mentality with this one.
Doing Bad – If this isn't Hip Hop enough to you, you may need to revisit what the genre actually represents. Over a beat that would make Pete Rock and DJ Premier nod like crazy, the spitter does what he does best, drop highly addictive verbiage. We loved the song but once we seen the official video behind it, we had to feature it on the site. Posted up alongside some dope graffiti murals and some incredible dancers, a trenched up Francheyez completely spazzes out with tongue twisting flows. Lines like "my crew exlax / bitch I'm with the shits" and "making movies like I'm "Psycho" / Alfred Hitchcock". For fans of clever lyricism, this one's right up your alley.
Another solid release from Francheyez indeed. This won't be the last time we hear from the emcee as he has two more projects releasing this year. One is with his group titled ""Welxome to Cru York City" and a collab effort with another rock solid cypher artist, Ren Thomas. Stay tuned for those to drop. Stream the full "Federal Reserve Notes Vol. 2" mixtape below via Spotify.
Check Francheyez out in full cypher mode in this edited video as well.