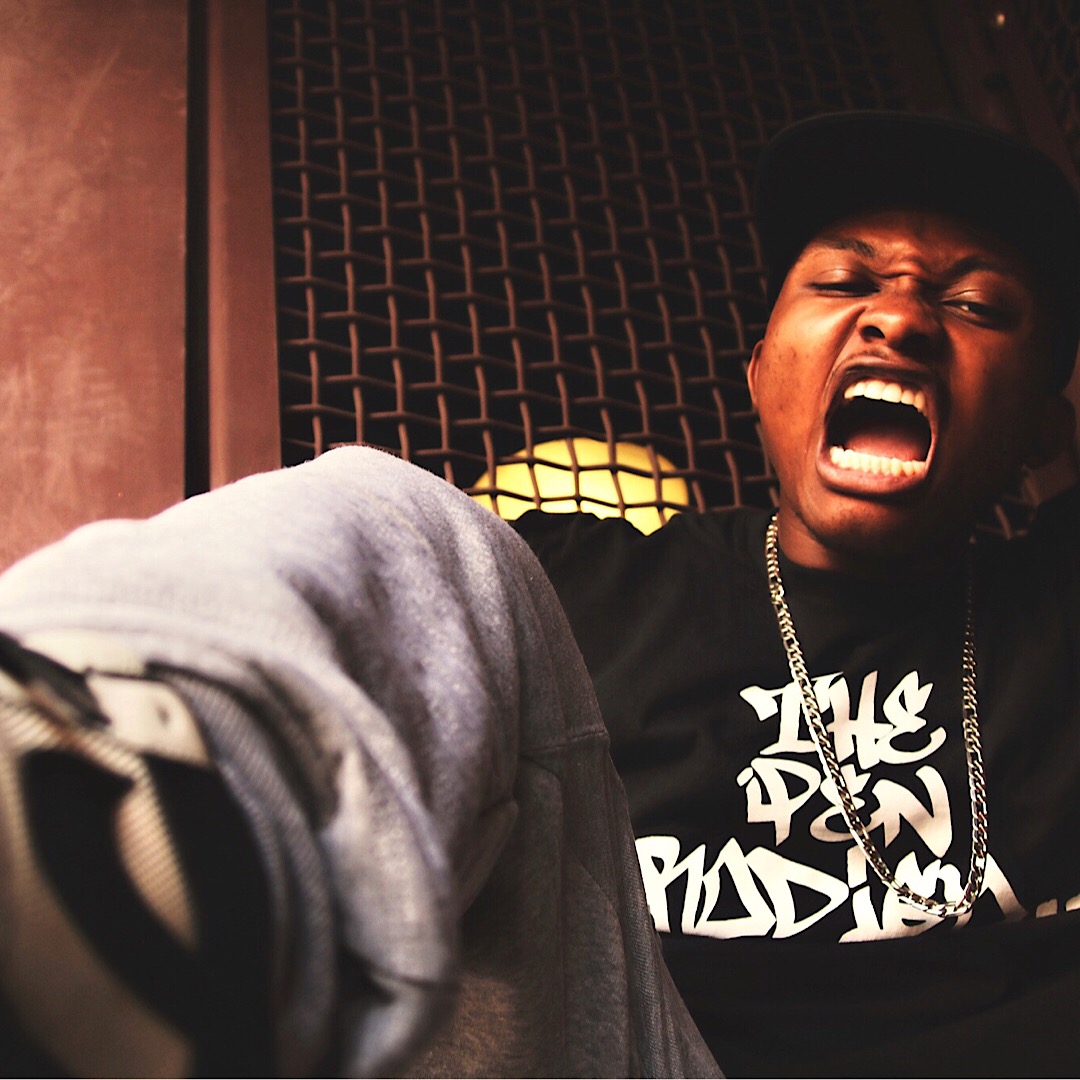 We're back with another installment in our GYBU "BuzzN iNterview" segments. This time, we head way out west to Sin City aka Las Vegas, Nevada to speak with Jamel Deon. His rap skills have earned him the moniker of The Pen Prodigy all the while teaming up high school buddy, K.A.T.O., to form the duo known as Kinfolk Kollab. Most recently, the noted rhyme poet debuted "The Breather", a nonstop flow with no hook or time to catch a breath in between. Although being born and raised in the Southwest region of the states, Jamel's style is a combination of both East and West Coast. In our following interview we will speak with him about that, his dual persona and what else he has planned outside of the music realm. Buzz in to the conversation below.
GYBU: Welcome Jamel, glad to have you with us! 14, this was around the age that you really started to gravitate towards creating music seriously. Looking back, what was occurring in your life and mind that lead to to making that decision? Since we're flashing back, Who were some of your earlier influences back then?
Jamel Deon: Man, there was a lot going on for me at that time. There were situations that were happening with my family that are too personal to disclose but it was an emotional roller coaster for me. I was going through family shit and also went through a lot of self reflections. My perception on life and other things start to shift and I was trying to understand myself. I started asking "Who am I and how is this called thing called life supposed to be tailored out for myself and for others? What exactly is purpose and evolution?", stuff like that. So, after being told for years by my brother that I should start rapping, I took his advice and took my hand at trying it out. At first, I wanted to throw in the towel because I hated most of the songs I wrote in the beginning and I thought I wasn't meant for it. However, as time went by, I grew to love it and also spoken word (which I haven't written pieces for in a while).
Ultimately, I grew to the realization that rap music and spoken word were my confidants and I feel those two things are the only things that 110% understand me. I feel at peace and I decipher the true me every time. & that's what I wanna share with people. I hope it encourages them to tap into themselves and figure out how they're going to go through this thing called life.
As far as musical influences back then, I would say J. Cole, Big K.R.I.T., Kendrick Lamar, Nas, & Jeezy. Kendrick Lamar & J. Cole encouraged me to keep afloat with my lyricism and humility. Big K.R.I.T. Reminded me to make people feel every inch of you soul in your songs. Jeezy's Trap or Die and Thug Motivation movement taught me how to find what is special about you and live by it constantly. I also learned how to maintain a hustler's mentality and give back to the people by making an impact through him. Nas taught me to never stop learning. His episode of Behind The Music served a huge inspiration for me.
2014 became the official year that the public learned of Jamel Deon the artist. You debuted your very first single, a remix to Drake's "Fear" instrumental and later on your freshman mixtape would be released, "The Pen Prodigy: The Missing Pages". First, where did The Pen Prodigy alias come from and second, could you explain what the difference is between the two entities, if there is one?
Well first off, big shout out to my loved one Shaquira for hopping on that hook for the single. It's still one of my favorite records I have ever done. But back on topic, I actually came up with The Pen Prodigy myself when I was 15. It started when I decided to start work on my debut. I was spending a lot of time trying come up with a good title for it. I hate being generic or cliché when it comes to anything so I didn't want a title that was easily forgettable. I wanted the title alone to intrigue people to want to listen to the project. & if not listen, then inquire about it.
After a matter of weeks, I came up with The Pen Prodigy. I felt it was attention grabbing. I also like how the alliteration displayed well on paper and flowed well when you say it. Something about it was just compelling to me. After that, I just took it and ran with it. Once the tape finally dropped in 2014, it resonated so well with people that they thought that it was my stage name when it never was. When people saw me in passing, some would call me that by choice just because they felt the project was that dope.
What was originally just a mixtape title in my eyes turned into something bigger than I thought and what people always think of when they think of me. If people don't say Jamel Deon, they're definitely gonna say The Pen Prodigy. Soon on, I started noticing a difference between the two alias as I started doing different kinds of beats and styles.
As far as the difference between Jamel Deon & The Pen Prodigy, I would say Jamel Deon is the person that many would see on a regular basis. Being carefree, always showing love, bring great vibes, and get gritty if he got to. The free and vibrant personality is exuded more. The Pen Prodigy is emotionally intense and often picks his own brain about what he is feeling and what he wants to understand. He asks a lot of questions about why things are the way they are and why he is the way he is. Often quiet, shy, and socially awkward. You can hear and feel it as the mood of the songs can be somber and the lyricism is complex and dense.
Overall, Jamel Deon & The Pen Prodigy go hand in hand because they make up who I am as a person. & people that know me well can see the distinction. I initially did not notice the difference between the two as I didn't think The Pen Prodigy was much of an alias to me, but with time, I definitely did.
We just brought up the mixtape, it's only right that we speak about that for a moment. The first mixtape actually went on to see itself morphed into a mixtape series and "The Pen Prodigy 2: Writings On The Wall" was released. Is this something you had planned to do prior to releasing the first project? Sonically and lyrically speaking, how would you explain you progression from The Missing Pages to Writings On The Wall?
Absolutely. Once I came up with the Pen Prodigy title and started work on it. I knew it was due for a sequel or two. I felt with that kind of title, it was something people could come back to and anticipate often. At times, based on the content, I compare it to a book series. It's like once a new one comes out, you know there's a new story to prepare your ears for instead of just hearing new songs people haven't heard of.
As far as the progression is concerned lyric wise and sound wise, I feel I was just scratching the surface with The Missing Pages. I used it as a means to just show my talent lyrically and show what content I like to speak about. Now that I think about it, I kind of compare it to a peephole. It gave people a glimpse to see what I'm about.
Now with Writings on the Wall, I kept that same momentum. Still lyrical but more expressive and emotional. I was actually letting people through the door to see what my life is, what I went through, and who I am as a person. I spoke on my upbringing, how I started rapping, an on and off relationship I was in, my first time experiencing heartbreak and betrayal, and even spoke on my uncle getting incarcerated.
I feel like with The Missing Pages, I had people wondering "Okay, I see what he about but who exactly is this dude and what has he been through? What is his life like?" and I feel Writings on the Wall explained that pretty well. Another way I like to see it in my eyes is The Missing Pages made "The Pen Prodigy" just a mixtape title and series, but Writings on the Wall solidified it as an alias.
Last year, we seen you grow more confident in your music when you dropped "No Hook". There was a huge difference in your overall sound, your rhymes even got sharper. Instead of putting out another Pen Prodigy project, you decided to jack industry beats and flip them in your own style. What was special to me was your beat selection. You choose tracks from legendary artists such as The Geto Boys, Nas, Jay-Z and Tha Dogg Pound. "No Hook" also gave us a good look into your East/West sound merger. You get compared alot to older, New York based Hip Hop. How do you describe your style?
Before I get into that, let me just say these are some good ass questions and I appreciate you noticing the shift in style and how I did the beat selection for the tape. It took me a good while to narrow the list down to the many beats I listened to. Sometimes it is hard to try to describe my own style since people that have been listening to me since I first dropped always explain it better than I can, but I feel my style is nostalgic and unorthodox. Smooth yet gritty and also heavy on storytelling.
I feel what contributes to that is my love for 90s and early 2000s hip hop. Being born in 1996, it definitely was not hard to listen to it regularly but as I started rapping, I studied on how they captured the listeners emotions while still coming with some bars for people to want to rewind. I feel it played a great part in molding that for me. But often I like to say unorthodox too because I don't like being stuck in a box or labeled. I like to play around with different cadences, beats, and things like that. I like being versatile without compromising my authenticity. & also, it's funny you say I get compared to a lot of New York Hip Hop because around the time I was in high school and when I put out The Missing Pages, people would always would say they see the Nas influence in me and how I construct my lyrics would make people think I was from New York.
You ran thru two Pen Prodigy mixtape and "No Hook". Then once again, you made a play not many of us expected. Together with high school friend K.A.T.O. (then known as Realidy), the two man group known as Kinfolk Kollab was born. You guys wasted no time whatsoever, hitting the booth and giving us a 19 track self titled mixtape. This project was heavy on the West Coast sound and wasn't as intense as your solo music. Please explain what Kinfolk Kollab is as a collective and what we should expect from the squad in the coming times.
Kinfolk Kollab is basically a duo of two guys from the same city that have been through a lot, share the same views and opinions on morals, and want to be able to express their pain and grit through any beat that we can get our hands on. We are two people that are proud to be from the West Coast but also like to experiment with East Coast beats, down South beats, anything. We wanna show people that we love to have fun but we are also people that learn something new every day and love wisdom. We like creating the music that bring people together as one whether it be on a high note or discussing something serious. We're just all about love, unity, fun, learning, and teaching one another. We wanna document the highs and lows of being young, being black, and being curious about life in general. That's how I view Kinfolk Kollab.
Right now, aside from pushing "Where You From", we're currently working on solo stuff as I'm working on new music and K.A.T.O. Is working on his debut solo project called "Mind of a Militant". We definitely have been in talks of doing our second project, but we're focused on our solo stuff right now and we're still trying to figure out what direction we're gonna go as far as the theme, sound, etc. of the second project is concerned.
Either way it goes, that's my brother and we always chop it up on the regular. I can't wait to hear how "Mind of a Militant" comes out.
This brings us to my favorite part of the interview, talking about "The Breather". When we first heard the single, I immediately heard elements of Mobb Deep, 2Pac and Tha Eastsidaz. Just like with your mixtape, no hook is utilized, straight lyricism only. IMO, this is your best solo song yet. Your voice is cold yet determined, your rhymes are simple yet precise, each line hitting their target points. Moshuun provided the sick piano concerto. I've got to know how this song came about and what was running thru your mind when writing this?
Hmm, it's interesting you said Tupac and Tha Eastsidaz, I never would have thought of that. I appreciate your feedback on the record, my guy. As far as how "The Breather" came about, I was sitting on the beat for quite some time and I just was not sure on what to do with it. Originally, that song was gonna be meant for me and my homie Kajuan, However, after he was talking to me about how he felt I haven't been up to par with my music, that served as inspiration for me to just rip the beat apart and I told him I wanted to keep the song for myself.
It came right after a time where I actually did feel stagnant with my music and just was not in a good place. I was on the heels of graduating college, got me an apartment with my roommates, but was still struggling trying to find a full time job and was adjusting to officially living in Arizona. I just was not in the right place. But after graduating and finding full time work, I still didn't know how to bounce back when it came to my music. I didn't know how to capture the feeling, passion, or motivation again. But it came at a random time. I was at work and when the beat played in my head, I just started spazzing. I felt sane again and felt I got that passion and grit back. It was like I was back on my bullshit.
Now that the single is out, what's the next move Jamel? Word has it that you may have another mixtape arriving this year? Is this true? If so, can you share any details pertaining to it?
Well, right now I just been focused on marketing, promo, and branding for myself. As far as another mixtape is concerned, I'm going to remain tight-lipped about that (laughs). I'll just say if you been following me on social media (mainly IG), it will all make sense later. There's new music in the vault though.
Music's not your only main focus, you also have other businesses in the works. You are currently planning to official launch a clothing line. Please let us know more about that and what we can expect.
Yeah, I been working on revamping my merchandise through Shopify. I started selling Pen Prodigy merchandise and "No Hook" hard copies early last year. Then, I was only selling black tees at the time. However, since I was directly ordering them and selling them, overhead got really costly. I started losing money more than I made It. So, I decided to do drop shipping this go round and it will also give me an opportunity to press up more merch such as hats, dog tags, key chains, etc. People been waiting for more variety on my end. That will all be available real real soon.
In this time and age, it's highly imperative as an artist to be active online to be discovered by possible new fans. For anyone wanting to stay updated on Jamel Deon or learn more about you, where can we find you at on the interwebs?
Well, you can find everything on my website, www.jamelpenprodigy.com. Sign up for the mailing list to get updates on shows, new music and breaking news. All of my social media links can be found there as well/
I cannot stress this enough, for ALL updates on music and to even check out my old catalog, please go to www.jamelpenprodigy.com. I ran into a rift with Soundcloud where they removed all of "The Missing Pages" and most of "Writings on the Wall" so all of my music will be on the website going forward. You can check it out and download as well so please do so.
Thank you for taking time to give us some insight behind your music and answer our question Jamel! Before we close the curtain, is there anything you'd like to add onto the interview? Any one you'd like to shout out?
As always, big shout out to my city, Las Vegas, especially Northtown. One love to all of my family and people that I consider family, you know who you are.
He's young, educated and hungry for success; a young boss in the making. Jamel Deon has only began carving a name for himself in the music world. If he remains determined and dropping songs like "The Breather", Las Vegas will have a solid artist repping it strong. We'd like to personally thank Jamel for joining us for our BuzzN iNterview segment and urge you to stay in touch with him via social media. Thanks for reading and sharing Buzzers!