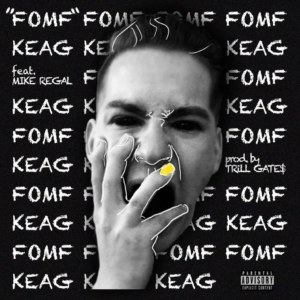 Oshkosh, Wisconsin rising star Keag debuts his third and final single from his forthcoming "Problems" album and it's for the Mike Regal assisted hater anthem entitled "FOMF". His first two singles "Judge" and "Lie To Me" fared quite well online, having garnered a combined total of 8,800+ plays and climbing. With those two singles, friend and fellow cohort Mike Regal played music producer. For "FOMF", he steps from behind the boards and into the booth alongside Kea for what may be his most well rounded single yet. The term "saved the best for last" holds true here, for sure.
Producer TRiLL GATE$ uses an effected piano to kick the track off with while Keag begins to build up the song's energy with a short chorus ensemble. With strong horn and bell stabs, the Oshkosh rhymer does an outstanding job of getting his feelings off his chest with strong and witty lyricism. Regal plays closer as he delivers a fast paced verse, further building up the intensity of the track.
The bridge helps explain the concept behind the single with lines like "run and tell'em lies, you can bet on that" and "nothing's promised but these problems got me thinking I'm a monster". "FOMF" serves as an acronym for Fuck Out My Face and is also mentioned in the hook. I love the arrangement of the track, it doesn't stick to the three verse and chorus pattern which gives it a certain level of uniqueness to it. Keag selected the perfect song to release as the final single with "FOMF".
Listen below and keep tuned into imKeag.com for updates concerning the release of "Problems".