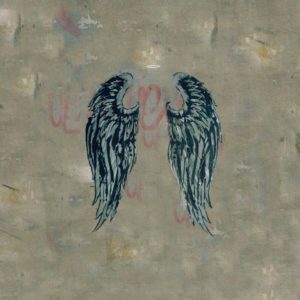 Philadelphia artist Voss (BET 106 & Park Freestyle Friday Hall of Famer) seeks to feed his unquenchable thirst for success, truth and music on his thirteen track album, "Insatiable". Voss also contracts a long list of featured guests including Revolution, I Love You, Evan Rotunno, Ron Swerdon, Milton, Jake Palumbo, Mel Alston Jr., Harrowgrove, Azar, Kim Jong, Ill Mason and the means. The album has a very strong warrior feel to it and Voss' strong voiced delivery helps further that vibe. GYBU caught attention of the album and wanted to review a few of our favorite songs. Join us below as we speak about Voss and "Insatiable".
"Angel Dust"– This was the first track on the album that really caught my attention. It started with the slow paced synth bass, keyboards and guitar melodies and then when the chorus kicked in, I was sold. I loved the vox edit on the backing track as well. The production is carried out very professionally and Voss' flow fits the rhythm. I like how he used the word angel in the latter end of verse one. This is definitely one of the best songs of the album.
"Average" featuring Azar of Ground Up – I love amped up records and "Average" is far from it's given title. The Fearmongerz & Architekt produced instrumental consists of a fast paced snare drum, low octave brass horns and a harsh synth arpeggio that makes you want to simply wild out. Voss finesses the track well but it's the show stealing guest verse of Azar that amplifies the energy of this song from 10 to 100. Again, the Philly artist provides a solid hook for this one.
"For The Moment" featuring Mason – This song hit me hard right from the very start with a powerfully sung chorus provided by Mason. Damn, this track has a very strong international sound. It's the song I feel would perform best commercially. Voss once again rides the beat perfectly and the cinematic production of JuicedUp Beats & Ron Swerdon will have you giving it your all to your eyes won't open. Love the message, highly recommended.
"Rest For The Wicked" – This song follows after "For The Moment" and carried over the high energy. The song topic is based on a toxic relationship and being addicted to the need of that person. This song also has an extremely dope chorus and well written lyrics, another single I could see fairing well online and on radio. I can relate to the plot, as I'm sure many of you will as well.
I really enjoyed these four songs and a few others such as "Found.". There are alot of Hip Hop based songs found on the album but it appears the Philly talent shines brightest on his more Pop sounding tracks. Either way, "Insatiable" is a great mix of Hip Hop, Pop, EDM and Dance. The entire album can be streamed down below.