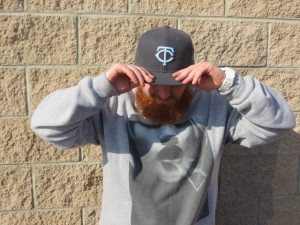 Get Your Buzz Up had the chance to chop it up with Madison, Wisconsin's Walks The Runner, who just recently released his debut project, "Loquacious Linguist", thru Clutch Ink Records.
First off, GYBU would like to congratulate you on your debut project, "Loquacious Linguist". Could you explain to everybody what Loquacious Linguist means and why you chose that particular title for this project?
Thank you for that. Loquacious means to speak much or freely. I chose it as a title because I feel I have a lot to say in my verses. Also, it describes my drive to just rap a lot.
That's dope! I also heard you have a joint mixtape with Bad Nuze and Talib Kweli for DJ Fusion's "Bringing Heat To The Streets" mixtape series dropping on April 5th and it's hosted by our own Mr. Get Ya Buzz Up. Could you give us some details on that and how the project came together?
I give the credit to DJ Fusion and Mr. Get Ya Buzz Up for that project. I contacted Fusion about it, sent him some tracks and it was a done deal. Very exciting to be on a project with Talib. I have been a huge fan for a while.
On "Loquacious Linguist", we can find your smash hit "Encore". That record is making major noise and was even featured on ThisIs50.com. When you first got wind of that, what was your reaction?
I didn't really believe it at first! Jumped on ThisIs50.com to verify it myself haha. It's a solid song though and I feel I snapped on the verses with my delivery and wordplay. Shoutout to Troy Karstens for the production.
Fans of yours already know you get down with Troy Karstens and that he produced some of your earlier singles, "Air Jordans And Polos" & "Encore". What other tracks did he produce on this album and how did the two of you link up?
Troy! That's my brother basically! We linked up in junior college on the hoops team. He was the beast on the drive and down low and I had the crossover and 3 point shot. We got down musically after I spit a drunk freestyle with some buddies. He said he made beats so we started making music. He produced about half of the mixtape's songs, including "TrainWreck", "Being Me" ft Michael Medall, and "Clutch Ink's Finest".
So your next single from off of the album is the DJ Pain 1 produced "Ain't Tryna Hear It". Talk a little bit about that and let us know if there will be a video released for it or not.
Yeah, "Ain't Tryna Hear It" is the next single. It's basically about that one person you know's frontin', lyin' and not doing what they are saying. It was a fun song to make. DJ Pain 1 blessed me with a THUMPER so I had to put something clutch down. There most definitely is a video in the works. It will be shot in Chicago.
Now that "Loquacious Linguist" has dropped, do you have and show dates lined up yet?
With the unfortunate shooting incident in Madison, resulting in a hault to almost every venue in the area, I do not have any shows lined up at the moment. I'm willing to travel to other states if anyone has any openings. This past November, I got the honor of performing in front of Twista for his Birthday Bash in Champaign, Ill.
Are there any local producers or artists that you'd like to work with in the future?
I would love to work with Decap. Sincere Life, King Kronos, and Illestrated Mindz.
I know this is going to be tough, but what is your favorite track from off the album and why?
My favorite track would have to be "How Much". The whole vibe of the song takes me back to my roots.
Where all can we find you online?
Follow me on twitter @walkstherunner
Become a fan on facebook.com/walkstherunner
And be sure to download my mixtape on audiomack.com
Last but not least, who would you like to give shout outs too?
My family, girlfriend, Troy Karstens, BeezelTRON, KloQwYse, Dj Fusion, DJ Pain 1, Michael Medall, Tef Man, Bauzer Graphics, Mr. Get Ya Buzz Up, all of my Albanian friends because there are too many to list, and all of my fans.
Well, there you have it. Get Your Buzz Up would like to thank Mr. Loquacious for taking time out of his busy schedule to fill us in on things. Make sure to go download "Loquacious Linguist" today.
Written By: @blitzb_60505