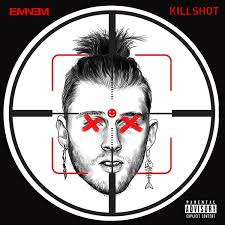 Having endured the harsh critical analysis of his last album, "Revival", Eminem returned with a 25th hour style album entitled "Kamikaze", killing off all the naysay that the highly decorated emcee had "fallen off". On the album, remnants of Slim Shady are riddled all over the place. Marshall even takes shots at some of the entertainers that touched his nerves most with their online comments. One of those people was Machine Gun Kelly.
Years ago, there was a situation that went down on social media in which MGK made some questionable comments about Em's daughter, Halie. Anyone that knows how the skilled wordsmith works knows not to make mention of his daughters' names.
Since that time, MGK has made what some are calling subliminal disses Em's way such as with his feature on Tech N9ne's "No Reason" cut. On the "Kamikaze" cut "Not Alike", featuring brother in arms Royce Da 5'9, Slim addresses MGK by name.
Soon after the album release, MGK responded with "Rap Devil", a clever diss record that found Kelly speaking some hard truths about the Detroit native and throwing shots back. Not many artists have attempted to go at Eminem thru his long standing career but MGK did just that and surprisingly did a good job.
Afterwards, the entire world sat back awaiting the Rap God's response but to disbelief, there wasn't one aside from an IG video of Eminem playing a Ms. Pacman arcade game while wearing the type of outfit Kelly speaks about in "Rap Devil". Even after addressing the issue during his interview with Sway, there still wasn't word of a response from Em's way. Today, out of the blue however, Slim Shady responded. Enter "Killshot".
Vintage diss Eminem at it's finest. He compares MGK to Stan and even mixes in a few lines from that single into this diss record. He also mimics Kelly's voice and uses some of Rap Devil's lines against him. Brolic bars like "How you gonna name yourself after a damn gun and have a man bun?, "This idiot's boss pops pills and tells him he's got skills but Kells the day you put out a hit's the day Diddy admits he put out the hit that got 2Pac killed" and more absolutely blistering shots pulsate throughout the 4 minutes and 13 seconds.
Adversity and anger are two key components that fueled Eminem in his earlier career and it looks as if the critics and rappers have awakened the slumbering giant. Check out both disses above and voice off your opinions.