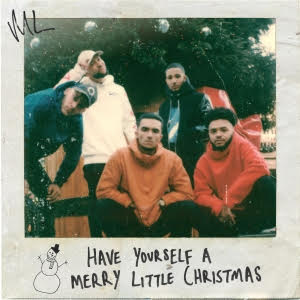 Giving the gift of music this Christmas, talented R&B quintet MiC LOWRY spread some holiday cheer by releasing their own rendition of the classic Christmas song, "Have Yourself a Merry Little Christmas". Fresh from releasing their critically acclaimed project, MOOD -an EP of all new material that features their latest singles, "Don't Tempt Me" and playlist record "Can't Lie" – MiC LOWRY are starting to make quite the impact with their impressive vocal harmonies being dubbed as "the UK's answer to Jodeci" by Mistajam.
The boys have been on quite a run as of late paying homage in a series of MOOD covers to various different artists that inspired them on their journey to notoriety. First there was Bobby V's "Slow Down", then they added the likes of Jodeci's "My Heart Belongs to U", Dru Hill's "Beauty" and Next's "Wifey". Now the lads from Liverpool turn their attention to a song that has not only inspired fans of music but fans of Christmas as well.
Written by Hugh Martin and Ralph Blane, "Have Yourself a Merry Little Christmas" was first introduced to the world by Judy Garland in 1944. Ranked by ASCAP as the third most performed Christmas song of all-time, the song has been covered by Frank Sinatra, Sam Smith, SWV, Michael Bublé, Bing Crosby, Kelly Clarkson, and a whole host of others. Adding their name to the list of acclaimed artists to perform it, MiC LOWRY have put their own spin on the classic song all in the name of their fans and Christmas.