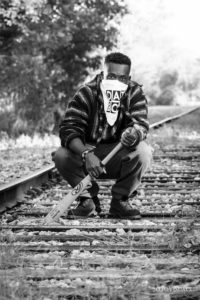 DaTBoYZ3L is a Hip Hop artist from Jackson, Tennessee who first got involved in music as one half of ZeL&MiKey. Inspired by such great artists like Tupac, Bone Thugs and DMX, he now finds himself traveling the path of a solo artist. Wasting no time, the young artist hit the studio with producer Let That Boy Cook to whip up his debut solo endeavor, "Datboy". Already having released singles such as "Don't Be Afraid" with fast rising R&B artist Calvin Ross and official videos for "Get Em" & "I'm Tired", Z3L is determined to carve a lane for his brand with the world of music. Join us as we get to know more about DaTBoYZ3L below.
So to start things off, could you let our viewers know what first lead you into creating music Z3L?
What lead me to doing music was watching my cousin do it at age 8. He went by Young Geezy at the time. He now goes by Street Carleon. I wanted to be just like him. He had his song on the radio, everybody knew of him. That and watching Tupac on television. At that time we didn't have cable, we only had like three channels. My mom would just get recorded videos from my cousins and we would watch them on a VCR. That's when I got introduced to Tupac's music and performances. Those two points are what led me to doing music.
You previously mentioned you were a member of ZeL&MiKey before stepping out as a solo artist. How did the group first come about and what were some of the achievements you two accomplished when together?
The group formed in high school. Mikey was my childhood friend and we came up together making music. He came to me with a song called "Wang" and wanted to do a mixtape with me called "Speakers Bleed". I agreed to do it. We finished the track and it did so well that I came to him and just plainly said let's form a group. Ever since then, it's been on. We were getting show after show. They had our song, "I'm Gone", playing on the radio in Las Vegas and here in Jackson. We later went on to auditioned for America's Got Talent.
You two auditioned for the show in 2012 when they made their way thru Nashville. Talk about chasing your dreams! What was that experience like for you?
It was cool, I met a lot of different people around the states. It made me want to be in the music and entertainment business for real. It was a lot of weird folks there too. (Laughs) Comedians, elderly people trying to be back-up dancers, etc. If you're subscribed to our old YouTube channel (ZeL&MiKey) you'll see I got it all on tape.
Due to irreconcilable differences, you two decided to part ways. That ultimately lead up to you pursuing a solo music career. Was that a smooth transition for you? What are the differences between being in a group than a solo act as far as creating music is concerned?
It was hard because I was always in a group. I was slightly afraid to do it by myself at first and a little angry. I wanted my past group members to chase the dream with me but I guess it was my destiny because I had to do all the work when I was a group. Promo, studio, the music and performances. But now as a solo artist, it's better because I can do whatever I want and keep all the money. (Laughs) The difference between the two roles is the creation process. It's a little slower to me when your in a group because I had to bump heads. Some of the things I wanted to talk about and get through they didn't want to do. As a solo artist, I can talk about whats real an how I feel.
Your official debut album, "Datboy", is now available on major online retailers as well as Apple Music & Spotify. Before diving into that, let's speak briefly about the two videos you dropped to back the project. The first was for the anthem based "Get Em" which featured cameos from both your mother and sister. What was the inspiration behind the making of this video?
I wanted to do something different. At that time, everybody was just making videos with guns and with their homies in the hood. So I was looking at the "Queens Speech Pt 4" video by Leshurr and wanted my video similar to that but with my own spin. I was going to call my friends to be in it but they turned the offer down. So I decided to invite my family to take part to let people know my family always has my back.
Your most recent visual is for the politically charged "I'm Tired" featuring M.I.N.D. The video was once again done by SoLoVisualz and focuses around police brutality & the treatment of African-Americans inside of America. In your opinion, why do you feel this has always been an issue and do you ever see a solution to the issue coming out of it?
It's an issue because nothing is being done about it. Police are getting away with murder and we're tired of it. It's time to protect ourselves and get educated on the laws. Strap up even, we need to go by what the Black Panthers did back in the day.
The new album is titled "Datboy", features nine songs in total and was entirely produced by Let That Boy Cook. How did the two of you come to meet and what lead up to the two of you working on your debut album?
I met Cook on Facebook back when he went by NickontheBeat. I've been buying beats from him since 2013 but I never used them until around 2015 due to the group thing. We've been working together now ever since.
With the album released, what do you have planned in the coming months? Possible another video, single or performances you can share with our readers?
Look out for my next video "Ransom" featuring CA$H. I've been continuing to promote this album, networking and working on an upcoming mixtape titled "DaTseason". Look out for that.
For anyone wanting to stay updated on upcoming releases and such, where can we find you on social media?
Follow me on IG/Twitter/ Facebook/: DaTBoYZ3L
It's been an absolute pleasure having you join us for the interview Z3L and congrats on the album launch, it's a nice piece of work. In closing, would you like to thank anyone or add any last words?
S/0 to Ca$H, Calvin Ross, MIND, Iam2j and Let That Boy Cook for being a part of my first solo project. Also, S/0 to SoloVisualz for the video production and most importantly, S/O to all my fans and family.
Jackson, Tennessee is bursting with talented individuals and DaTBoYZ3L is a prime example of what to expect coming out of the area. We'd like to once again thank him for joining us for this interview segment. Make sure to check out the video we provided above and most importantly, stream & purchase "Datboy" if you're digging his style. Keep your eyes on Z3L in the coming times and thanks for joining us.
Purchase "Datboy" at either of these links:
https://www.amazon.com/Datboy-Explicit-DaTBoYZ3L/dp/B01KWPN9YQ