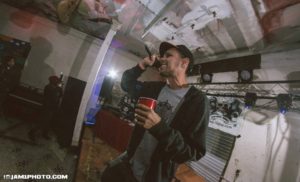 Our following guest is known predominately for his skull fracturing lyricism alongside the famed Chicago Hip Hop label, Seven Oddities Records. Here you can find him serving as one of the most active artists on the roster. However, true fans of the crew know that Clever One can also hold his own among the solo circuit. With two previous releases and a slew of spots on prior 7oddz albums, Clever is now promoting his latest album, the fourteen track "Wild Seed". We've had Seven Oddities join us for a few prior interviews but this is the first time GYBU has been able to conduct a one-on-one interview with a crew member. Join us as we revisit prior releases, talk about "Wild Seed" and upcoming 7oddz news with Clever one.

Firstly, let us congratulate you on the new album! It's obvious you put in mad pen work whether it's solo or with the 7oddz mob. Tell us Clever, how did you first become involved with Seven Oddities Records?

Thanks, man, I really appreciate it. It's been a long time coming and it feels good to be done and sharing it with the fans. I first became involved with 7oddz around the end of 2012 beginning of 2013. Dream actually heard the "Life's A Blur" project I released in 2012 and reached out to me. He was organizing the "Fallout Shelter Sessions," which were basically cyphers where several emcees would be invited to the lab to write and record to a beat that was picked out and produced by Dream. I was invited to participate in session 6 and from that point on I started coming around, being more involved and hanging out at the lab. I performed at the PozLyrix "Chicago Native" release party in November of 2013 and then I was officially invited to join the crew in February of 2014 right before Dream's "Tek the Terrible" release. It felt like home immediately.
You're far from an amateur when it comes to flows and material. Let's revisit your first official project back in May of 2012. That was in the form of a mixtape titled, "Life's A Blur". I actually hadn't previously known about this release until a short time ago. You have some great songs on there such as "Destined", "Everywhere You Look" and "Retreat". I'm interested in knowing what your mind frame was like working on this, your first official solo project?

This was the first time I ever recorded and released any solo music. Prior to that I worked with Noble Savage, a crew that I started with the homies Dooley Noted, DJ Smut and Wild Seed in 2006. My mindset was that I wanted to begin creating and promoting Clever One in addition to Noble Savage. Before starting to work on "Life's A Blur," I never really focused much or thought about doing solo projects so it was definitely a shift into new territory. "Life's A Blur" was also a project that was inspired by Wild Seed, who passed away in a tragic accident in 2011. I started writing for it before he passed, but most of it was finished and recorded after what happened. I was so affected by his death that I considered giving up on making music as a whole, until it hit me that it was probably the last thing he would want. I was overcome with the feeling that I had to finish writing "Life's A Blur," and continue to pursue what we'd been putting all that time and effort into. So, I did. I finished writing, I recorded it myself and released it.
You can typically be heard over audio daggers sharpened by 7oddz founder, DreamTek. For your debut album, "Let's Build", you contract DJ Limbs. On the EP, we find a more focused and pronounced Clever One. You aimed to impress on the rapid delivery of "Wylin" and the First Amendment inspired, "Freedom To Speak". There was a two-year time span in between the mixtape and this EP. Your growth as a solo artist really flourished during that time frame. What changed musically or emotionally between 2012's mixtape and this album?

I would say that "Life's A Blur" and the attention it got or the situations it put me in made me a lot more comfortable as a solo artist as opposed to a member of a crew. I started to think of myself more as Clever One than 1/4 of Noble Savage. That's probably the biggest difference. "Let's Build" is actually totally produced by DJ Limbs, but I recorded those tracks at the Fallout Shelter with Dream. I had that project written and ready to record right before I got down with the Oddz, so it was the first project I put out on the label.
Before we speak about your new album "Wild Seed", I'd like to talk about "Out For Blood Vol. 3" and your verse on Chapter One's, "Last Dayz". This happens to be one of my all time favorite verses of yours. The beat is brutal and reminds me of a rhyme out of the apocalypse. What all went into writing your rhymes for this track? How did the recording process go? I imagine a clash of titans in the studio! (Laughs)

That's actually one of my favorite verses of mine too, so that's awesome and thank you. That verse, as with all the verses on "Out For Blood", is a product of trying to write something as ridiculously ill as possible because you know the other guys are gonna write something super dope. OFB is a collaboration but at the same time, kinda like a competition. Definitely a clash of titans. For this particular track, we were just sitting in the lab, picked that beat from the "Out For Blood" folder and started writing. Dream finished first and wrote the hook. He gave us our lines and we did our thing. Right away we knew we had a banger.
Speaking of "Out For Blood", when can we expect Vol. 3 Chapter 3 to release? If possible, can you share any details as far as songs or concepts are concerned?

Chapter 3 looks like it'll be releasing 9/23. We were hoping to release it sooner, but with "Wild Seed" it got a little difficult, so we just pushed it back a bit. It's coming soon though. Got the singles picked out and we'll be shooting videos in the coming weeks.
"Wild Seed", your brand new album. Again, this release comes two years after your previous endeavour and showcases your seasoned emceeing capabilities. I have two questions to ask you. Number one, what is the concept behind the album title and two, is there some type of signifigance behind choosing to release projects in two-year time windows?

In all honesty, not until this interview did I even realize that those projects were two years apart like that. It just so happened to work out that way. "Wild Seed" was actually supposed to drop much earlier, but I got so caught up in "Out For Blood" and other crew projects that it was delayed. Which was for the better because I added a lot to the album since that time, so the extra months turned out to be very valuable.
The idea behind naming the album "Wild Seed" has a lot of sides to it. It's a dedication to the brother, Wild Seed, who as I mentioned, passed away in 2011. It's a dedication to the fact that even after leaving the physical, he was able to inspire me and sprout something that would push me to keep working and get closer to where I wanna be musically/creatively. "Wild Seed" is also dedicated to being able to take a devastating or traumatic situation and turn it into something very positive. He inspired me to drop this album and to continue making good music. The album title seemed to fit perfectly.
I have my favorites but there's just something about "Who's This?" that catches my ear. Maybe it's the catchy beat or the classic delivery style you choose to utilize in the verses. It has a real vintage feeling to it. You chose this not only as the lead off single but as the first video from the EP. What sparked you to want to do a get to know me styled record?

Well, I kinda have a lot of names. My full name is Mark Anthony Sandoval and growing up my whole family and most family friends called me Tony. In school and most everywhere else I went by Mark. When I was in high school I started tagging Clever One, but I wasn't really rapping yet. It wasn't until I went to college that I really started taking rapping more seriously. In college I had a radio show and I was given the nickname "Domus", so when I started writing more seriously and actually making songs, that's what I called myself. When I first got down with Noble Savage I changed my name to Clever One and that was that. I thought it would be fun to make a song introducing myself on the album and talking about the different aliases I've accumulated over the years. I think it turned out well and accomplished what I was trying to do.
https://www.facebook.com/7oddz/videos/1165865303464077/
Is there any possibility of other videos being released for "Wild Seed". If so, could you divulge any details on that with our viewers?

Yes, there's gonna be a video for "Open Letter to the Wack" and that should drop this month. Looking forward to that. Got a pretty cool concept I think people will dig it. That's all I will say about that right now.
Where can our readers find you online to stay updated on future Clever releases? Also, do you offer featured verses and if so, where can serious party's contact you at?

Readers can find me on:
Facebook: https://www.facebook.com/MCCleverOne/
Twitter: https://twitter.com/MCCleverOne
Bandcamp: https://clever1.bandcamp.com/
And any serious inquiries for featured verses or beats can be sent to mcclever1@gmail.com.
It's always a pleasure speaking with you guys. It's especially dope being able to finally speak one-on-one with you sir. We know you've got an itchy writer's hand so before we let you get back to business, is there anything you'd like to add or speak about?

Yeah, I just wanna thank my family, friends and all the fans for all the support and encouragement. Not only for me but for all of 7oddz and for dope underground hip-hop everywhere. It's still alive, just gotta dig a little deeper. I also want to thank my 7oddz brothers, especially DreamTek, who I couldn't have done any of this without. Make sure to stay tuned for lots more this year and beyond.
It's great knowing artists like Clever One are still staying true to the culture and most importantly, maintaining the art of lyricism.  Hardcore, commercial, straight Hip Hop; he can do it all. "Wild Seed" only further solidifies that statement. It was great getting to speak with him about his prior solo work and such. Make sure to follow Clever on social media and head over to his Bandcamp page to grab one or all of his available albums (the "Life's A Blur" mixtape is free BTW). We will be looking forward to more music from both him and 7oddz in 2016, so stay tuned to GYBU for that.