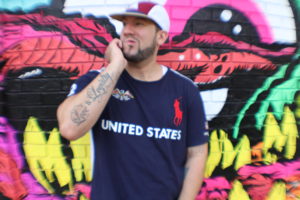 For this edition of our "Buzz'N" iNterview series, we head over into the Queens area of New York to speak with an artist that's been keeping it thorough on the underground Hip Hop scene for years. Born in Peru, the young boy was exposed to the four elements of the culture by his uncle via breaking and bombing. That influence would lead to rhyming and eventually land him at where he is today. Currently campaigning "The Eff Word" album produced exclusively by Chicago producer Rediculus, join us as we speak with Eff Yoo and get to know more about him and his discography in the following interview segment.

Eff, it's a pleasure having you with us today. So you're Peruvian born and Queens raised. You came up in New York during the nineties, the sacred decade of the genre. What was it about the music that interested you so much as a youth?

I always gravitated towards the lyrics of a song, in any genre. I grew up listening to everything around the house, from Salsa to Rock, Soul and Hip Hop but it was the words and way they were arranged that attracted me to it.
Another interesting past fact is that you were very active with the legendary label, Rawkus Records, grinding on it's street team. What kind of influence did that play on you as an emcee?

During the time I worked on the Rawkus Street Team (RIP Headquarterz), I was a young knucklehead that didn't really take anything seriously. I was in and out of lock up. But being around so much talent, and I mean the label and the street team as well, made me have to step my game up. I wasn't gonna be the low man on the totem pole in any cypher.
Those of us that are familiar to your music know you have thick story plots and that notorious East Coast sound that helped propel Hip Hop to the forefront. All of your releases, to this point, have always followed a storyline/theme. Could you explain why you choose that type of approach to your albums? Also, do you feel the art of concept albums is missing from today's music scene?

That's exactly it, I felt concept albums were missing and I wanted to bring it back a bit. Some of the mixtapes didn't start like that, like Gnome Sword for example, it just became that when we looked back upon it.
Producer Golden Child linked up with you to construct your first solo endevour, "Legend of the Gnome Sword". I can't lie, I never knew this album existed up until fall of last year. The album had a medieval warrior / magician theme like as if Hip Hop was taken to Middle Earth. "Sir George Goony" is one of my favorite songs from that album. You wild out with lines like "I write my rhymes with a sword, word to Odin" and the production is equally matched. This being your first album, can you recall your mindset going in to work on it?

I was just hungry to record my verses. I had never been in a studio to record my own rhymes until that point, so I just started writing and recording. The ideas just kept pouring out and by the time we had a good 6 tracks done, we noticed a pattern musically. So, we just ran with it for the rest of the record.
Let's talk about "Bodega Businessman", which I will call your version of Jay Z's "Reasonable Doubt". No lie, I still have that album on my MP3 player! (Laughs) It was raw and uncut, with some very tough beats. Songs like it's title track and "Harvard Vs Yale" helped solidify you as a threat among the underground scene in New York. Please speak about the theme behind this project and what it was like working on one of your very first albums.

After taking heads to the medieval mythical era, I wanted to take it back to the streets for a sec and let the people see the Donald Goines type tales I can tell too.
After "Bodega Businessman", you teamed up with Godilla and drew in influence from the Wild West on "They Came On Horseback". Again, an album widely accepted by the underground fans. How did Godilla and you connect for this and can we expect another joint project like this from you guys in the future?

Illa just hit me on the net and asked if I could bless him with a verse, he returned the favor and we just kept going from there. We've spoken about making a part two or an EP, something where we get in the studio for a day and try to bang out as many joints as possible, maybe film it as well.
Having earned respect and a name within the New York area, "Papa Dios" was released. Which in my eyes, was your first commercial release. Not commercial as in radio but from a business perspective if you get what I'm saying. You teamed together with a Chicago producer named Rediculus, who had a hot indie label emerging out of Chicago by the name of Platformz Records. You two hit it off and in doing so, your strong abilities of story telling where able to shine on the album. How did the two of you meet?

Okay, I have to clear something up here. I had been working on "Papa Dios" for years, little by little behind he scenes before I met Rediculus. That album was completed before we ever linked up. Rediculus remixed the title track from the album, which is where I think the misunderstanding comes from. The album actually has production from Stu Bangas, Level 13, One Take, Aye Wun, etc.
We appreciate you clearing things up Eff. Speaking about Rediculus and yourself though, you two teamed up for what may be your best work to date, "The Eff Word". You've got some very intense records on there such as "God Hates Me" that features The Audible Doctor and Airon Azure. Please speak about the new release and the theme behind it.
The project really has no set theme, it's just a good mixture of the type of person I am. You have your street tales, some pimp shit, some lyrical shit, some knowledge, everything's thrown in there. I'll say it's definitely my most well rounded work so far.
For those interested in staying updated on upcoming releases and such, where can we find you at online? If a serious artist is looking for a paid feature, where can they reach you at?

As long as you type my name correctly on Google you can find me: Eff Yoo. I'm on all social media outlets. The best way to get at me about business is definitely through there as well.
Eff, we greatly appreciate your time and for you sharing your story with us. On a final note, would you like to add anything in or maybe send out some shoutouts?

I appreciate you taking the time out to talk to me, I just wanna ask everyone to take a listen to "The Eff Word" and cop a cd, it is definitely one of my best works. Peace…
Eff Yoo is an artist that takes pride in his work, crafting albums based around themes and carried out very well. From "Legend of the Gnome Sword" to "The Eff Word", we've witnessed Eff's growth as well as his ability to carry on the traditional Hip Hop sound of the East Coast. We'd like to thank Eff Yoo again and urge you to grab a copy of "The Eff Word" asap, a solid addition to anyone's album collection. Make sure to stay updated with the Queens emcee via social media and keep an eye out on GYBU for more music from Eff Yoo as it releases.

Eff Yoo – "The Eff Word" LP – [Purchase Link]