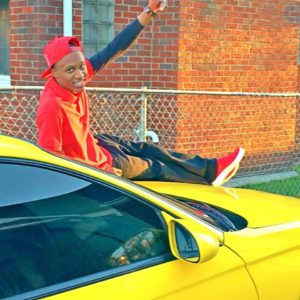 Get Your Buzz Up heads over to Detroit to speak with Yo Mans TAY. Having dropped a mixtape alongside the Cashhounds crew in 2013 titled "Our Year All Year: A New Breed", Tay took a lengthy hiatus from the music scene. Fast forward to 2016, Yo Mans returns with his first solo single, "The Top Spot". Having made a wave on blogs such as GYBU, we became curious about why he took suck along break from music, the status of Cashhounds and himself and if "The Top Spot" is setting the stage for his solo debut album as we #GetBuzzed with Yo Mans TAY.

So Tay, before we get into speaking about your hiatus and such, let's talk about way back when you were six years old. That was the age you wrote your first song simply titled "I Love You". Do you remember what inspired you to do such a thing like that? What was it about, do you remember any of the song lyrics?

(Laughs) That's funny you asked me about this. I mean I was six, I definitely cannot remember the lyrics. I just remember that I stood up on the dresser in my mother's room and sung it to her and my older brother. It was inspired by me being an overly creative kid, that's all.
A few years later, a handful of friends and yourself formed the group, D-Towns' Finest. You guys did odd jobs like shoveling driveways and sidewalks for money to buy equipment. Please share with our readers what those times were like and about the type of music the crew would make.

Those times were the best man. Just a bunch of young guys with big dreams having fun. I downloaded this free trial off ACID Pro and we just recorded on a Rockband mic in my closet, we only had thirty days to record. I just learned how to engineer as I went and we made our own beats on Fruityloops. We made songs you'd expect kids to make. Songs about girls and money we did not have (laughs).
You made a name change from Yung Tay to Yo Mans Tay. Was that due to the fact of maturing and growing out of the "yung" phase of for other reasons?

You've actually hit in on the head. The "yung" name is so played out and outdated. I plan on being here for a very long time can't be thirty-five with a name like Yung Tay. Yo Mans TAY stands out more to me more also.
In your later teenage years, you ended up alongside CashHounds and dropped two mixtapes together. One was 2011's "The Preview" and the second, "Our Year All Year: A New Breed", received local attention in the Detroit burbs. It's been awhile since we've heard anything from you guys. What's the status on them and yourself?

Well the plan for Cashhounds was ALWAYS to be solo artists. OYAY was honestly a collaboration of the best artist in the Midwest. All the guys have been releasing music. You can currently find them on Soundcloud – Only_Enea , Rell Woodiir, Reewood72 and JHOWW. I'm proud of the artists they've all grown into. A fun fact is that Rell was also in D-Towns Finest!.
Speaking of statuses, you took a break from music. A three year long break to be more exact. Can you explain to your fans and our readers why you paused out for such a long period of time?

To be honest for a lack of better words, I was on bullshit. I was at college parties just acting a fool pretty much. It was fun and all but I simply was unfocused on the real task at hand. I've always been writing but not recording. The flame started back up in me. I thought I still don't have a solo mixtape? Nah, I have to get things moving!
There's a new song, a solo song that was years in the making so-to-speak. "The Top Spot" touches on some personal matters such as inconsistency and the power of perseverance. Tay, what is your meaning behind this single?

It's actually not that deep. During my hiatus, I started writing the first verse and those first few lines describe where my mindset was. Besides those lines and the chorus, it's actually just a double entendre of creative wordplay. I just wanted the old Cashhounds members and fans to know I'm back and with a perfected flow.
You know I've got to ask. With the solo song surfacing, could this be telling us something? Are you working on an EP or mixtape?

Well, there's a lot in the works my friend. ALOT. I am currently working on a collaboration mixtape with my good friend Jayydawg that features a couple of the former Cashhound members. That along with my debut mixtape, which probably won't release until early 2017. My friends are happy to see me back in the booth, so there are a few features on the way as well. Stay tuned.
What do you have planned for the rest of 2016?

Releasing a music video for the first few singles off of the collab project. I have the name but I won't reveal it just yet. I also plan on releasing more songs like "The Top Spot". No album, strictly solid singles. I want to also begin selling merchandise, performing more and launching my official website. There's a lot in the works right now as we speak.
Tay, could you provide the readers with your social media pages in case they'd like to stay in touch with you?

Yo Mans TAY for all social media platforms. P.S. Ladies ONLY for Snapchat (Laughs)
Lastly, is there anything you'd like to add into the interview before we shake up and take off?

I just want to thank GYBU for taking the time to put together a great interview! I appreciate everyone who took time out of their days to read and make sure to keep an ear open for new music, coming soon.