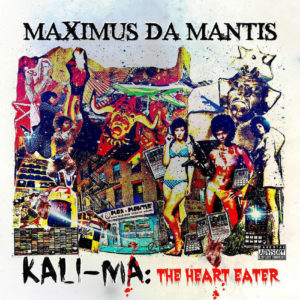 "Kali Ma: The Heart Eater" is CyphaDenMusic artist's Maximus Da Mantis' debut label release featuring a plethora of influences deriving from Kung-Fu movies, Wu-Tang albums and immensely detailed lyricism as exercised by the Milwaukee emcee. Nineteen songs with features from fellow labelmates Taiyamo Denku, D-Cypha and Urban Legend as well as Thirstin Howl III, Shogun Assason and Menes The Pharoah. Production is handled completely by Lord Beatjitzu, who does a sensational job of providing the soundscape which is "Kali Ma: The Heart Eater". Protect ya neck as we enter the album below.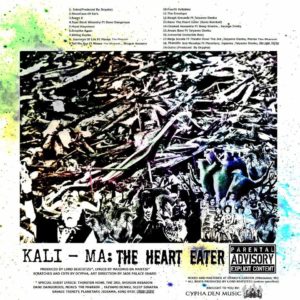 D-Chypha, Hulk Hogan and Dr. Evil open up the project on "The Intro" as the Aussie cut chemist flexes his DJ skills, opening up for "Showcase Of Sais" over a "Heaters" sounding instrumental. Get ready for nonstop verbiage as Mantis dices vocal after vocal. Prepare for some swift poetics on "Super 8" with Cypha picking up the cuts for a third time straight. "Tape Deck Wizardry" is straight magical. I swear that some of these songs were recorded back in the day alongside Wu-Tang crew and affiliates. Partnering up with Dangerous Dan, the duo delivers a truly vintage themed joint.
The story telling of "Hood Hyabusa" leads to the chilling yet soulful sounds of "Breathe Again" and precedes track seven, the somber "Sitting Ducks". Menes The Pharoah joins Maximus to spread wisdom on "Journeys of Life", a strong favorite of mine. Lord Beatjitzu constructs a beat full of lush harps, Boom Bap drums and a very subtle piano arrangement that really sends this one home. Menes and Mantis make an awesome duo, the swiftness in which the deliver the verses meshes well to the beat. I had this on repeat for awhile.
Shogun Assason meets Mantis and Pharoah on "Tell Me Sun" and is immediately followed by the lyrically extended verse of "Fourth Syllables". This is a great piece of the album to show what the Milwaukee Monsta is capable of. He strays away from basic song structure and together with some brilliant production, lands a clean cut to the microphone. Taking a nod from noted influence Ghostface Killah, the Wisconsin emcee showcases a similar flow on "The Envelope". Taiyamo Denku then makes his first cameo on "Rough Ground" and the tongue twisting words of "Kano Kombat" follows.
"Cloaked Assassins", this is another staple point in the project where things heat up immensely. Sleep Sinatra and Savage Trinity seem to pull a Johnny Blaze from Fantastic Four and flame on emcees, melting them to molton lava. This is definitely a strong song of Kali-Ma's.
The heat remains intense as Denku slides thru again and journeys from feudal Japan to the Middle East on "Arabic Bars". Rest assured, the guys always keep their swords sharpened and this joint is no exception. Love the beat, Lord Beatjitzu selected some good sound patches on this one.
"Immortal Invincible Barz", the first single is up next and if you haven't heard it yet, you'll understand why it was chosen as the lead off single. Super clean sound with Mantis on top of his game. With this string of dope songs, the bar's beginning to be lifted higher, enter "Ninja Scrolls". If you listen to anything in this review, MAKE SURE TO LISTEN TO THIS. Not only is this a solid song but quite frankly, ranks up there with my all time favorite Wu tracks. Thirstin Howl III makes a surprise appearance with a gripping verse with Taiyamo and Menes carrying the torch to Mantis, who closes this highly epic record. Before the album closes out, the high strung, gladiator sound of "Pharaohs & Monstaz" has Denku, Urban Legend, Planetary, King Syze, Jigsama. This song is basically a weak emcee's worst nightmare. "Kali Ma: The Heart Eater" is then closed out by "The Outro", starring D-Cypha.
I really enjoyed the album, especially when "Cloaked Assassins" came in and held that momentum until the end. A downfall of the album is it's overall mix. Though I get the theme of the cassette deck sound on select songs, a solid master mix would have made this album even better. However, it's supposed to have that rustic feel to it and with songs like "Tapedeck Wizardry", "Journeys of Life", "Fourth Syllables" and basically every song from fourteen to close, "Kali Ma: The Heart Eater" flashes us back in a time machine to the nineties. Back to the Wu era we grew up in and miss so much. We owe a thank you to Maximus Da Mantis for keeping the artform alive. Make sure to check out the entire LP below and purchase a copy below.