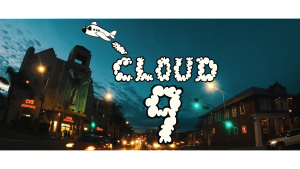 For this "Buzz'N" iNterview segment, we head over to the Northwestern section of the U.S. to Oregon to speaking with the Cloud9Krew who have been extensively at work putting together their upcoming EP, "A Flight On Cloud9", which is set to release in early May. Getting the project completed was a journey within itself, even finding it's recorded footage formed into a documentary detailing how it all went down. With one video already released and one to follow before the EP, GYBU caught up with the PDX krew to speak with them about the EP, the RV trip they embarked on from Portland to Los Angeles and other interesting tidbits below.

How's it going fellas? It's nice to have you with us today. The squad's name is CLoud9Krew which I'm assuming is a play on the love you all have for smoking. Please explain the origins behind the name and how you guys came to be.

Well first off, we smoke a lot (laughs) but the original meaning has to do with smokey moving from Ventura County to Portland at the age of 17. He was taking plane trips every month to go visit his family back out there and just got this infatuation with clouds and being in the sky. Smokey became good friends with fellow crew member Donavon and worked on some music. One night we were really high and Donavon tagged cloud9 with a knife on the table. We thought it was dope and wanted to make a music group for the homies to just smoke to which lead up to the moniker, Cloud9Krew.
How has the city of Portland influenced you musically or has it at all? Who are some of your major musical influences?

Portland has really influenced us with the unique style of "keep Portland weird". There's really no set rules here and it really reflects in the city's music scene. If you're talking major influences we would definitely have to include Pac, Biggie, Nas, Eminem, NWA, Kanye, J. Cole, Drake and Wiz Khalifa.
We got hip to your music around the same time last year with the release of the video for "5am In Oxnard" from your debut "The Cloud 9" mixtape . Gold chains, jars of dro and bottles on deck, you made it obvious that partying was an everyday thing. Is this still the main focus with the upcoming EP or can we expect a show of versatility with the song selections?

For the first mixtape, we were brand new coming into music and recording in a true studio. We pretty much were just focused on writing verses over industry beats. For "A Flight On Cloud9", we came with an original approach of putting together an entire project full of exclusive beats and hooks that really showcase our growth from then until now.
So it's been told that you guys pooled money together, rented an RV and drove from Oregon to California to record "A Flight On Cloud9". To be honest, that's no small feat. In fact, the trip was all recorded and later fitted into a dope documentary. Did you have the idea of filming a documentary beforehand? Why did the krew choose California as the place to record and not somewhere near the city?

Yeah man, we all got together and planned another trip out to Smokey's hometown to record this EP. To be honest, it broke our pockets but it was done with great intentions and our music careers on the line. We wanted to prove ourselves in this business and I think we did a really good job. We hustled hard to make sure we had everything covered and got exactly what we wanted out of this trip. We planned on filming the documentary the second we staged the trip. We love to allow our fans access into our everyday lives and to motivate them to chase their dreams. You can do this on your own, you don't need a label paying for it. We chose California because Smokey is originally from the 805 and has connections out there with Kush House Records and Young Quicks. We love the Cali scene from the sunny weather to the vibes and to the good weed.
Let's take a moment and talk about Young Quicks. He kicks things off in the official debut video for the wavy "Let's Go Get It". How did that collab come about and can we expect more songs with Quicks in the future?

Quicks is a great artist from Smokey's hometown. We met on the last trip and collabed on "Ambitions and Dreams". Since then, we've became friends and he's helped us with advancing our careers and creating opportunity. We plan on always collaborating with Quicks so you can expect a few more releases to come.
Besides "Let's Go Get It", Cloud9 has another visual set to release. What song is that for and what can viewers expect to see when it's premiered?

We're really excited about this one too! It's called "They Already Know" and it was filmed in Downtown L.A. and in Venice Beach. It was a great song with a verse from all of us talking about having hard times in life but never giving up. We're going to surprise fans by dropping this video unexpectedly.
"A Flight On Cloud9" is slated to drop in May. We already know Young Quicks is featured on the album but are there any other guests? Please explain to our readers what the project is about and some of it's songs.

We were able to lock in a feature from an amazing singer from the 805 that goes by J. Henry. He is featured on "Mama I'm So Sorry". Smokey wrote the hook attempting to sing the best he could. We happened to be in the studio working when Young Quicks called over J. Henry for a favor. I heard him sing and instantly knew we had to have him on the hook. It made the song stronger that way. We could never have imagined this would happen. The Krew is really excited to show off this new project. We really brought our personal lives into the EP as well as a peak into our individual minds.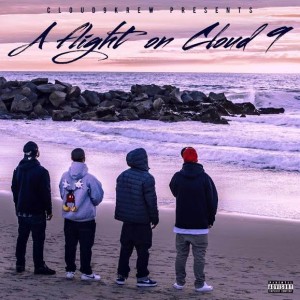 What else can we expect from Cloud9 this year? Are you guys performing at any upcoming venues or have other projects you can share with us?

We've currently been working and promoting our album release show. We suffered a few minor setbacks with scheduling. Therefore, we are now handling it personally and will also be co-headlining for Caskey of Cash Money Records fame on Wednesday, May 18th. It will be our first ever EP release show and we been getting amazing support. Tickets are going quick somake sure to come check us out and smoke alot of good weed with the entire Krew. (Laughs)
For those interested in hearing more of your music and staying informed on updates, where can we locate you online?

You could find everything there is to know about us on cloud9krew.com.
I think I'm catching a contact just from writing this right now! (laughs) In all seriousness though, it's been great having you all with us for the interview. Before we let you go, is there anything else you'd like to share with us, maybe some shoutouts too?

Yeah man, we really appreciate you having us and it's been a great interview. We would also like to thank everyone that was apart of the making of "A flight on cloud9" and to all the fans that have been showing unconditional suppor,t we can't explain how much we appreciate all of you. If you happen to see any of the Cloud9Krew out and about, make sure to say was up and spark a blunt! Hope to see everyone out in support of our EP release party on May 18th!
With two videos, the EP and plenty of high grade ganja at their disposal, Cloud9Krew are ready to showcase their song crafting abilities and the PDX way of life to all of America. Stay tuned for the second video to premiere this month with the May release of "A Flight On Cloud9" soon following. This is GYBU signing out.