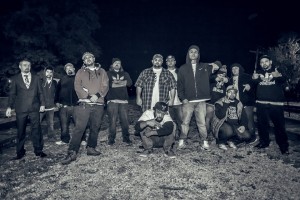 For this edition in our "Buzz'N" iNterview series, we travel over to the cold, windy city streets of Chicago to speak with a crew who's name rings bells and is notorious among the underground Hip Hop scene. Since it's first conception back in the year 2000, Seven Oddities Records has praised itself at keeping all of their content done in house, that goes for production, recording, artwork, lyrics, etc. You name it, this conglomerate has done it. Now, the crew is poised to debut the next installment of their "Out For Blood" series with volume three debuting on January 23rd which will consist of four separate chapters being released quarterly throughout the year. With a new video single titled "Last Dayz" in rotation, the fellas are set to prove that Chicago isn't all about the speedy delivery or drug filled rhymes but in fact hosts home to a flourishing underground scene of brutal lyricists. Join us as GYBU converses with 7oddz in our first ever, two part "Buzz'N" iNterview.
Firstly fellas, we appreciate your time and for taking part in this interview. To begin, 7oddz was first established back in Y2K. Wow… that's roughly sixteen years ago, great to see the movement going stronger than ever. How did the label actually come about and when did the label really begin taking shape? Also, what is the explanation behind the name of the label, Seven Oddities?

DreamTek- You want the long or short answer? (Laughs) Starting the label was a project I decided to take on by my self back in the day. The main reason was I kept meeting amazing MC's around the city who were constantly being overlooked, had no means to record or produce themselves and it just seemed like such a repetitive situation we were all going through. If you don't know the right people in Chicago or have a bunch of money on hand to blow on studio time sadly those talents get wasted instead of being nourished and supported so they can grow. Other instances include meeting an MC who was blatantly dope but just working with the completely wrong producers. Producers who were not listening to what the artist really had to offer and putting them over beats that just didn't fit. Being an artist myself and having no means of access to an actual studio or the tools I needed to grow was quite frustrating. Especially since I knew a bunch of cats that had equipment and studios but never wanted to lend a helping hand.
The fact is nobody is down to help out the underdog unless there is something in it for them. Fed up, I decided to form my own label where I could give artists I thought were very talented a home where they could grow and freely create however they wanted to. In the early years it was a lot of trial and error, I wasn't the most experienced engineer or producer at the time but I always gave it my all and kept learning and reaching for better things for us. Over time a lot of the original heads have come and gone and it took a long time to form a strong family that is all on the same page. I think at the moment we are stronger then we have ever been and that's due to the chemistry and amazing talent amongst the team that we have built together.
As far as the name goes, seven is a magic number. It's strong. Its everywhere. Its referenced constantly in different religions, astrology and as my man Zeel 33 once said, "Seven's on the palm". I remember looking at my right hand and seeing a 7 in the lines of my skin. (Laughs) We also did a lot of acid back which I think made us notice a lot of the connections with the number. Oddities, represents our styles. All of us are very different style wise, it's similar to a modern day freakshow of sorts. But when we come together it all makes sense and we form as one, effortlessly. That's Seven Oddities.
The 7oddz roster is extremely deep and each artist brings their own uniqueness to the table. It's like one huge melting pot of dopeness. Just how many members are apart of the imprint exactly? What is each member's role in the grand scheme of things?

Clever One- There are about 12 members total. We are all each other's mentors, brothers' keeper, and favorite emcees. That plays a huge role in keeping us motivated. When we get together we have this energy that forces us to make explosive shit.
Speaking on that, 7oddz founder DreamTek handles a large portion of production for the camp. Not only is that an impressive feat but it has to be extremely complicated constructing beats that fit each emcee's style. He's like a Chicago RZA or something! (Laughs) Honestly, what actually goes into making the beats and selecting who should be placed where?

Clever One- Dream is a human beat factory. The man can make dope beats of various styles that appeal to a wide audience. He stays working crafting canvases for the camp to turn into bangers. Once in a while we'll throw Dream a sample to use or give him ideas or a theme to go with but for the most part, Dream makes the beats, throws them into a shared folder and we pick and choose the ones we determine best suit us. We have a folder we can all access from our phones with beats upon beats that we put our names next to, to make sure they're reserved. For OFB3, we created a folder where we put beats that we felt were appropriate for this project. Anytime we worked on it, we'd pick beats from that folder and get to writing. This release also has some production from Piojo, who will be providing more beats for the squad in the very near future. He actually had a good deal of production on DoomsDay's "Radio Novelas," which will be dropping in 2016 as well.
So let's speak about the "Out For Blood" series. I believe the first time I came into contact with 7oddz was back in 2011 with the "Out For Blood" video. That one featured Tek and Tony Patagonia (PKA Prone), who ultimately was the entity responsible for linking up with GYBU originally. I especially enjoy the vintage feel you guys present, delivering that raw underground Hip Hop. What was the conception and inspiration behind the OFB series and why did you guys decide to build upon the concept?

DreamTek- "Out For Blood" was an idea I had where we could come together as a label every so often and just flex skills together as a single unit. Seven Oddities is not an actual "group". We are a collective of solo artists and we mainly focus on putting out solo albums or collab EP's, etc. But every couple years or so we come together and do these OFB compilations. The point of them is to just let MC's do what MC's do best and go all out over hard hitting beats. It's a way to take out our frustrations on the current state of Hip Hop in our city and beyond. It's an outlet for us to vent, let loose and toss aside the way you normally go about creating a track. Each label member's sole job on any OFB track is to go all the fuck the way out and just murder that shit. The main goal here is to just beast over these beats. Gladiator music ya know? Black hoodies and Timbs music. The best part about it is on every track somebody always stands out with the way they attacked the task at hand and that inspires the entire crew to want to come harder. At the end of the day I'd say its almost an exercise to make ourselves better MC's. We inspire each other to want to be better. We are all fans of each others art.
The first chapter of "Out For Blood Vol. 3 officially dropped on January 22nd and will have two videos to back the release. The first of the two, "Last Dayz" is already available for viewing. The vibe reminds me of something out of X-Men: Days of Future Past, some last emcees left alive type shit. (Laughs) Clever One, DreamTek and Hobes all fire off headshots on this one with a cleverly constructed back and forth chorus line that had me stuck on stupid. Talk a little about the video and recording the hook.

A-Lex- I wanted to give the visual of a gritty old school VHS home video camera look. I also wanted to make the viewer feel like what they were watching was happening live and direct.
Clever One- As far as the hook goes, which was written by Dreamtek, we just individually recorded our parts of the vocals. Once we spit our verses back to each other and practiced doing the hook a couple times, we knew we had a banger. One thing that's cool about OFB is that every track was written on the spot in the studio. We would come to the lab, pick a beat and start writing. Sometimes we'd have groups of us working on different songs. A few listening with headphones on, and some of us through the studio speakers. It was dope to be a part of. Sometimes you'd finish one verse or verse and hook for a song and move on to writing another joint. The creative juices were constantly flowing.
Stay tuned for part 2 this Thursday, January 28th.