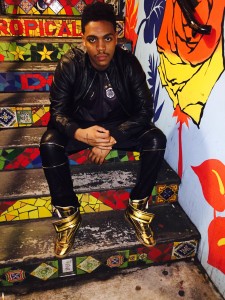 When did you know that you wanted to make music a career?
When I was in 3rd grade I told my mom I want to be singer but I actually molded to be singer/rapper overtime.
Who were some of your influences as you are molding your sound?
At the time when I was young I was more influenced by Lil Wayne, but over the years I seen drake upcoming and decided to rap and sing.
Growing up in VA, what was the hip hop climate like?
Ahh, it was ok but everybody in the DMV does not want to come together as one so you know the hate is all around but that's everywhere you go no matter what. Nowadays everyone is starting to sound like everybody and rap about the same thing but on a different beat, myself I have my own flow and just keep it real in the songs.
What current projects are you working on or plan to release this year?
As of right now I have my single "Who Ever Thought" releasing this year and have big hopes towards that song. Other than that I have several singles on the way ready to be recorded, and maybe a mixtape later on in the year.
You recently took part in a Direct 2 Exec event and had a chance to perform for a major label A&R at Def Jam, what was that experience like and what did you take away from the feedback you received?
It was a great experience, the environment was perfect everyone had a chance to network with different artist around the country nothing but positivity in the room and I took away good feedback. Only thing that was not right is I did not have a manager with me, but overall it was a great experience.
Knowing that the music industry is saturated and its getting harder to be heard daily what are you doing to ensure the Jay Dopee brand stands out?
Staying true to myself and keeping it original and also working hard to promote my songs and try to get back to back shows.
Who are some of the artists you would like to collab with in the near future?
Drake, Montana of 300, Future, The Weeknd and Big Sean
Where can we find you online?
Everybody can follow me on twitter @RealJayDopee my Instagram @RealJayDopee and my youtube channel is Jay Dopee and soundcloud is the same name as my youtube channel, I'm also on jango radio.
Any last shouts?
I'd like to shoutout my mom and my girl dopeebaby everybody can follow her too @Naveen_Isa those are both my number 1 fan and supporters an also shoutout Young Zay my bro give him a follow too @Young_Zay703 his mixtape just dropped Virginiaz Very Own on datpiff, and ohhhhh shoutout WOODBRIDGE we on the rise nobody stopping us #DopeBoyz