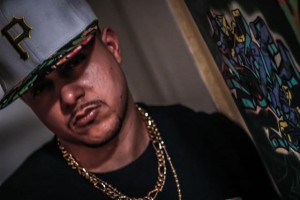 Welcome back Buzzers for our latest installment in our "Buzz'N" iNterview series. For this edition, we're blessed to be joined by an artist who recently was nominated for record of five UMA awards, who has amassed a highly impressive following online and who has built a profound music catalog over these past couple years. Ladies and gentlemen, we're pleased to introduce Produkt.

Produkt, it's a pleasure having you with us for this interview. For those that are unfamiliar to the name and your music, please explain who you are, where you're from and a little about your musical style. Why do you call yourself Produkt?
First off, let me begin by thanking the staff over at Get Your Buzz Up for the platform and support. Who I am and what I represent is simple; respect, loyalty and integrity. I'm Puerto Rican, born and raised in the Bronx. My purpose is to help push our hip hop culture forward on every scale, as well as, being a fresh planted flag for Puerto Ricans in the underground and with more hard work, the mainstream music industry. My musical style is versatile, I draw inspiration from everything. Truthfully it depends on what point I'm in at that moment of my life. My name derives from a replacement of a childhood name given to me on the streets that was NOT an option for me to run with.
This year you were nominated for a total of five Underground Music Awards, congratulations! What categories are you nominated in and of the five, which one do you feel is the most important to you to win?
Each nomination is equally important to me. I've worked hard at this for a long time. I've sacrificed my freedom, my relationships and everything at some points for this and to be appreciated by an audience of my peers and in so many categories is humbling.
An interesting fact is that your video views have totaled somewhere in the ballpark of 1.2 million, with a million of those being BEFORE you released your mixtape "Mantra Of A Dealer". Mind you, that these are all organic views. How where you able to accomplish such a feat Produkt?
By respecting my audience, my goal is to earn your attention. Whether you like it or you're popping shit about it, I want you to tune in and force you to want to click on the next video. Quality and attention to detail are things I never compromise on. Of course I still have a lot to learn. I'm hands-on in every aspect of each visual project I do. I'm involved in all treatments, casting, locations and set design down to the final edit. I believe my approach is what keeps us growing along with the help of all the talent I'm able to collaborate with.
Speaking about "Mantra Of A Dealer", that was your official debut to the world. What was your mindset during the creation process of the mixtape? Why did you decide on the title "Mantra Of A Dealer"?
If you are not familiar with the word "mantra" its a melody of words or tones to help calm and focus the mind. When I write it's the most calming moments for my MIND, although on the outside I'm all over the fucking place. All I do is repeat words, sounds or melodies. But my mantra is a melody that forms into rhymes and patterns of what I've experienced in my past or currently enduring. Hence the title, "Mantra of a Dealer".
For those of us already familiar with you and your music, it's known that you've came from a tough background. You decided to make that topic the subject matter behind your biopic video "Daddy Was a Dope Boy". In a genre of music where the streets are over glorified within the lyrics, your song exemplifies perseverance and speaks a real truth of people from a similar past. Why did you feel the need to create a tell all song such as this for?
It was a moment in time. I became a father at 16 years old. Watching how quickly my daughter has grown, it brought a fear to reality – will she recall my past on her own account and will she judge me for it? Also on that record I was addressing other hardships I was literally in the midst of at that moment.
There's a saying, your past can come back and haunt you. Unfortunately, you fell victim to that experience. Due to your PRIOR criminal record, bogus gun and robbery charges were brought up against you by the New York District Attorney's Office. With the case recently dismissed, can you speak about what really went down in the situation? Where you singled out due to your ethnicity as well as your background?
It was Christmas time and yes I was the victim of my prior convictions and also a lying accuser: a dirty ass female cop who wanted the overtime. They pinned a case on my ass without flinching despite the fact that while in custody I provided solid evidence of my innocence before and at my arraignment at the time of my arrest. Music saved my life. The exact day of the alleged crime I was booked and contracted to appear in a music video for a record I was hired to be featured on. Deposits had been sent months in advance to secure the date and times. If my proof of innocence wasn't so overwhelming and that video would have been rescheduled and I would have JUST been sitting home that day, I would be on trial right now facing 25 years for some shit I had NOTHING TO DO WITH. Salute EVIL GENIUS, KAREEM AND ALL THE GT FILM STAFF THAT DAY WHO GAVE THERE TIME TO PROVE MY INNOCENCE. I'M FOREVER GRATEFUL!
You're known to always keep it real in your music. From speaking on past experiences to relationship situations. Such proof can be found in your latest video, "Hold It Down", which features singer Frank Benz. What was the inspiration behind the song?
A combination of different stages in my personal life was the inspiration. That's why I feel the song is so successful because everyone can relate to it. Every couple fights, some worst then others. Life is not perfect and never will be. We all make decisions we have to live with forever; good or bad. This was a piece that reflected that.
So what can we expect from you in the near future Produkt? Another mixtape, an album, collabs? The fans and our viewers are dying to know, LBVS!
ALL OF THE ABOVE! There's A LOT IN STORE! Ya just going to have to visit www.iamprodukt.com daily to see what's next!
Where all can we find you online?
www.iamprodukt.com  is the one stop shop for all things Produkt. All my social media links are available there.
Last but not least, is there anyone you'd like to shout out or give thanks to?
God first and foremost, my management team for the countless hours of relentless effort and most importantly I want to thank the FANS and supporters who continuously help this movement GROW! I salute you 100.
Produkt is the epitome of dedication and hard work. The Bronx artist has managed to take his harsh past and transform it into a voice for the streets. No wonder why so many people have became fans of his music. We'd like to thank Produkt for joining us on this installment of GYBU's "Buzz'N" iNterview series. Until next time buzzers, bee easy.
Interview By: @blitzb_60505