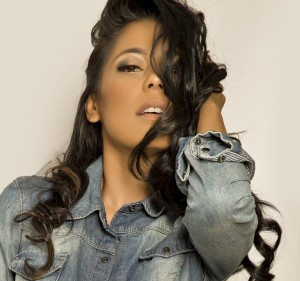 Welcome back buzzers to our latest installment for our "Buzz'N" iNterview series. We're pleased to be joined by Miami, Florida singer/rapper/songwriter AdELA. She currently has an extremely hot single out right now produced by Grammy Award winner STREETRUNNER titled "I Was Waiting" and is poised to take over airwaves nationwide. Join us as GYBU gets to know more about the talented artist.
AdELA, it's a pleasure having you join us for this interview. For starters, could you please describe a little about yourself to those that may be unfamiliar with your music?
Thank you for having me! Well I took a little break from my urban roots but I'm back now and making my EP "Off The Burner" produced by STREETRUNNER. It finally feels right and I'm so glad the urban world is still showing love and supporting me.
How do you get started in music and how long have you been doing it professionally now?
I swear I have been singing as long as I've been able to speak. Professionally speaking though, it all started with a record titled "No Other Love". I recorded it and shortly afterwards it was all over the blogs. At that point I knew I had something special. That led to many different roads but it all started with that record.
I've read online that at one point earlier in your career you were signed with Snooki of MTV's Jersey Shore fame. How did that situation come to be?
We found each other via twitter… Don't sleep on social networks! I was already kind of experimenting in a more commercial sound. So I thought what the fuck, Let's see where this can take me. I started dropping EDM records and people were vibing to it but the heart is where the heart is and mine was always in hip hop. I eventually found myself back where I belonged. I respect Team Snooki but we had to go our separate ways because her market is not urban.
Your debut video was in 2011 for the song "Just Feel It" which received some very strong radio play. What was that experience like for you and what was your inspiration behind the song? Also, how did Lil Wayne end up landing on the remix?
Well STREETRUNNER was behind that one. People kept asking for a more commercial sound, so again I went there. We did receive  alot of radio play, 1000 spins to be exact. As an independent artist, even one spin is a major win so 1000 was crazy. However, I couldn't keep up the momentum on an independent budget to be honest and that was around the time Snooki approached me so I switched it up a little bit. STREET actually took me to the studio days before Wayne had to serve some time and he listened to the record and was really feeling it. For me it was crazy that he stopped his session to even listen! The rest as they say is history..
"Live On" is a very powerful song produced by Instinctz Beats & yourself. What was it like to actually be a part of the production process? Also, what is the story behind all the photos in the video?
WOW! That is always gonna be my baby… I wrote the song years ago and one night decided to go through my iPod and came across a bad recording of it. Some real rough shit and I said I want to go in on that. Instinctz was super open to having me co produce the track so I started with the drums and we built from there around my vocals. I wrote that for a friend who passed away and it healed me so I wanted it to heal other people's heart ache. Snooki and I asked people to send in photos and stories of people in their lives who passed away and I made a video centered around those stories. I can only hope that record helped them just a little bit…
Your most current music endeavor is "I Was Waiting", produced by Grammy Award winner STREETRUNNER. The song is really making a splash online right, congratulations! The two of you seem to work great together. Could you explain how you came to work together and if there is more music to come from out of that collaboration?
That is a seven year working relationship. He produces for some of the biggest artists in the game so I feel lucky to have him. Don't get me wrong, I don't get the perks of Lil Wayne or Eminem though lol. There's so much trust built between us that I don't get to choose a record like these other guys. He goes "here this is what you're recording to" and I pretty much trust him and rock with it. He's got a great way of seeing the big picture and really being able to build an artist. We compliment each other.
"I Was Waiting" is also the lead off single to your upcoming "Off The Burner" project. What can we expect to hear from it? Are there any guest features or producers locked in yet?
"Off The Burner" is a lifetime in the making. So far it's been mostly STREETRUNNER handling the production and as far as features, I got the best in mind but who knows, if all else fails I'll spit a 16 myself!
Other than music, are there any other projects or efforts you are a part of you'd like to share with our readers? Maybe you can speak about the "Gods Kitchen" charity you founded?
Gods Kitchen is a very personal thing to me. It's not a company or anything like that. It's my friends and I going out to the streets and feeding those in need. We make 100 sandwiches, build bagged lunches and get out there and give them out hand to hand. It's the most rewarding feeling. I feel like it's everyone's responsibility to give back. We are all the same regardless of finances, race, ect.
AdELA, where can we find you online?
You can find me on Youtube, Twitter & Instagram
It's been fun getting to know you AdELA! Before we bring this to a close, is there anyone you'd like to thank or shoutout?
First and foremost you guys at GYBU for supporting me, STREETRUNNER, Lizzie Grubman, Free, the AdELA MUSIC family and everyone who shows love and supports 🙂 Also, look out for the debut video for "I Was Waiting" to drop!!! xoxoxo
Not only is AdELA a very gifted artist but she has a big heart and gives back to her community. What's not to love about that? We here at GYBU are very eager to hear "Off The Burner" once it has been released. We'd like to thank AdELA for taking part in our "Buzz'N" iNterview series and wish her continued success. And on that note, we're out.
Interview By: @blitzb_60505