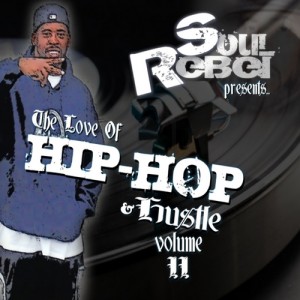 Q: What's going on? Let the people know who you are and where you're from.
A: My name is Big Ham aka Soul Rebel. I go by many aliases. LOL. You'll find out as more music drops. Im originally from Madison Illinois. I have been lving in virginia for about 9 years now though.
Q: Newport News is home to legendary musical acts like Ella Fitzgerald and The Five Keys how has the city influenced your sound?
A: The city has influenced my sound because its so diverse in personalities and sounds. Virginia has many talented musicians. Ella Fitzgerald I mos def have a soft spot for because i am a heavy jazz fan. Five Keys are godfathers to the music scene here.
Q: At what point did you decide that you wanted a career in the world of hip hop?
A: Prolly 4 years ago. I was going through a rough patch in life and the music came so naturally. I been a hip hop head since 93 though so in essence it was just a matter of time.
Q: Having military experience you must have seen a a lot, what affect has that had on your music?
A: I went from a boy to a man so that speaks for itself. Soft spot for those who are or have served.
Q: Being an artist that tries to incorporate substance in your lyrics, who were some of your influences? (musical, non-musical)
A: My musical influences are crazy long. LOL.. you got cormega, ugk, louis armstrong, billie holliday, rakim, heart, scarface (the rapper). You put em all in a pot and ya got me. LOL. Non musical are Dr John Henrik Clarke, Movies, books, Conscious movements and grassroot organizations
Q: As an artist what do you want your legacy to be? (How do you want to be remembered?)
A: A emcee who the listener knew through his music… An emcee who gave you dope product every album, who made sure his fans were never dissapointed in the material.. you might not like everything. Lol but you know it wasn't a gimmick behind it. LOL. Like all the emcees i grew up listening to. Everytime you rip the plastic you just couldnt wait to bump it!!
Q: What does "getyourbuzzup" mean to you?
A: Make these people feel ya presence! Grind and leave a legacy! Start with nothing and end up with it all.
find more music and info at
http://www.reverbnation.com/wwwindiechartscom
Interview by Aaron "Uncanny" Phillips