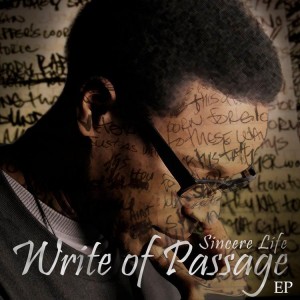 Sincere Life has been in his notebook since a preteen and has released three projects thus far. 2010's "Humble Beginning", 2011's "Dreams In My Notebook" and his third and best work to date, "Write Of Passage". The EP clocks in at eleven tracks and finds the emcee being as sincere as possible with his use of lyricism and song selection. Let's dive into a track by track of Sincere's "Write Of Passage".
Out the gate, we catch Sincere on "W.O.P. Intro" penciling in his notebook giving insight on how music is such a pivotal piece of his life, Nichi provides a very sombersome landscape to add to the emotion of the quick intro. On "FreeWrite II (Hunger)" we get an amped up Life going in, breaking down falsified rappers and proving just how hungry he is to become a potent force in hip hop. On "Golden Age" Sincere teams up with Modern Era Music's Micheal Medall for an ode to the golden age of hip hop, a simple yet dope track produced by Chemist that finds both emcees just dropping sick bars. Life showcases his storytelling skills mixed with symbolism on "Three Kings". A song that touches on money, power and respect and how they affect our mindsets.
On the ultra soulfully Flawless produced "Write Of Passage (For Hip Hop)", Sincere gives us a biopic of his journey in music on the first verse, talks about the "bling" rapper idiocracies on the second and then swears an oath to hip hop in the third. One of my favorite joints from off of "W.O.P.". THen he hits us with another soulful banga, "Home Again". A heartfelt love song detailing Sincere's relationship with his girl and their struggles. Then on "Favorite" it appears we met the reason behind the "Home Again" record. This song is about a bad chick that apparently has Sincere's complete attention. Life serves us up a mellow weed anthem on the Brave Starr produced "White Grape White Owls".
On track nine we find Life, M-City and Flame The Ruler in "The Zone" where Life claims he was done listening to beats for the EP until he heard this particular collab production from Vybe Beats & MLG Beats. All three emcees offer great introspect here. "Too Much" is another great record that I really related to. Sincere touches on the passing of his father, life struggles and learning to deal with the pain. On the closing track, "Feel Me", we get a sick Keenon Morris production that finds Sincere going into great details of how he was feeling at the time of the song's recording.
"Write Of Passage" is an album that is direly needed in hip hop in these days of anthems and over saturation. You begin to realize that we all can relate to each song. There's so much substance on this one project that most artists couldn't provide on three. Definitely worthy of constant replays and the more you listen to it, the more you pick up from Sincere. Make sure to go purchase "Write Of Passage" from Sincere Life's Bandcamp page right now.
Written By: @blitzb_60505