He may of not known it at the time but ever since his early years of watching Micheal Jackson, YUNG Citizen would inadvertently follow in the King of Pop's footsteps of becoming an avid show performer. Since first officially stepping on the stage until present day, his energy on stage and performance progression continue to grow like wild fire. In 2018, Citizen leveled up majorly and hit the stage for noteworthy and memorable events. Join us as we revisit these events while sharing details to YUNG's upcoming shows as well.
_____________________________________
Breakaway Music Festival Charlotte, North Carolina  (October 12-13, 2018)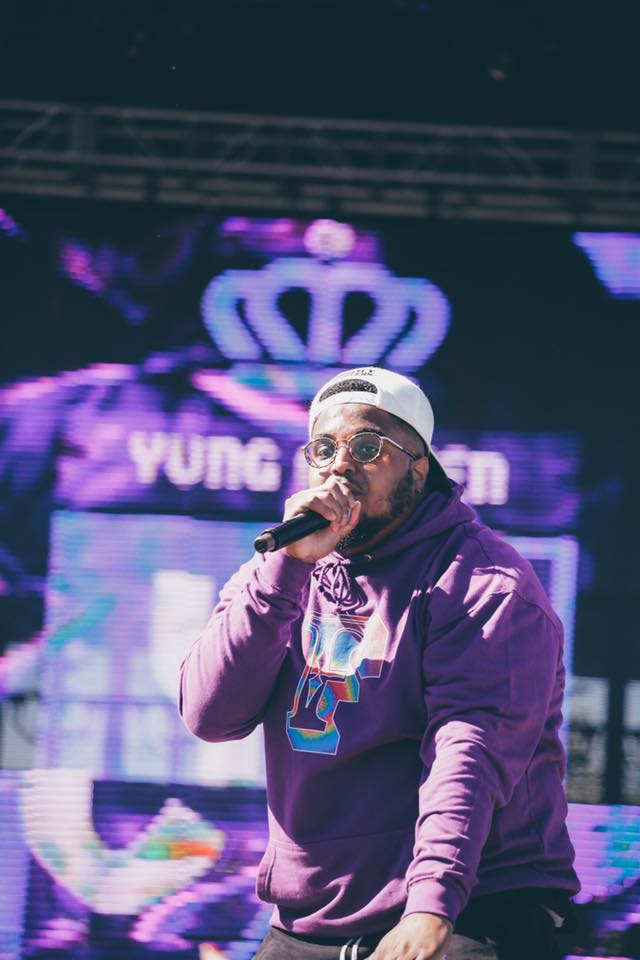 Breakaway Music Festival, curated and organized by the Ohio-based entertainment company Prime Social Group, returned to Charlotte from October 12-13. It brought along a mix of Hip Hop and EDM. Headline names from both genres included Lil Pump, Machine Gun Kelly and Louis The Child, to name a few. 
YUNG Citizen was added to the roster and  performed his set flawlessly, breaking through the race barrier and appealing to people of all walks of life. Once again giving the audience a glimpse into "F.I.T", he also thumbed thru his back catalog to add depth to his set.  The promoter was so impressed that they invited YUNG Citizen to participate in 2019's event.
YUNG Citizen Performs at Annual HBCU BOTB Fan Festival (November 11th, 2018)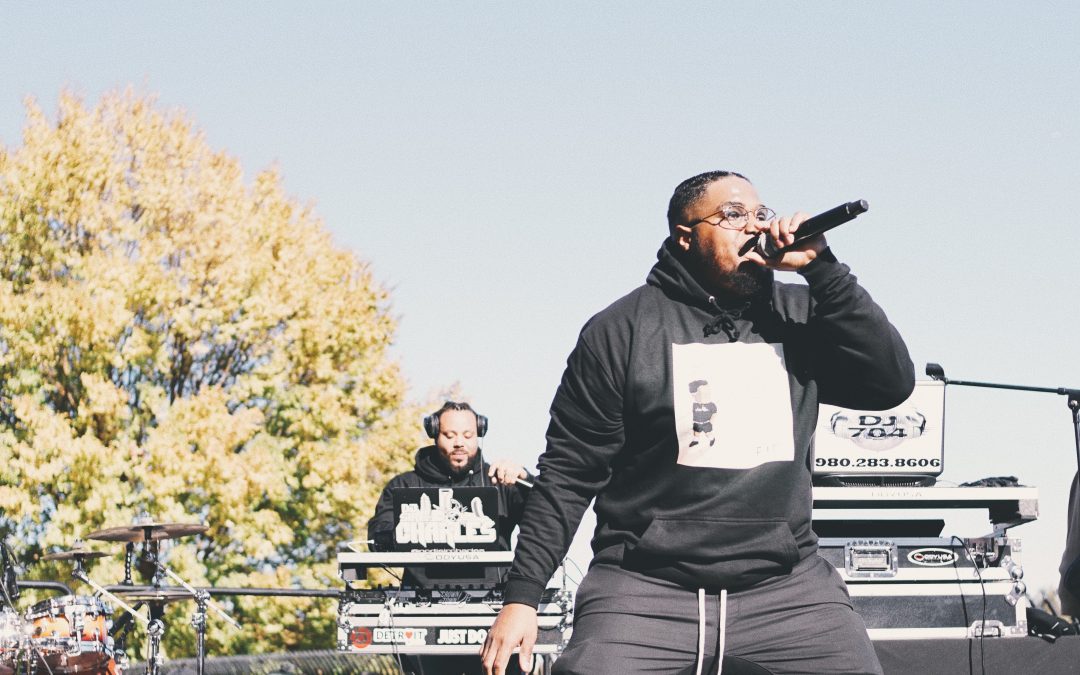 Continuing his assault on the stage, YUNG Citizen joined in the festivities at local Johnson C. Smith University, in Charlotte, NC. 6 bands compete for supreme victory while 4 additional schools showcased their marching band skills.
Instead of just being a spectator of the Battle of the Bands though , YUNG Citizen lead the crowd with a performance of his own while being backed by DJ Sir Charles on the 1's and 2's.  He performed music that is part of his forthcoming EP "F.I.T" and had the crowd at attention.
With around five thousand people in attendance for the festival, the passionate artist left a lasting impression and garnered new fans after doing so. Watch the recap video of Citizen and others, rocking out during the homecoming celebration.
YUNG Citizen Live at Creative Mornings Charlotte (February 2019)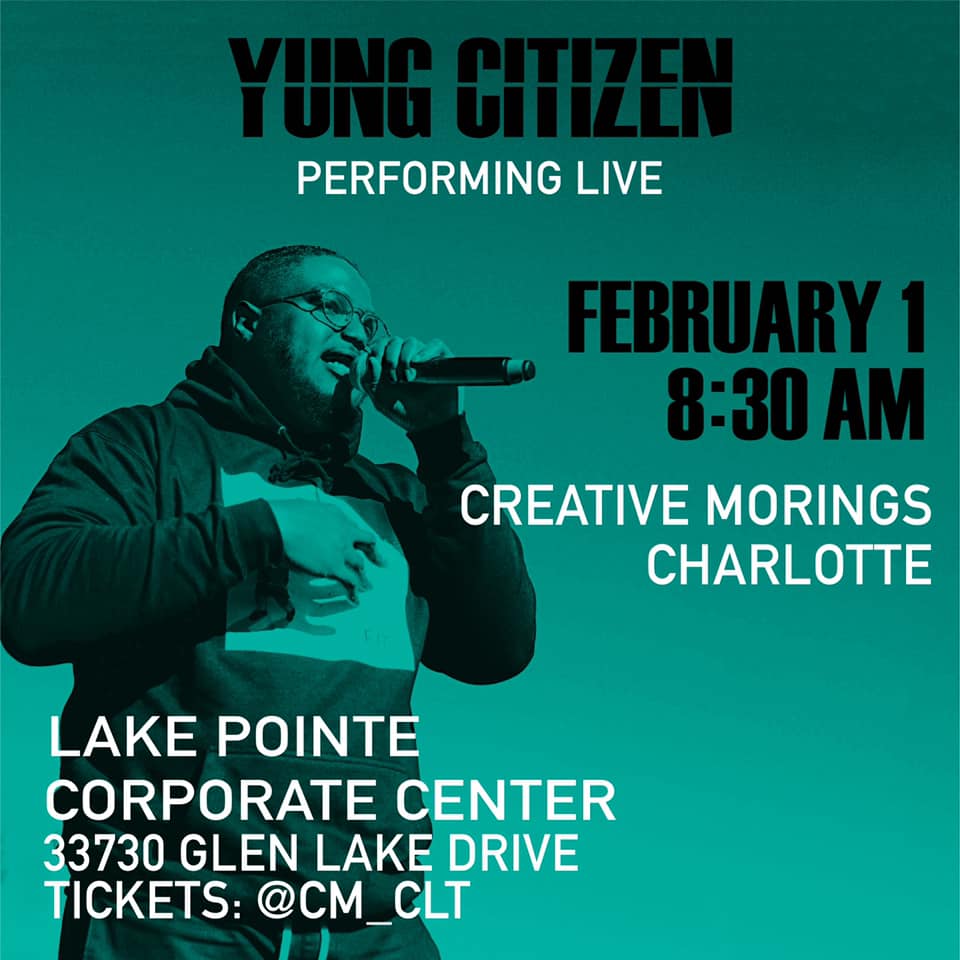 Building upon the momentum of his HBCU Homecoming Event performance, YUNG Citizen landed on the set of Creative Mornings Charlotte for a moving live performance of "Risa Joyce", a dedication record for his aunt that will be featured on his forthcoming "F.I.T" EP. After a touching opening speech, a live band supplies the sound bed that finds Citizen wearing his heart on his sleeve. He recites heart moving lyrics centered around his upbringing and how his aunt and grandmother played pivotal roles in it. It's one thing to be able to share such a personal song among the public ear but it's a whole other plateau to recite it with the aid of a live band. Luckily for YUNG Citizen, he doesn't easily falter under pressures as such.
"Thuggishness: A Celebration of CLT Hip-Hop" (March 27th, 2019)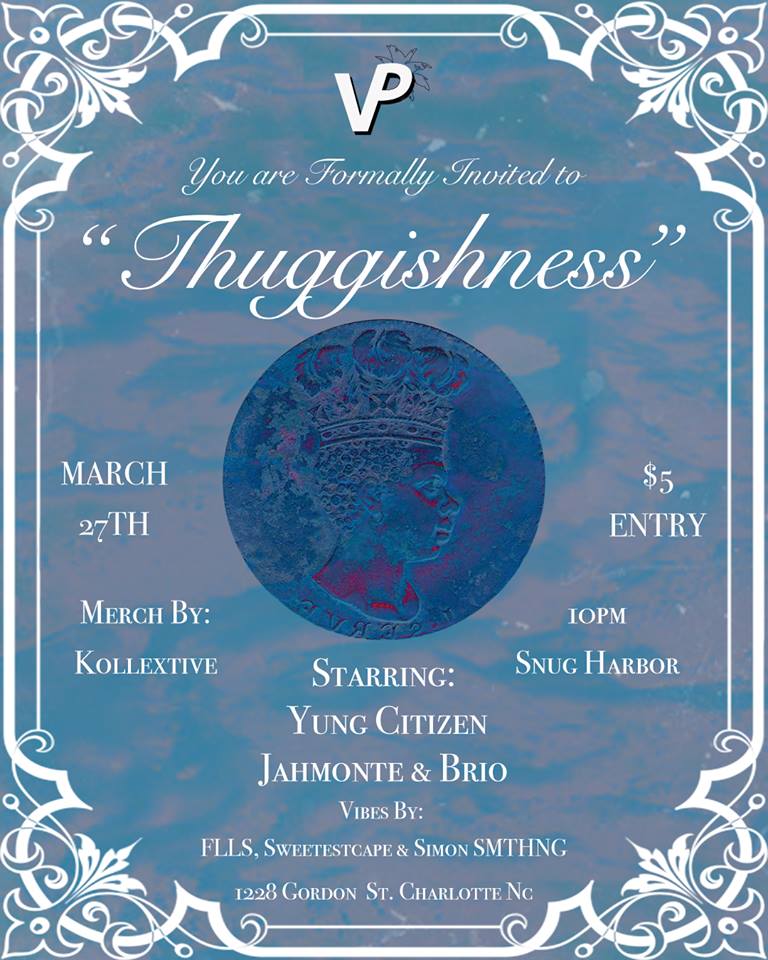 This brings us to his next performance at Snug Harbor in Charlotte, North Carolina. Entitled "Thuggishness: A Celebration of CLT Hip-Hop", the night features intimate performances from YUNG Citizen as well as appearances by Brio, jaH-Monte, sweetestcape, FLLS and Simon SMTHNG. If you're in or around the Charlotte area on March 27th, this will be an evening you won't want to miss. Details and tickets can be found on Snug Harbor's Facebook event page.
https://www.facebook.com/events/363413620927209/
The shows don't cease to slow down after "Thuggishness" either. YUNG Citizen has already booked to more performances. There's the Loft event on April 6, 2019 and then SoFar on June 15, 2019.  Carolina areas are highly recommended to keep tabs on the hard working artist on his website and social media for new updates to arise for those events. Most importantly, they are urged to step out and catch YUNG Citizen doing what he loves most and a venue near you.