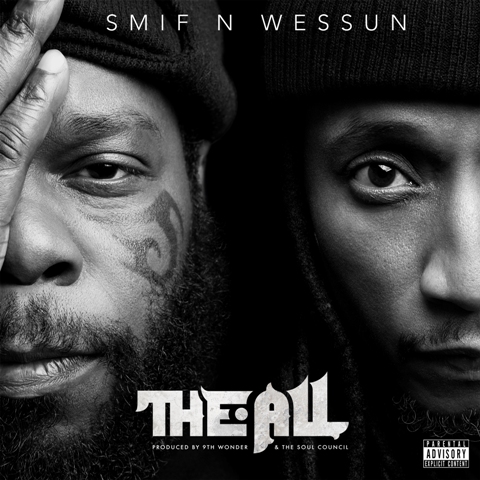 Brooklyn-bred hip-hop duo Smif N Wessun– consisting of partners in rhyme, Steele and Tek, are OG and staple members of the Duck Down Records and Boot Camp Clik family recently (1-10) celebrated the 23rd anniversary of their classic debut effort Dah Shinin.'
Tek & Steele's undeniable Gemini chemistry, clearly the byproduct of a 20-plus year friendship, is once again on full display on their new LP, The All, which will officially be released on 2-22-19.
The All is entirely produced by 9th Wonder & The Soul Council.  The project will also include guest appearances from Rick Ross, Raekwon, Rapsody and Musiq SoulChild among others.
Smif N Wessun return with "Ocean Drive" which features Rapsody & Musiq Soulchild.  "Ocean Drive" is Tek & Steele's ode to the "day ones," a breezy salute to the support system that holds us down.
"Ocean Drive" is a modern day 'Bonnie and Clyde' style ode to relationships; reminiscent of Tupac or Jay-Z and Beyonce's "Me And My Girlfriend". Although not your typical love song, it highlights the bond we have with a best friend and or closest rider Smif N Wessun proclaimed to Ambrosiaforheads.  "This Khrysis produced track accommodates our straight forward vocals as we each reaffirm our loyalty with our significant others; thanking them for always be down to ride for their 'man.' Rapsody offers her always fresh perspective from a ladies point of view and Musiq Soulchild adds the finishing touches with his soulful plea.  This is the perfect tune to groove to while cruising down Ocean Drive in Miami with your partner, or any drive for that matter. "What a time to be alive, top down doing 25 on Ocean Drive."
Duck Down will also be offering "The All" bundle packs which consists of The All digital album, Vinyl, CD, Hoodie, T-Shirt, Beanie, Sticker Pack and Smif N Wessun & Champion Sound Live From Prague digital album.  You can view the bundle packets here.  You can now also purchase tickets to Smif N Wessun's Album Release Show on Thursday 2-21-19 at SOB's.
Smif N Wessun's The All will be released on 2-22-19 via Duck Down Records. You can now pre-order, favorite and add The All at your favorite digital retailer(s): http://smarturl.it/theallalbum