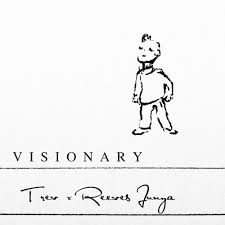 "Visionary" displays Trev's ability as not only a gifted lyricist but also showcases the many ways in which he can manipulate his flow at the drop of a dime. The single also features Minneapolis mainstay and "Alienz Only" co-founder, Reeves Junya. He supplies an uplifting second verse that raises the track to new heights. Together, Trev and Reeves have crafted an energetic piece of music that cannot be overlooked.
You would be hard-pressed to find a harder working word slinger than budding Minneapolis talent Trev. At just 19 years of age, Trev has managed to amass a steady following that carries over from the web to the real world. He's released a slew of highly diversified, hard-hitting music and has even managed to find the time to pursue a degree at the University of Minnesota's Carlson School of Management. With all of that being said, it's important to understand Trev's humble beginnings in the small town of Andover, Minnesota.
Located about 25 miles north of the Twin Cities, Andover is your typical run of the mill small-town community that rarely changes and is hard to escape, but through his music Trev hopes to do just that. Growing up, Trev cites Drake as somebody that he looked up to and was heavily influenced by, but as he got older he says that artists like KYLE, Big Sean, Lecrae and Chance The Rapper all began to appeal to him as well. Nowadays, the emcee says that you can find him listening to a wide variety of music, with everything from Bruno Mars, to Ben Rector, Daniel Caesar, Andy Mineo and Brockhampton in rotation on his playlist of favorites.
In regards to the creation of his own music, it wasn't until 2015 that Trev began to record and release music of his own via Sound Cloud. He noticed quickly that while it wasn't quite up to par quality-wise just yet, many people (from all walks of life) around Minnesota immediately fell in love with his unique sound and continue to be some of his biggest supporters to date.
Since 2015, a lot has changed for Trev and at the rate he's moving it would appear that he's poised to continue breaking down every barrier that appears in front of him. With the release of a successful debut mixtape (The Stars Don't Look At Us) and countless singles under his belt, Trev knows that he's doing good…BUT he aims to do even BETTER in the future. After recently forming the Nu Ground Music Group with fellow Minneapolis emcees JJL, Rosie and Kenny C.