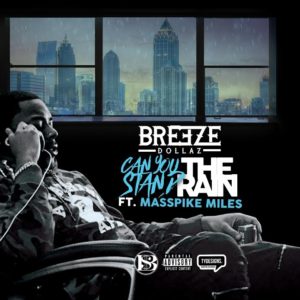 Hartford, Connecticut emcee Breeze Dollaz has been on fire this year. He's already dropped three epic visuals, performed for shows all over the country and now he's dropping another hot new single! This new Breeze Dollaz Can You Stand The Rain record show's off his versatile flow and songwriting capabilities. This latest offering from the rising emcee is an ultra smooth r&b jam with a catchy hook that finds him slowing things down a bit.
The song also happens to feature the well known r&b singer Masspike Miles making for one heck of a hit collaboration. The record is a remake of New Edition's 1988 hit single of the same name. Breeze Dollaz got the inspiration to recreate the record after spending time with the group and opening for them at a show they did in Los Angeles.
The single officially dropped on June 16th and is available across all major digital and streaming platforms. Press play and take a listen to Breeze Dollaz's hot new Can You Stand The Rain single down below.  After you listen to the record, make sure you also head over here so you can purchase a copy of the single for yourself.