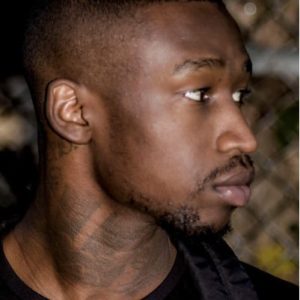 For this edition of our BuzzN iNterview series, we travel out to the East Coast and land in Philly. The city has birthed a long line of talent such as State Property, The Roots, Cassidy and the list goes on. Today's artist goes by the name of Kir, who recently premiered his latest musical offering by the name of "Legendary" via Datpiff. The mixtape includes the powerful lead single "Juice", which is currently pushing 15k views on Youtube. He's been featured on sites such as WSHH and Hip Hop Since 1987 and now, GYBU sits down with the fast rising act to speak about his upbringing, past releases and of course, his "Legendary" project.
It's a pleasure having you with us Kir. You call Philadelphia home and put on for the city in a big way, even dropping a tribute video with Siah titled "Welcome To Philly" back in 2014. What is it about the city that inspires you as an artist?
The inspiration I get from the city is everything. From the street side of things all the way to political things. We come from a hard fought city and there's not much love unless your a celebrity or athlete. Most of the time, they don't get the credit that they are due. I'm inspired by my haters an most importantly, my supporters and family. Me inspiring my Philadelphia supporters even inspires me to continue going harder.
For those unfamiliar to your discography, you have dropped previous projects before "Legendary". Let's talk about your debut effort, 2013's "The Come Up". The project was full of brolic street anthems and remixes like your rendition to Bobby Schmurda's "Hot Nigga", "Rockin". Being your freshman effort, what was your mindset going into creating this body of work?
"The Come Up", that was just the beginning. I was dropping something to see how the streets would react. I can honestly say back then I wasn't sure exactly where I wanted to go with things but eventually I found that out. That mixtape wasn't my best but without a doubt I can say it was the start of something special. It's when I first learned how to get into the ear of everyone, with the emotion and beats I used. I learned how to feel my listeners out and give them what thy wanted.
Not long afterwards, you dropped your sophomore follow up with "So Ambitious" in 2014. Your growth can be seen & heard all throughout the project. You really stepped your game up from the cover art to the overall mix of the songs found within. You had some great records on there as well, like "My Hood", My Life" featuring Siah and "Hustle". With less than a year between "The Come Up" and "So Ambitious", what sparked such an upgrade to your sound?
Between that time my sound upgraded. Believe it or not, the first mixtape helped me figure out what songs people liked and disliked. I reacted off of that immediately. I knew that whenever I made a new project, it would be better than the last. I was still finding my sound and by the time the second mixtape came about, I knew that was it. I had found my sound.
Following the structure of "So Ambitious" for a second and third volume, you debuted 2015's "Inspiration: Voice of Philly". On this particular project, it seems as though you hit a point where you began crafting songs aimed for the charts. Tracks like "Need A Mill", "His Chick" and "In The Air" still stuck to their strong Philly street roots but offered up sung hooks, Autotuned vocals and songs fine tuned to the world outside of your area. Is this a true observation and if so, why did you feel this was the next step in your career Kir?
As far as the Autotune and sung vocals, I just felt like I needed to be more versatile when it came to my music. I didn't want to make just songs street people could relate to but others as well. I'm just more in tune with the street sound because it is where I come from and what I grew up around but if you take a look at me now, I've found a way to combine the two and make my own sound.
"Legendary" marks your best work to date. Before we speak about that let's set the focus on your breakout single, "Juice". It looks like what you set out to achieve with "Inspiration: Voice of Philly" paid off huge as this lead off single has been your biggest to date. The video has garnered close to 15k views on Youtube alone and shows you can craft well produced, street based records with commercial appeal. To top it off, you incorporate Philly into the visual, a win-win. Congrats on the achievement. Was this your mission statement going in making "Juice", crafting a hit record that embodied Philly and the street?
In a way yes, this was my mission. Maybe not long term but my short term mission was to give people a visual on what it's like out here. There's a lot of hate and friends trying to outshine each other, so it's like nobody is actually moving up. "Juice" was just a representation of people looking down on you when you at the bottom but when you hit the top, they want you to remember a so-called relationship you guys had. "Juice" is a special record it definitely can define some of the key moments of my career so far.
Your latest body of work, "Legendary", has seen a fair amount of press and has been dubbed your greatest work to date. Nineteen songs of heated bangers from start to finish, including the aforementioned "Juice" single. This project also happens to be my favorite, namely songs like the title track with the Rocky sample, "Commemoration" and "We Know". What producers did you work with on this album? Also, what was your creation process going into recording this mixtape?
I worked with plenty of producers on this tape but most of them are from Jersey and Memphis. My creation process first hand was actually to make it a story with skits and everything. But eventually, I decided to let the music speak for itself. I had alot of songs to choose from with this tape, so it wasn't hard at all. The hard part was choosing which songs I would use because all of them were stuck to me.
With "Legendary" and even before this mixtape, you developed a relationship with the Vintage Media group, who also shot the first installment in your vlog series, "Road To Success". You guys have been working on and off for nearly three years now. They also shot the video for "Welcome To Philly" which we spoke about in the beginning of the interview. How did you guys link up, will there be more videos filmed by them and when can we expect a "Road To Success" part two?
Vintage Media is actually one of my camera men by the name of vintage215. He has definitely been around for a long time. I met him through another artist about 4-5 years ago and we built a heavy relationship on the music scene. He definitely will be shooting more of my videos including the one I just dropped a week ago. And yeah, "Road To Success" was an introduction to a series, so yo can definitely can expect a part two. I take a camera every where I go, so the footage will be there. We are just documenting life and what we come from.
You dropped two videos for "Legendary" thus far, "Juice" and "The Intro (Paranoia)". Do you plan on delivering any more visuals from the album and if so, can you provide details pertaining to it?
Yes, I do plan on dropping more visuals but it has been kind of hard for me to choose which ones to drop. I've been asking my listeners which video should be next. I like to sit and plan out a video out, not justshoot it. I have to give them a story about the song so they can get it from my perspective.
For viewers interested in hearing more of your music and/or those looking to stay updated on future news, where can we locate you online?
You can locate all of my info at www.kir215.com. However, my social networks are:
Instagram: @kir215_
Twitter: @tharealkir
Facebook : Iam Kir
Kir, it was great getting to revisit your previous works and presenting you to our readers. Before we bring the interview to a close, is there anything you'd like to add to the mix or possibly any shoutouts you'd like to give?
Just a shoutout to all my supporters and people who inspire me. In order to not discredit anybody, I'm just going to shoutout everyone and say continue to support and I will continue to inspire.
Philly will always be a city that births talented artists such as Kir. It's just something about The City of Brotherly Love that inspires creativity and most importantly, a strong grind. With releases like "Legendary" and videos such as "Juice", we are sure to be hearing more from Kir in the times to come. Get Your Buzz Up would like to thank the East Coast artist for joining us for the interview segment. Make sure to download a copy of "Legendary" from Datpiff and to link with Kir via his social media accounts soon after.