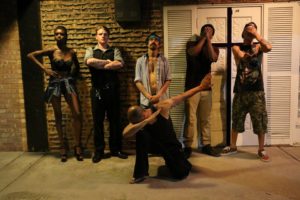 For this edition of our BuzzN iNterview series, we land in the 630 area code of Illinois to speak with a newly emerged group consisting of cousins Chris Hasty and Damien Prophet. Both have done previous solo works before the group, With Chris having extensive performance experience. They are joined by rapper Young Turtle, manager Tom Hinkey & producers 905 Productions and Third Eye Beats. Together, they offer what is being described as "Dirty Conscious Rap". You can hear examples of this on the warm up release "100" and the official first single "Shawty Duwop" from their upcoming debut project. Join us below as we speak to The Dirty 6 Thirty about the forming of the group, their explanation of "D.C.R." and their upcoming album release.
It's The Dirty 6 Thirty live and in effect! Welcome to Get Your Buzz Up gentlemen. So for starters, you guys are all from within the 630 area code found in Illinois. So it makes sense why you'd be inspired to twist it into your group name. Besides the obvious, what is the meaning behind The Dirty 6 Thirty, it sounds like a Wild Western gang!
Damian Prophet: Our squad's the best; both hands down, like it's 6:30.
Chris Hasty: We like to call our style of Hip-Hop/ Rap, Dirty Conscious music, from the 630. We do what we love, & we love what we do. It's the wild wild Mid-West baby!
You both are real life cousins. Besides that, you grew up together and have a strong bond with one another. With that said, do you two feel like this enhances your chemistry when it comes to creating music? Could you share how you guys first began collaborating?
Damian Prophet: I feel like we are one, and anyone can work with each other if they put their minds to it.
Chris Hasty: I believe us growing up together does strongly influence the way we make music. We have been freestyling with each other since we were young (like 10-11 years old), just having fun & what not. I feel like that has greatly impacted the way in which we create magic.
So as of right now, there are two songs currently available to hear. The first song is simply an introduction song to showcase the crew's capabilities and as a free download. The song's called "100" and that's exactly the amount of energy used on the CRXSH produced hit. We get a good taste of exactly how Chris and Damien vibe off each other. Why did you guys decide to leak this song as the first from the squad?
Damian Prophet: Technically, "Wavy" is the first song that we dropped together. There is also another song we dropped with another artist, Young T, called "Peace & Love", that we had released real low key; just so people could start vibing with the type of music that we were about to come out with. We decided to release "100" because we felt like it was one of the stronger songs off of our mixtape that we are going to release soon.
Chris Hasty: In "100", I believe that people can truly grasp a feel of what Damian and I were truly on when it came to making tracks together. We both complement each other's energy, whilst showing that we can do what people never had expected us to do in the first place; go hard or go home back to the drawing board.
That song got some decent looks on Soundcloud, all off of fan support only. That's when the decision was made to release the official single "Shawty Duwop" from your forthcoming debut album. We also get our first listen to crew member 905 Productions' skills on Pro Tools. There's some pretty intense lyrics on this track, more so than on "100". What is the story behind the song title?
Damian Prophet: "Shawty Duwop" is a word that we had just made up buck!
Chris Hasty: "Shawty Duwop" stands for something that represents getting trippy. We complied the song after a long night of dragging along our studio equipment from one place to the next, trying to work with artists who said they were down to work. We made the track at 5 in the morning, just reciting real time events that had just occurred prior to us even thinking about making it. We were up for 3 days straight, no joke, making music & chasing our dreams, when I had came up with the first line of the track, "F*** you talkin' bout wake up, B**** I ain't even went to sleep yet!". After that, we had just expressed the situations we had been through the past 72 hours, and built it into a track, which we found suitable enough for people to actually understand about what was truly going on in our lives at that moment.
Rumor has it that the squad just recorded a visual for one of the upcoming album's tracks. If it's possible, can you share any details pertaining to the song and what we can expect to experience once it releases?
Chris Hasty: All I can truly say is this; I performed this song at the Feed in Kankakee, IL, &  Andale, Andale and Andale. I GOTTA GET TO THE MONEY!!!
Though it hasn't been officially stated, the supposed title to the album will be "BUCK". By definition, buck to me means getting wild. What significance does that word hold to you that would constitute it being used for the album title?
Damian Prophet: The buckin' title is just buck, buck! The real question is … why knuck, if you buck?
Chris Hasty: Lol! To me, it constitutes us being just who we are! We are wild, we are young, and we are free!! We do what we please, and do whatever we love to do! Whether that be indulging in extra curricular activities, or staying up late night making beats & mixing our lyrics. We love to get wild, we love to do what we love, we love to get buck, BUCK!
There's no hiding from what's currently going on in the world. The rapidly increasing police brutality issues have always been knocking at Rap's front door. This past year however, that issue has been the center point for senseless shootings on citizens, most leading to death. You guys have a song coming out soon called "FTP". With everyone on edge, why did you guys feel the need to record such a song?
Damian Prophet: The meaning of the song is a lot more than just yelling "FTP", and getting buck. The song itself tries to tell every side of the story. We just want to inform people who don't understand the situation; people that are privileged.
Chris Hasty: I truly couldn't have said it any better. If people just listen to what we are actually saying in the song, they will find a deeper meaning behind it & maybe truly understand the art we are trying to portray via this song.
Your music is self described as "Dirty Conscious Rap". I myself am intrigued by this labeling. What exactly does this term mean?
Damian Prophet: Go ahead, you can take this one Chris, lol!
Chris Hasty: Hahaha!! Well, here is basically the definition behind "Dirty Conscious Rap". The "Dirty" is derived from the nasty beats that are being bestowed upon us, via our main producers right now, 905 Productions, Third Eye Beats & Midnight 25. "Conscious" because, we aren't only just rapping about things that are appealing to the masses right now; clothes, jewelry, money, women, cars, extra curricular activities. We are also implementing real thought provoking lyrics in between. Only those who are truly listening to our "Rap" will catch the gems we are trying to bestow. I mean, I love to turn up! Yet, I know what's really real. I feel like people think as if we can't have both. Why can't we have both? It's all one at the end of the day.
The Dirty 6 Thirty has covered all the bases and began spanning out into the social media world. For those of us interested in staying updated on things like upcoming releases and performances, where can we locate you on the net?
Find us on Facebook, Twitter and Soundcloud.
Facebook: https://www.facebook.com/TheDirty6Thirty/?fref=ts
Twitter: https://twitter.com/TheDirty6Thirty
Soundcloud: https://soundcloud.com/dirty6thirty
Fellas, it's been great getting to know you more and sharing upcoming talent from the Midwest, mainly the 630. Before we let you get back to the Dirty, would you like to give a closing statement for our readers, maybe some shoutouts?
Chris Hasty: First of all, I want to give a shout out to the 815; B.town, Bourbonnais! I love where I grew up. I mean, I was raised in the 630 from when I was born until about 5th grade. Yet, I spent most of my life in the Kankakee County area. That's where I started making music, & that's where I started building a fan base. I have made so many positive connections and made so many friends who have helped me along the way from there, it would be a shame of me not to show my love, respect, and appreciation for that in which has told me to never give up on my dream! I currently reside in the 630 now, have been for the past 3 years. I'm reconnecting with family, old friends, as well as new ones, that have sparked a new fire in my desire to become one of the greatest who has ever done it. I want to give a shout out to everyone who has ever believed in me & who still believes in what I do to this day. Peace, love, & everything above.
Just off of two releases, The Dirty 6 Thirty have shown an undying passion to speak their minds over addictive production. Don't let their young age fool you, a strong creative mindset and relentless hours of recording and gearing The Dirty 6 Thirty to become strong within the Midwest music scene. We'd like to thank the guys for stopping thru and conducting the interview. Make sure to follow their social media accounts and stay tuned to GYBU for future release.