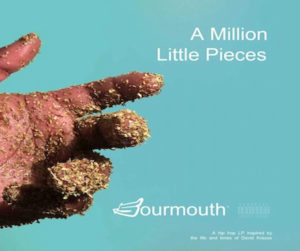 Portland emcee Sourmouth proudly presents his sophomore LP, "A Million Little Pieces", a personally reworked version of the James Frey book. Consisting of twenty-one tracks in total, the PDX rhyme psychopath blends a wide variety of genres to properly dictate his life story and struggles. Whether he's putting a twist to the Robin Hood cartoon from Disney, delivering club hits like "Ayo" or penning songs like "Because I'm Black" that dig deep beneath the surface of his comically known approach. With his insane antics and left field approach to music, GYBU decided to take a closer look at the project a pick apart some of our favorites of David Krauss' "A Million Little Pieces".

"Lost My Mind" – The first song on the album and also the debut single/video. Hands down, this is the sickest beat on the entire album. Produced by Johnny Juliano, the eerie keyboards, multilayered drum patterns and wobbling bassline place David into his ideal element. Listen as he flexes a mentally ill delivery pitch that makes you actually believe this guy has some deep rooted issues. The song takes on a shock rap approach but is also Sourmouth's way to present the mindset he was in at that particular time in his life, floored by addiction. The video is what makes this a dead ringer for best song of the album. Krauss twists the cult movie "Requiem For A Dream" and welcomes Micheal Myers to the set.
(Fun Fact: Sourmouth's stepfather makes an appearance in the video as a disorderly)
"Ayo" – Of all the songs besides "Chief Like Keef", this is the strongest club song on AMLP. The production screams late night cruise to the after spot tipsy. Each time this record comes on, I want to roll down the windows bellowing out "ayo-ayo"! David's lyricism revolves around hooking up with a pretty, young shorty. "Ayo" also features a third verse from Sleep Dank who gives the track street appeal. This wasn't a song I'd expect to hear from him, I was taken by surprise. However, I could get to like hearing more of these types of singles in the future.
"I Hate It" – Originally dubbed "Sorry Dad", David takes a break from the insanity and partying to pen a heartfelt letter that services an apology to his adopted father. The production reminds me of a nineties power balled from Blink 182 or along those lines. This stands truest on the chorus, where Sourmouth hits varied melodies. The second verse brought a tear to my eye, where Krauss begins his apology to his father and family for years of distraught he caused while struggling for identity. This and "Because I'm Black" are very powerful. The guitar solo at the end knocked this out the park. Don't be shocked if you find yourself shooting a call or message to your parents after hearing this.
"Bang Bong" – If you loved "Lost My Mind" like I did, this song is like it's red headed step child. Thundering, octave shifting synth basses are riddled with church bells and this amped up string plucked make up the beat. Sourmouth delivers a solid workout/ wild out song wound up into one adrenaline filled track. His delivery is extremely on point, riddled with witty punchlines. This is yet another of the album's most potent cuts. We find him taking a trick out of Eminem's goodie bag and speaks from a two character perspective and sets up an interesting trailer park encounter, highly recommended for a few laughs!
"Because I'm Black" – With it's left-field production approach building up to the first verse, we find David focused as ever, using his clever sarcasm to speak about his own encounters being black in a mostly white neighborhood. Also note if you haven't figured it out yet, Sourmouth was adopted by an older white couple as a child. Imagine all of what a person in a situation like that has to deal with growing up? Those feelings and other situations many African Americans experienced are visited on this song.
"Watch My Temper" – Sourmouth has pretty much mastered the singing psycho choruses and he owns that feat on "Watch My Temper" where he seems to be coming aware of destructive behavior. So much in fact, David speaks in graphic detail about his Adderall addiction, sending out dick pics and the day his neighbor Melissa and an EMT found him on the brink of death. The beat reminds me of the "8 Mile" soundtrack and Em's song, "Run Rabbit Run". I enjoy song's such as these, tracks that speak about the struggles of life and shows that we're not perfect.
"Chief Like Keef" – Millionaire Music provides a cinematic soundtrack that serves as the climax of the album. Once again, Krauss is in pristine condition here. I love the hook and the melodic adlibs. This song reminded me of "Still Don't Give A Fuck" from "The Slim Shady" LP. I can see the bad ass kids in high school bumping this out in the parking lot, rolling up a blunt about to skip school. The mix is mega clean, an ideal song to blow some steam off to while singing.
Twenty-one tracks was alot to take in for me, especially in an age where singles and EPs rule. However, nearly all of the songs have their own unique element to them. After taking in the entire project a few times, I began to see why Sourmouth choose the James Frey concept. The Portland bad boy has tremendously improved his song crafting abilities since his debut album, "Mr. Federal", tenfold. He's not your typical rapper but we can all relate to alot of his content. Never afraid to speak his mind, Sourmouth does a solid job with the album. Purchase and stream "A Million Little Pieces" below.