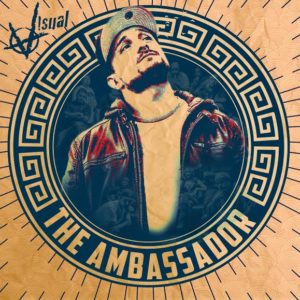 V!SUAL is a very humbled individual but don't let that fool you. The Logan Square resident has been putting in massive hours and man work over the years. Blood, sweat and tears have gone into both Community Service Records and the esteemed #HelloHipHop collection that consists of monthly music gatherings and networking events. To top it off, the active community leader also holds an emcee badge and has released an extensive library of EPs and albums. His newest effort is ten track album that fittingly fits his position in the city. "The Ambassador" is full of organically grown emcees and producers and to be honest, is his best work to date. GYBU has been following V!SUAL for a few years now and found it only right to share some of our most favorite tracks. Please raise up as "The Ambassador" enters the room.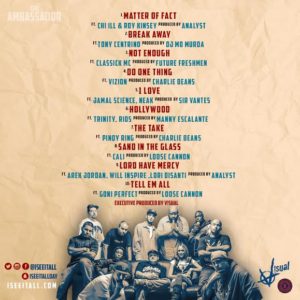 "Matter Of Fact" – As soon as I pushed play, I was overcome with an infectious organ & piano riff that finds "The Ambassador" opening up the project. The childlike piano melody is met with a smashing drum arrangement that made my head nod immediately. V!SUAL chooses a delivery style that uses an echo on his verse that gives it more of an impact. The chorus comes in on a presidential pedestal thanks to a funky synth horn. Chi-Ill plays diplomat in verse two, who rides the Analyst produced track perfectly with a voice and delivery that fits the song perfectly. Roy Kinsey incorporates the finishing touches on a song that speaks about standing your ground and always being ready for what's to come. This is the kind of song I'll be playing early in the morning when I'm on the way to work or for a spiritual pick me up. Great song to start the album off with.
"Break Away" – My next choice is track two, the hard hitting, Rock infused sounds of "Break Away". DJ Mo Murda singly handily is able to portray the violent city of Chicago thru this instrumental by utilizing a strong brass ensemble into the verses and high strung guitar licks thru the hook. It gives off a strong sense of urgency and the chorus encourages listeners to "Break Away" from the confusion and hatred found around us. Tony Centrino kicks things off here, paying homage to the Chi using metaphors such as "used to call it Murder Town, now it's Chi-Raq" and "but I seen how Derrick rose from it". His verse is definitely carried out with precision and precedence. I love how the beat bounces back and forth from the lush pads to the brass selection. V!SUAL once again plays "The Ambassador" role as he provides insight on how to be a better people, either thru knowledge our self experience. These guys make a great combo, along with DJ Mo Murda.
"1Love" – I love the sample Sirvantes flipped here, it's birthed from the elder years of the Hip Hop sound. For this track, V!SUAL teams together with fellow Chicagoans Jamal Science and Neak to spread that Bob Marley type of love to those that yearn for it and may not know they are in need of it. Nothing too deep here, just something smooth to throw on an enjoy a drink or reminisce over. I could hear this being played at the weekend cookout without age restrictions.
"Lord Have Mercy" – For my fourth and final pick, I've got to select the crew featured soul seeker, "Lord Have Mercy". Featuring Will Inspire, Arek Jordan and Lori Disanti, we are once again blessed with the talented skills of producer Analyst, who crafts the best song of the album, in my opinion. I love all the elements used in the beat arrangement and V!SUAL delivers one of his most memorable choruses on the album. I immediately think of cold, windy city nights whenever this is on. It's a great representation of the Chicago state of mind. All four artists put out a solid verse. It's a must hear song for old school Hip Hop heads, full of soulful samples.
Overall, "The Ambassador" is a well conceived project full of meaningful, grassroots Hip Hop that doubles as a great representation of Chicago Hip Hop with a long list of guests and producers. The album can be heard and purchased below.