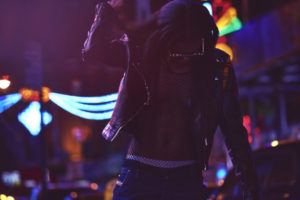 The city of Brooklyn, New York has birthed some very influential female Hip Hop artists of our time such as Lil Kim and Foxy Brown. With the uprising of Southern Rap overtaking the East Coast these past few years, music fans have been eagerly anticipating the resurgence of a solid Bronx femcee to take center stage. Enter Danté Lennon, who's been grinding the indie circuit for years and just recently premiered her latest project, "Party at a Funeral" along with a video for the debut single, "One Thing". Join us as we speak with Danté about her earlier years, the new album and what to expect from her in 2016 in this edition of our "Buzz'N" iNterview series.

Brooklyn, at one point, was churning out gifted lyricists in the nineties and is a melting pot of strong talent still today. How did growing up in this particular area influence your musical approach?

Brooklyn is a melting pot – and it's the biggest influence on my style and music. It's easy to become jaded, when you've grown up here… There's no place like it. You'll find West Indian culture in some neighborhoods; while just around the corner, the Jewish influence is heavy. As you venture further into town, you'll find a mixture of "hipsters" gentrifying what classically was/is called the "hood" (my neck of the woods). So, with an area so rich in culture, I pull inspiration from everywhere. A simple walk to the corner store can inspire 16 bars.
Those unfamiliar to your discography may think you're new to the scene, which of course is untrue. Let's travel back in time to 2011, to your "Square In A Circle" mixtape. More so back to the "Cool" video. This is a great throwback joint and shows how you've managed to stick to your creative approach thru the years. Please speak about this timeframe, the mixtape and the "Cool" video to bring our viewers up to speed.

Wow! Five years ago? It's been that much time already? Square in a Circle feels like a blur at this point. I remember being in a lighter space at that point of my life. I didn't take anything too seriously. We worked on it for about a year making sure the production and the songs were "right." Overall I just wanted to put out a dope project with something for every "hip-hop head."
The "Cool" video was Shot by JR Omishore (who also directed my latest video "One Thing"). We didn't have a treatment. We found some locations that we thought were cool at the time (no pun intended…ha!) and shot guerrilla-style. He was new to making videos, and I was starting to take music more seriously. For that time, I thought it turned out dope.
Before "Party at a Funeral" was even conceived, there was the Dot Da Genius collab effort, "Party All The Time". The single was also featured on the "Square In A Circle" mixtape. Was this were the inspiration for PaaF first started?

No, not at all. Party at a Funeral wasn't even a thought when this song was made. I had some more living to do before I could even conceive this PaaF.
However, there is a funny story behind that song. Dot and I worked a lot together back then. We were in the studio, and he was like "Té I got 'one' for you… I even got the hook." My dude really got excited and got in the booth and started singing. The few people who were there with us mentioned casually "this song feels familiar." Later, we found out that he basically sang Eddie Murphy's "Party all the Time." This was NOT the intention. I swear. Ha! Once we got wind of the situation, we decided to go with it and put a sample of Eddie's version into the intro of the tape.
Wow, that is a funny story! Let's get back to the present and talk about your latest video treatment, "One Thing", which has been your biggest production to date. Flowing in flaming circles, on top of a mini yacht and a ballerina are just a few of the interesting points behind the video. I'm very curious to know why you choose this particular visual direction for the video. Can you share that with us maam?

I love fire! I'm sort of a pyromaniac, so fire had to be in the video. My mind works in very random ways. Many times I'll have ideas that won't make sense to other people (a gift and curse at times). With this project being my most personal yet, I fought to have my vision realized. It took a little convincing.
I wanted to create something that was visually appealing… something to keep the audience engaged and entertained. I wanted something dark, yet fun (keeping with the Party at a Funeral theme). I wanted people to "get it" while also leaving room for interpretation. Art is meant to keep you guessing and coming back for more. What's the young lady running from? What is she searching for when she stops on the dock? Where am I going at the end of the video? Questions… Only YOU have the answers!
You're teamed up with Major Theory now and in doing so, they presented "Party at a Funeral". Please speak about them, how they are managing your new music and why you decided to work with them for this project.

I actually worked with Major Theory for "Square in a Circle" as well (They went by a different name back then). Vance, who's a creative director over there, wears many hats… he's my engineer, photographer, evil genius, etc. Then there's Ryan—better known as Rum Punk. He produced records for PAAF. He's another strange guy who also rocks a number of snapbacks… he produces, he did most of the graphic design work and also helps come up with ideas. My relationship with these dudes started off being about the music, but as time passed we've developed a deep friendship. They're really intelligent creatives. I've learned a lot from them and we work well together. We have chemistry and that's the best part of any relationship. You can't win a championship with a team that doesn't have chemistry. That's what I appreciate the most. They understand that "sometimes I want to be left alone, don't call my phone, let me in my zone…"
One of my favorite songs from the album is the intro track, "Evel". Over an explosive instrumental that strongly reminds me of Jay-Z and Kanye West's "No Church In The Wild", you open up about personal woes and struggles. These types of tracks are always my favorite. Who produced this song firstly and secondly, why did you decide it was right to pen a personal track for PaaF?

I got a Jay Z comparison. Lit! My good friend JKeyz produced the track. Evel was actually inspired by Travis Scott's "Pray 4 Love". I was in the studio, and someone played that record, and it instantly gave me a feeling… I wanted to capture my version of that feeling… I can't really explain it, I just wanted to put people in that place.
The struggle of being an artist…The struggle of being an adult for that matter. Before this project I hadn't been known for making too many personal records. I felt that at this point in my life, for this release, I needed to open up more. I needed to be more vulnerable and more relatable. There's more to life than the "turn up." With this project, I wanted to connect with real people on a real level, so I had to open up the project with 100% me. Here I am. Here are my shortcomings. I'm down but I won't stop. If anything, I'm going to take off.
We've been presented with one video from Party at a Funeral thus far. Do you have plans on releasing any other videos from the project. If so, can you share that info with us?

We're planning on releasing another visual soon. I know it is hard to tell me apart from Beyonce…LOL…but, I am not in a position to drop a visual for every song in conjunction with the project's release date. I have to be selective and intentional. I also need to make sure I am 100% proud of what I put out. We know what the next single will be. The treatment is almost finished and we'll be shooting soon. I'm excited. This one will be worth the wait.
We're approaching the middle of 2016, what else besides campaigning the album do you have in store for the remainder of the year?

Right now I'm focusing on shows. I'm getting out there and touching the people (people actually want me to touch them… but that's for another interview). The goal is to let the people, my people, know that the music is dope.
We have some things in the works that apparently I am not supposed to be talking about yet (you know how that goes). Hopefully I'll be talking to you guys a few more times throughout the year… You're going to have me back, right?
(Laughs) Of course, we'd love to hear more from you Mrs. Lennon! Speaking of which, for those interested in hearing more music from you and wanting to stay in touch with updates, where can we find you at online?

Dantelennon.com, That's the hub for everything.
Danté, we'd like to thank you for taking the time to let us get to know you better via this interview. Before we let you get back to the party, is there anything else you'd like to add into the mix at all?

You guys really did your research, I love that. Thank you for having me, I really appreciate it! Now who's buying the drinks for this party?
Brooklyn will always be a staple point when it comes to urban music and Danté Lennon has no issues whatsoever picking up the torch and ensuring it doesn't burn out any time soon. GYBU would like to thank her one more time for chopping it up and allowing us a closer glimpse into her life and creativity. Plug into her social media accounts and stay up to date as news arises. This has been another installment in our "Buzz'N" iNerview series.