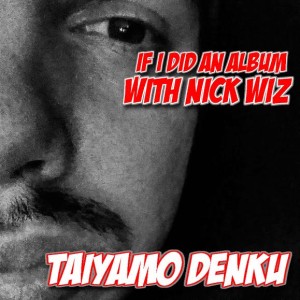 After a countless amount of singles, an all-star cast of guest features and albums like "RadiOctive", CyphaDenMusic's Taiyamo Denku offers something different with "If I Did An Album With Nick Wiz". On the release, we get a more concentrated lyrical approach from Denku. Typically hearing the Milwaukee emcee over Australian producer Dcypha's beats, Taiyamo switches gears and creates a ten song album with the help of New Jersey producer Nick Wiz by way of his instrumental project, "Unreleased 90's Hip Hop Instrumentals" (click here). GYBU has been following Denku for some time now and when we heard the album, we wanted to shed light on it by giving it a track by track review. With that said, let's get into "If I Did An Album With Nick Wiz".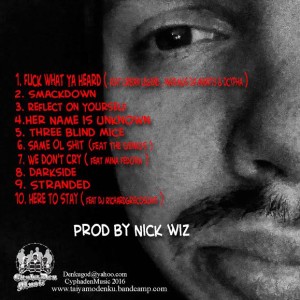 The album begins with "Fuck What Ya Heard (FWYH)". Of all the songs, this was the one to kick things off with. Featuring guest verses from both Urban Legend and Maximus Da Mantis. Nick Wiz cooks up a raw instrumental full of drum breaks, horn samples and an addictive cosmic sound sure to have your head nodding.  We even get an appearance from Dcypha who murders the hook with insane DJ cuts. Denku spits "I dare devils to be my enemy, I'm Wilson Fisk" and other smooth punchlines that make this song a favorite of mine. Taiyamo then takes to the top ropes and lays the  "Smackdown". An old school lyrical barrage ensues and includes some humorous comparisons to Gomez Adamz, Kevin Bacon and Leonardo DiCaprio. The song is classic Denku, hard bars with no remorse. As the song digresses, the project takes on a new light with "Reflect On Yourself". Again, Nick Wiz' delivers a solid beat, this one being of a mellow approach. This seems to create a more intellectual Denku, one of the outcomes of doing an album with the New Jersey native. By three songs in, it's pretty evident this project is oozes of a nineties influence.
"Her Name is Unknown", a love song that reminds me of songs like A Tribe Called Quest's "Electric Relaxation" and The Pharcyde's "Passing Me By". The xylophone sounds really give it that feel good vibe, an approach many have never heard from the Wisconsin native before. I get the feeling this song may have been inspired by a personal love interest.  IIDAAWNW then moves into the Slick Rick inspired sounds of "3 Blind Mice" where we get a good taste of Taiyamo's story telling abilities. This is another standout joint as we don't get treated to records like these to often these days. Getting too in depth will ruin the song for those of you have yet to hear it, just know it's pretty deep. The next song also doubles as the second single from the album, "Same Ol Shit (SOS)". The song features a well sung chorus from The Genius and speaks about some of the mediocrities we face in daily life, Hip Hop and such. This is what you can put on when you're having a bad day or feel feed up with things.
Like previously stated, Taiyamo gives us a more personal project with IIDAAWNW, enter "We Don't Cry". This is by far the most open we've heard Denku get, opening up about his father, his relationship with his half-brother and the passing of Praverb and Pumpkinhead. Mina Fedora hits it home with here emotional vocal performance. Another standout song from the album. The "Darkside" is very dark and eerie sounding, it gives off a horror vibe. It's on a Milwaukee meets New Jersey hardcore tip. Don't listen to this one with the lights off. (laughs) The mellowness kicks back in on "Stranded" with it's full on nineties Hip Hop inspired chorus approach. In the song, we find Denku speaking about Milwaukee and dropping jewels. "I'm Here To Stay" brings this outstanding album to a close. Presented as the debut single, this single song can sum up the mindset of many veteran emcees in today's new generation of Rap/ Hip Hop. Nick serves up a classic Hip Hop instrumental that will have you feeling as if you just went back in time with DJ RichardGriecoSuave killing the turn tables before the curtain comes to a close.


"If I Did An Album With Nick Wiz" is how a true Hip Hop album should sound like. Minimal features, a mixture of wordplay and raw emotions are all elements found within the release. With keeping the project at ten tracks, Denku is able to provide a solid catalog minus filler cuts. With a wide variety of selections to choose from such as love song, battle rap joint, personal record, you name it and they're here. Nick Wiz beats bring the nineties era sound back to life, something fans of the era will love and respect. There's even rumors brewing that Nick and Denku are speaking about working on an exclusive project together in the near future. With that said, make sure to check out the album below, which is also available for purchasing for $5 from Taiyamo Denku's Bandcamp page.