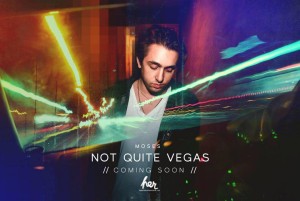 We've all heard the saying "what happens in Vegas, stays in Vegas". However, that's quite not the case when it comes to Wisconsin DJ/producer Moses and his upcoming debut EP, "Not Quite Vegas". Having already opened for a slew of artists such as Lupe Fiasco, Waka Flocka Flame and Big Sean, the highly gifted beatsmith was also named DJ of the Year in the 2014 Madison Hip Hop Awards. The Higher Education Records owner and in-house producer is set to step into the limelight this year with his EP release and with that being said, GYBU wanted to learn more about "Not Quite Vegas" and offer insight into Moses' rise within the music world in this installment of our "Buzz'N" iNterview series.
Salutations Moses and thank you for taking part in the interview. Before we draw focus onto "Not Quite Vegas", let's talk a little about where things first began at musically for you. Higher Education Records (HER) was formed in October 2010, almost six years ago and so far, has amassed over 1.8 million Youtube views. Congrats on accomplishing such a feat! What was the inspiration behind forming the label? Also, could you list the current HER roster for those that may be unfamiliar to the movement?

Well basically, when I moved to Madison in 2009, my former music partner and I met a lot of really cool people, many from other states, that were also making music whom we vibed with. After consistently having folks in and out of my house every day, it occurred to me that with these people being from all over the country we would be much stronger if we all came together as a team and my partner agreed. The goal was to be a support system for each other and whenever anyone dropped a song or project everyone would share it to all their people back home and we would all simultaneously make a name for ourselves in each of those cities/states. Some caught the vision, others didn't. Either way, we're always pushing forward to pursue our art.
Currently the roster is as follows: Annalog, Mad Static, Jermaine Event, Philly Anderson, Sleepy, Mic Crawf, Melatonin, Duke Daeo, and we have 2 huge new additions that will be made public very soon. Oh, and obviously myself, Moses, as well. Annalog, Melatonin, and I are DJs/producers and the rest who are listed are rappers. The 2 new additions are a surprise. I also run the studio.
You double as the owner of HER and as the in-house producer for projects such as 2011's "StereoSmarts". How do you juggle both of these titles and how do you go about approaching the production for each release?

By consistently going to bed at 4am (laughs). I work really hard and always push myself further to succeed and for my team to succeed. I'm glad you brought up "StereoSmarts"; I was just revisiting that one. Really liked that project. Basically, I just try to catch the vibe of the artists I'm working with and incorporate my personal style into theirs to create a cohesive vision for the project. I like to just get into the studio and start creating and see what we can come up with together. Not a big fan of internet collabs, although sometimes they can be magical. I'm all about personal connection when creating art.
GYBU became hip to the movement back in July of 2013 with the "Higher Education: Lesson II" mixtape. That's when we got a taste of not only your production skills but was introduced to Sean Smart, Sleepy and Jermaine Event to name a few. Do you guys plan on releasing another installment in this series in the coming times?

Yes! This year we will see another HER collaborative effort. Whether it follows suit in the series as "HER: III" or something new, I'm not sure, but you will definitely see a collaborative release from us this year. We actually have a HER 2016 preview tape in the works right now.
Also featured on that mixtape was "Bed & Breakfast", which I personally felt was a solid visual. I actually still watch this from time to time (laughs). HER videos aren't only entertaining to watch but quite artistic in their approach. Why do you feel that's important to do Moses?

That's what's up. That was a really fun one to make for multiple reasons (laughs). And thank you, I really strive for that with HER. I don't like having a product that is merely flashy and nice to look at. I aim for substance – something greater and more satisfying than just the frosting on top if I may make a cake analogy. I feel like a lot of people are overly concerned with the frosting instead of focusing on substance of the product as a whole. I want it to look beautiful, of course, but I want you to come away with the feeling that you just had a unique experience beyond a pretty picture. I want a product that goes deeper. I guess you could say I like my videos the way I like my women…and cake (laughs).
Since we're on the subject of visually stimulating videos, let's switch gears over to your debut solo EP, "Not Quite Vegas". Being quite the gentleman you are, we not only got an advance copy of the project (review coming soon) but were blown away with the video for "Run". Talk about going on a cinematic journey, damn! (laughs) I really loved the black light painted scenes, something out of Busta Rhymes "Hands Where My Eyes Can See". I've watched this video repeatedly over the last week and at some points, stalled me from finishing the interview. Please talk about the video and the concept behind it for our viewers.

I'm glad you enjoyed it! Basically, I was at a point in life where I was really stressed out and upset. The frustration and anger reached a boiling point one day and I went to the studio and made "Run". The video pretty much follows that. You see the kid having many outfits, many ties of responsibility – he's searching through life, pondering, dancing, expressing his emotion and dealing with his demons the best he can. That's pretty much what my vision was for the video – dealing with the chaotic insanity of life and personal demons through music. Matt Bordman and Brian Jude did a fantastic job of breathing that vision into life.
The very end has a special treat in the form of a video I found from just after high school of my great friend Pat and I. Pat passed away in March of 2015 (R.I.P.).
I'm always intrigued by album titles and your EP title is no exception. Why did you choose to dub this project "Not Quite Vegas"? Also, when is the release date slated for?

The past five years have been very intense for me. I've enjoyed the highs of some serious success and happiness and have also gone through some of the lowest, most depressing times of my life. I was a mess at times, especially around 2011 and '12. Vegas is a place where you're supposed to live in the now. You're supposed to enjoy life without worrying about the future or dwelling on memories of the past – to enjoy the present and be happy. This album is a sonic representation of my quest to find that. To find my own personal happiness that is "Vegas". I guess you could say I'm not quite there yet, but close. This music is what life has felt like since 2011.
And as far as an official release date, I'm just waiting to hear back from PR regarding a few things, but it will be here late February/early March.
"Not Quite Vegas" features eight, high quality instrumentals and also features the voices of Kelsey Lawson, Chris Haase, and D'Amato. In your press release pertaining to the EP, you stated "each song is reflective of a specific time, emotion or experience from the last 5 years". I'm curious to know, as I'm sure many others are, how each of these songs is reflective to a particular time in this five year span. Could you offer up more specifics pertaining to that statement Moses?

(Laughs) I guess… I figured I'd have to explain this at some point. I also don't consider anything on this album to be an instrumental. These are songs. Musical compositions. An instrumental typically implies it is less than a song and is meant or structured for lyrics to eventually be over it. That's not what this album is for. This is my music. You wouldn't call certain jazz or classical albums "instrumental" just because there might not be any lyrics involved in their creation. Some albums or songs just don't have words. Mine have only a few joints with words on them. Anyway, I'll do this in list form because people like lists.
Equilibrium: This song is about the balance that I was never previously able to attain between my music and my personal life. This lack of balance, or "equilibrium", largely contributed to me keeping many people who were close to me at a distance, including the love of my life. I was so obsessed with my music and success that I unknowingly sabotaged our relationship. I have to live with that. The quote at the end is from an old text message I dug up that she sent me.
Run: The representation of all the chaos in my mind that had built up over the years. This song is dedicated to my great friend Pat who left us in 2015. There was nothing crazier that happened in the last 5 years than losing him and so it only made sense. That's his voice freestyling in the outro and us at the end of the music video. I miss you, fam.
Bandit: This is the forward moving, "driving" record on the album. This reflects me starting to come into my own, finding some traction, and pushing onward and upward in my career and life. It's where things started to pick up and the future began looking bright. It also refers to slaying the demons that stand in your path. The wonderfully talented Kelsey Lawson helped me bring this record to life. Outro: My mom. She's always a huge part of what drives me forward no matter what is going on in my life.
The Way You Look: This would be the temptation joint. The joint your girl doesn't wanna know about. This is every Christie Brinkley scene from National Lampoon's Vacation. If you don't get it, go watch that movie it's a classic. Then go buy a station wagon. #RoadTrip
Outro = Temptation from the past.
Change: This is the record where I really started finding my new sound. It's where I started being comfortable and confident in the direction I'm going musically. This is also reflective of the change that has happened since my 4-year stay in Madison. The outro is from one of the many late-night, drunken after-bar hangout/recording sessions in the old studio aka house. We were all wasted and happy and it was good (laughs).
Swim.: A nod to my roots and the more hip-hop sounding record on the project. Swimming though my thoughts and my journey through meditation and self-observation to really find and understand myself. The introspective joint. Quote: Wise words from a decent man (no Drake).
Since 20Twelve: This is her song. The quote is what she said to me.
Not Quite Vegas: The overarching theme. The summary of the entire album coming together. Chris Haase and D'Amato both know me very well by now and effortlessly illustrated my feelings to perfection on this one. It's like they extracted my thoughts and put them on paper. Or maybe I've been watching too many episodes of the X-Files. The end is a message from me. I love this song.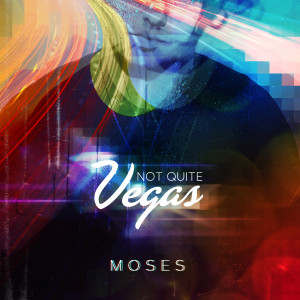 With how insane the visual for "Run" is, can we expect more visuals presentations from "Not Quite Vegas"?

Yes. I also have a video done for "Swim." and we are in the process of getting a video finished for "Bandit". We'll see from there.
For the viewers out there wanting to check out more music from HER and yourself or to just stay updated on things, where can we find you on the world wide web?

Our website is www.HigherEducationRecords.com and has links to each artist's personal page. "Not Quite Vegas" will be dropping on my Bandcamp at www.getmosesmusic.bandcamp.com/albums/not-quite-vegas.
Otherwise you can find us here:
Facebook: www.facebook.com/highereducationrecords Twitter: @HERecords or my personal @GetMosesMusic.
SoundCloud: www.soundcloud.com/highereducationrecords
Moses, it's been an absolute pleasure having you join us for the interview sir. Is there anyone you'd like to shout out or anything you'd like to add onto the article before we wrap things up?

My family, my team, my mentors, all the people who keep me sane, the creators of The Walking Dead, 90s music and David Duchovny, because he's awesome. Also to the TA who taught me so much about life.
This album is just a taste of what's to come. It's very personal and who knows where it will lead but it had to come out. Thank you to the one who stuck by my side every long night and day to help push me forward when we just started out and for being my inspiration. You deserve more credit than I can express. A lot is in store and we have a lot of work to do. We're not stopping. #HER
Label owner, producer and avant-garde, Moses is no beginner when it comes to juggling multiple tasks at once and pushing the envelope of creation when it comes to audio and visuals. People are in store for something very special with the release of "Not Quite Vegas" and the video for "Run". GYBU would once again like to thank Moses for falling thru and taking part in this edition of our "Buzz'N" iNterview series and wish him continued success in the music realm. Make sure to stay updated via Moses' social media accounts for breaking news and tuned into GYBU for more from the Wisconsin powerhouse. We'll catch you next time buzzers.