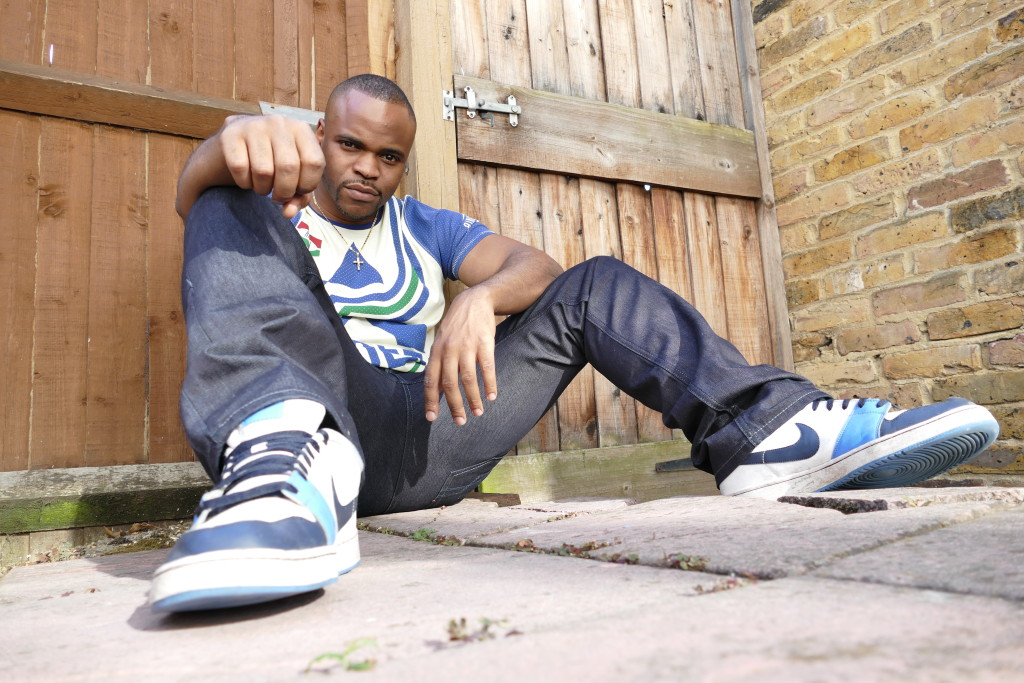 Get Your Buzz Up is traveling overseas for this edition of our "Buzz'N" iNterview series. We head over to the UK and land in South London to speak with indie artist Inspekta about his soon to be released video "Superman", his upcoming EP "Live Your Life" and how he became involved with Titans Entertainment. So without any further ado, let's get into things with Inspekta.
Greetings Inspekta, glad we could have you with us today. You were born in Nigeria and at around age 8, you moved to what would still be your place of residence today, South London. You first began rapping at age 14. Tell us, what was the Hip Hop scene like back then and what inspired you to get into creating music?
Thanks for the interview, much appreciated. The Hip Hop scene in the UK wasn't always as big as it is now. We mostly had underground rappers like Blak Twang, Rodney P, Taskforce & Klashnekoff to name a few, doing their thing. I also listened to a lot of US Hip Hop. I was a massive fan of Wu-Tang, Outkast, Jay Z, Redman & Method Man. Again, just to name a few. I'm really glad I grew up in that era as the lyricism was on point and that's what really got me into it. After listening to so much Hip Hop, my love for it grew and I wanted to be a part of it. That led to me to wanting to create my own material.
Not only are you an artist but you also hold the title of Managing Director under the talent management firm, Titans Entertainment. Talk about a back to back! (Laughs) Please speak about your position within the company and what Titans Entertainment does exactly.
Yes it is pretty hectic (laughs). My job as the Managing Director is really to set up a structure that allows us to distribute our material effectively and to as wide a reach as possible. We also provide consultation to artists on developing their music. Officially there's Signal & myself. We then have other artists we're affiliated with. Titans is really here to support our artists and do whatever it takes to take them in the direction they want to go in. We also have the #KrackOn brand which we're building up. We will be expanding this by tying it up with merch product sales. Krack On as a brand is really something we eat, breathe and sleep. We're constantly working and having fun as we do it. Here in the UK 'crack on' is a popular phrase used in everyday life so I guess a lot of people can relate with it and more importantly understand it.
GYBU became hip to you when you dropped "The Basement Mixtape" in April of 2013. This was your first solo release as far as I understand. Full of a wide variety of producers, the project features nineteen tracks. What was your mindset during the creation process of the mixtape seeing as though it was your debut solo release?
I actually had 2 releases before that which I released whilst I was in university; the "Dreams" EP and the "Don't Sleep" mixtape. I didn't really promote it as well as I should have so that's probably why you didn't know about it (laughs). I had fun putting together "The Bassment Mixtape"; I got a lot of support on the project from Theoretical who handled the mixing and Half Decent who was a producer and rapper from Oxford. It was in that period I really cultivated an obsession with heavy bass music; you know that big phat thump sound that just makes you wanna wild out (laughs). For me it was my chance to reinvent and once again present myself to the world with new music. Looking back at it, my mindset and emotions were very mixed. I think it was displayed well in the songs I made from "Hustle" to "What You Wanna Do" and "We On Dat". There was definitely times of stress with dealing with music, work and girls and then times of happiness in those same things (laughs). I'm a Gemini so I guess that's my nature.
It was actually my song "Bassment" on the mixtape that got the attention of Titans Entertainment so it definitely took me in the right direction.
Speaking of "The Bassment Mixtape", you have a record on their with labelmate Signal titled "Take It Slow". There was a visual shot to back the release as well. What's it like working with Signal? Also, what advice can you provide to artists when it comes to collaborating with other artists?
It's very easy to work with Signal. We both love music and the process of creating something great. We tend to approach each other with an idea and sometimes I might have a chorus already recorded. I send it over to him and we roll with it. My advice to artists collaborating is really to embrace each other's styles and ideas. You've both gotta bring something new to the table so you need to allow that process to happen.
Since we're talking about Signal, he has a video set to drop on October 11th titled "Grime" featuring yourself and Bless. For those unfamiliar to the Grime scene, could you explain a little bit about the genre and how it's had an impact on your music?
Yep, October 11th is the date!!! Put that in your calendar (laughs). Grime is truly UK music. It basically evolved from Garage music, which was very popular here about 10 to 15 years ago. If I was to compare it to anything it would be the US street Hip Hop at pretty much double the speed. My song "We On Dat" was definitely influenced by the Grime sound. My music on the whole isn't Grime though. It's definitely Hip Hop and sometimes you might get a hint of Grime in it or Drum n Bass or even Electro. As an artist, I would never want to pigeon hole myself into one particular type of music. I need to have fun as well as challenge myself with it and sometimes that involves trying something completely different that no one would expect from you. And make it sound good of course (laughs).
You shot another video from the mixtape for "We On That" that's done about 15k views since it's release in October of 2013. This is the style of music we've come to fancy from you Inspekta, high energy instrumentals and quick delivery approach. What was it like shooting the video?
Shooting the video was cool. It was shot in the East Central parts of London; Aldgate, Barbican and Liverpool Street were the specific locations. At the time it felt weird shooting in the middle of the street and seeing people walk by looking at you but I got used it. We had to Krack On…see what I did there? (laughs). Ok no more cheesy lines from me.
Back to the video though. As you said the song had a very high level of energy and so it was important for me to convey that in the video. All sorts of caffeine and energy drinks was consumed that day to make sure I didn't lose the energy (laughs).
I knew it! (Laughs) While prepping the release of your upcoming EP "Live Your Life", you decided to drop singles to build up anticipation until the release date. In doing so, you dropped the first single, "Jump Jump". This song is again different from your previous material in which you take on a more social stance. The video represents an abstract idea of a slave chained to a TV and a washed up clown who represents the 'advertisers' preying on people's innocence and naivety of some of the things they buy into. Why did you decide to touch on this particular subject sir?
Yeah, good question. I got the idea from what I see in everyday life. The song isn't specifically targeting advertisers but the media as a whole. With loads of people spending more hours watching reality shows and celebrity related programs the media these days (including the news) are very powerful and are very effective in making people do or believe whatever they want; with exception to the few who challenge things and think for themselves. I'm very aware of these things and wanted to use the song as a platform to express the things I'm seeing. I'm not saying you should throw away your TV and seclude yourself from the world but to be aware of what's really going on and don't feel like you need to conform to what everyone else is thinking or doing.
The funny thing is most people won't get the real meaning behind the song straight away and this was done intentionally. On the surface, I want people to love the song for the strong production and vibe but then also have something deeper you can get from it if that's what you're looking for.
I really wanted the music in this project to contain more substance and move away from the general trend of the music scene where it's really quite the opposite. I'm all about making honest music and conveying my songs in a way where the meaning might be masked behind a catchy hook, melody and clever wordplay; sometimes you've gotta look a bit deeper to really get it.
Your second single is set to drop on September 29th and is called "Superman". You leaked a small clip of it via Facebook as well. Is there anything you can tell us about concerning the video and content within?
Yep, September 29th is the date and it will be available from all reputable digital stores as well as streaming sites like Spotify. "Superman" isn't actually about me claiming to be Superman. It touches on people in our everyday lives that make a personal difference to us; the people that go through all sorts of life challenges and overcome. The verses talks about dads, mums, 9 to 5 workers and business owners in that order. To me I felt these categories of people are the pillars of our society and wanted to celebrate them as we either know someone that fits the criteria or we are them ourselves.
We wanted the video to have a 'music video' look if you know what I mean. It's very fast paced with neon lights to give it a star quality effect. We also got real people featuring in video to portray the characters I talk about in the song.
I am very pleased with the output and would like to give a special thanks to Aukes Media for their vision and more importantly making it happen.
When are you planning on dropping "Live Your Life" and what can we expect from you for this release?
I've decided to postpone the "Live Your Life" EP to early next year. I want to put out more singles before the full EP release. I'm planning on releasing a track called "Exhale" featuring Signal next in a few months. I'll then drop a follow up single to that and then release the EP at that point.
You can definitely expect a high quality of production from the EP mixed with some very personal lyrics which people will be able to vibe and relate with. It will also have a dark sound to it with lots of energy. There's production from Jay Picasso, Cornel Sorian and AlterFix.
Where can we find you online?
You can find me on www.facebook.com/inspektamusic, www.twitter.com/inspektamusic, www.instagram.com/inspektamusic and my website www.inspektamusic.co.uk. Come check me out and stay updated with my music and movements.
Lastly, is there any last words you'd like to add in before we bring things to a close?
Yes most definitely. I would like to thank everyone that has been supporting me so far. It really does mean a lot and definitely gives me the motivation to keep doing what I do. Connect with me on my social media and let me know your thoughts on the music. I'm also very excited for the future and looking forward to introducing more people to my music.
Last but not least thanks Blitz for the interview. Appreciate your continued support and interest in the music from the UK.
No doubt sir, we really love great music from all around the world and have taken a liking to your music and your persona. Good luck with everything Inspekta and keep us updated as new material debuts.
Interviewed by: @blitzb_60505