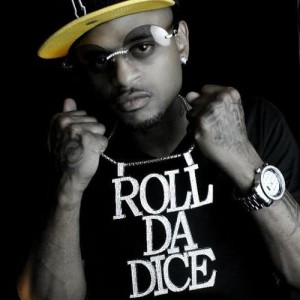 Born on Long Island in New York, P-Nice made his way over to the Midwest at age ten, specifically speaking Wisconsin. Having formed Spotlight Ent and with a new mixtape about to drop, "Fuck Yo Barz Vol. 2", Roll Da Dice is set to prove that he is one of Milwaukee's best. Join us as we interview P in this edition of our "Buzz'N" iNterview series.
P_Nice, nice to have you with us today. You go by two separate names, P-Nice & Roll Da Dice. Are these different personas? What's the story behind each name?

P-Nice is the Ceo, the manager the business man and the hypeman. Rolldadice is the rapper, the turn up king. P-Nice came from the P from my last name and the Nice came from me saying dat dude nice wit da flow or nice wit the pill, Rolldadice came from me sayin P-Nice Rolldadice crap once never twice, I used to be nice on the dice.
Being of both East Coast & Midwest upbringings, how do you feel that affects your musical style? Do you feel that helped you as an artist, being from two different parts of the country?
It most definitely did cause being from the East, I was up on Hip Hop early. Being from the Midwest helped me be more rounded with the culture. We listen to erthang out here, South, West, East and Midwest. The Midwest got my music more personal instead of lyrical, feel me?
Let's talk about Lexiii Radio and how your music being played overseas. How did that all come to be? What are your thoughts on international sales and fans, do you feel that is in imperative part of your fanbase?
The CEO of Lexiii Radio was kind of a childhood friend of mine. We knew alot of the same people. I had moved from Oshkosh, Wisconsin a long time ago an he moved to Miami. One day we met up at a stripclub in Appleton, WI after like ten years, it was crazy. I love my international fans cause they not wit dat fake shit, if you're not original, they are going to shut u down (laughs). I've seen it happen. My career started with the global station so yes, half my fans are from the station.
You experienced a downsizing within your label and ultimately felt the need to begin being an active artist to aid in keeping things moving along. Soon after, you released "Roll Da Dice Slaps". Was releasing this your way of not only proving you could hold things down but also a way to vent the frustrations of those woes?
I was fa sho. I felt like Spotlight wasn't ready to die so I went in. Then I dropped my first mixtape to see what the response was and it was crazy! I didn't think people were going to feel me like dat.
You dropped a solid mixtape with "Roll Da Dice Da Mixtape Vol.1", I especially liked "Do The Same Thing". Could you talk a bit about that particular project and your feelings on it?
"Do The Same Thing" was probably my favorite song on the mixtape cause of the hook I wrote. Alot of artists to me were doing the same thing at the time after I had been all over doing shows with other artists on Spotlight and blowing a deal with Warner Bros. Same shows and same clubs I was like wtf and since it was me, I had to do the same thing real quick then move around.
Let's talk about your project, "Fuck Yo Barz Vol. 2". What can people expect from this mixtape as far as guests features and producers?
"Fuck Yo Bars" is some freestyles I had did on some mixtape type shit and decided to add a couple songs and put it out. I got DJ Mr. Milwaukee to host it and it turned out better than what iI'd expected. DrPotterbeatz is on there with production by Garza Beatz. The intro will be the first video and a few more videos are coming up but we're going to have to wait on what's next. Features I got are Hustmack Mellow G, B-EZ Shiffe, Swissh and Trub, all artists I look up to.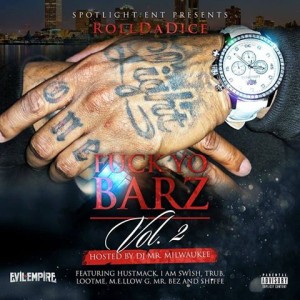 Performances, so what's the situation pertaining to that? Do you have any shows set up or events you'd like to share with our viewers?
No, not right now. I do have a clothing line I'm launching called RDD Collection, I'm getting everything together with dat then we're hittin the shows.
Dice, please keep the people updated and let them know where to find you online.
instagram@pnice1
twitter@pnice1
P, it was a pleasure having you with us today. Care to say some shout outs?
Thank You for having me. S/O to all my day1 Spotlight fans, Topshelfilms, Spotlight Family, RDD Collection, Wisconsin, Oso, Ratchet Clothing, Kustomkutz Clothing, Detroit, Portland, Chicago, Dallas, my international fans, Lexiii Radio and Get Your Buzz Up.
P-Nice is keeping all his avenues open and moving, all the while zeroing in on breaking into the industry. We here at GYBU would like to thank him for joining us for this edition of our "Buzz'N" iNterview series. Make sure to download "Fuck Yo Barz Vol. 2" once it releases and get in tuned with P on his social media outlets.
Interviewed By: @blitzb_60505