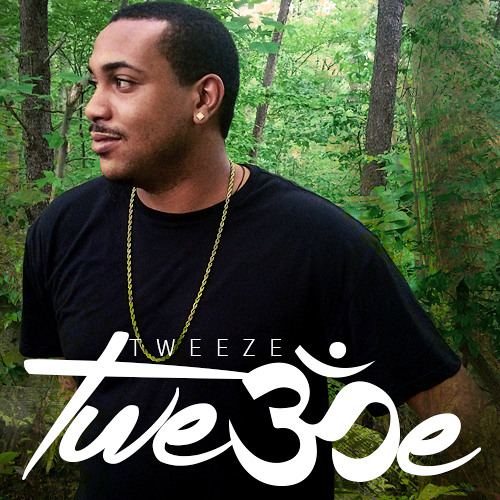 North Carolina has been trending lately within the underground Hip Hop scene. You can thank Greenville artist Tweeze aka Twee-ze for helping fuel that trend. The twenty-six year old has been creating music seriously since 2007 and has gone on to join the recording group Evidence Of Genius. He has also released three full length projects, one of which he is currently campaigning, "Who Cares". With a wide range of flows, voices and a memorable tome, GYBU is pleased to have Tweeze join us for this edition in our "Buzz'N" iNterview series.
Greetings, Tweeze, and thank you for taking part in our interview series. You're a North Carolina native, and that particular region has been buzzing solid thanks in part to the initial kickstart from producer 9th Wonder. How do you feel your state influences your music and creative process?
My home state influences my music a lot. In North Carolina there's a good mix of city and country, so each place gives a different experience. In Greenville, where I came up, it has more of an urban vibe. In Pembroke, where I went to college and met my Evidence of Genius crew, it has more of a country flavor. My music has that duality of country and city too, just like NC.
You stated that you began taking music seriously around the year 2007, correct? What occurred during that time that made you view your musical abilities as a career more so than a hobby?
Coming up, I was always into music and had written plenty of songs but hadn't recorded anything. When I went to Pembroke for college in 2007, it was like the stars aligned for me. I ended up having a roommate my first year who rapped and recorded. (What up, Petey!) We were freestyling and recording together all the time and it kind of built both of us up. Before then I had no access to the equipment because it was just something I did for fun, but Petey and his setup got me started for real.
In February of 2013, you dropped your debut project, "Lost And Still Waiting". You were able to piece together a lot of guest features for it as well. I won't front, this was the first time I ever heard it! You have a unique delivery to your rhymes. First artist that comes to mind is No Limit veteran, Fiend. Please speak a little about this debut and your flow.
Ironically, I didn't first work on my solo project until myself and the other founding members of Evidence of Genius got together. There were so many talented emcees and producers around me that it inspired me even more. At the time I was kind of lost as to who I was as an artist and what my signature sound was supposed to be and it was like I was waiting to be found or heard. That's where the title came from. On that project my flow had an old school vibe with some new school thought.
With your initial drop, you started to develop a fanbase, and in August of the same year, you went back-to-back with the release of "Sleep Is OverRayted". You not only sound more confident this go round, but you went with all original production. Producer Tray Pound has his instrumentals all over the place here. How did the relationship between the two of you start out? Also, why did you feel the importance to provide original beats over choosing mainstream releases?
Tray Pound is a talented musician and producer and a member of Evidence of Genius I met in Pembroke. We are actually from the same town, but didn't know each other until we went away to college. he has away of making beats that hits home for me.
I think the reason I chose to go with original beats was from growing and maturing with my music to wants songs I could call my own. I wanted people to see the creativity and see me as an artist in my own right without having preconceived notions. Music is a universal language, so I just like to share Tweeze Twee-ze and let people get a feel for who I am.
This brings up to your most current and well conceived project, Who Cares. This was actually the first record I heard from you, and must say, was very impressed with the song selections. Being able to listen to all three projects allowed me to see your continuous growth with your music and approach. Why did you decide on the title "Who Cares" and what's the deal with the teddy bear pendant on the cover art? (Laughs)
Thank you! I appreciate that you saw the growth and expansion! I decided to call it "Who Cares" because of the pressure many artists feel to make songs that will be popular in the mainstream. I was frustrated because everything was starting to sound the same and talk about the same old things. Additionally, there's so much attention on things that don't really matter, and I think people get distracted by the outpouring of stories about these things. I thought to myself, "Who Cares what everyone else's music sounds like? What do you like?" So I wrote songs I was feeling with messages I felt would show my artistry rather than what the media feeds us.
The teddy bear represents how I think money and the material things have taken us away from the unique music and messages the pioneers gave us. Most people relate to a teddy bear to an object that gives them security. But the things we care about have now gone dark. What's being pushed keeps us in a low energy state. The black ice on the teddy bear represents how some will want to box me in but I have the light in my eyes. Something simple with a deep message.
When people think of Southern Rap, they first thing that comes to mind is fast raps, trap beats and elementary style vocabulary. You shatter that misconception however with soulful beats and witty metaphors. What is your opinion on, Southern Rap music Tweeze?
I love Southern Hip Hop music. I think artists like CyHi the Prynce, Trae tha Truth, Big K.R.I.T. and J. Cole have opened the door for a lot of us Southern rappers that show a different style of southern rap. Artists like them can keep you bouncing while schooling you with messages and lyricism at the same time.
I'm a big fan of it all, though. There are certain artists I can listen to at any time, and there are some I can only listen to when I'm ready to party.
Let's talk about Evidence Of Genius or E.O.G. for short. From what I understand, this is a group of artists spread out into other regions and even states. Am I correct in stating this, Tweeze? What can we expect coming out from the camp?
EOG is a group of artists based North Carolina. Some of us live in different states now but we all met in Pembroke during our college years. We feed off of each other, and encourage each other to step up the game. There are several producers and rappers in the collective, and we collab with each other and folks all over the nation and also have EOG affiliates. We are currently planning out a new group project but a lot of members are dropping their own individual projects. Marz DaVinci dropped "M.Invasion", Mr. Rivers just finished up a project, and TewSLy is working on his "Intentional Mishaps Part 2". Our producers are dropping beat tapes, Rewind and Arsenic. Everybody is working. We're looking to finish this year out strong, because we have big plans for 2016.
What's up next for you, sir? Word is you're busy working on your fourth full length release. Care to talk about that?
Yes, that's correct. I've already begun writing and recording for it. I expect to strive and become better with every release, and I think this one is going to fit that pattern. I won't reveal the name of the project yet, but i think it will be similar to my "Sleep is OverRayted" but much better with more creative songs and beats. Also I will be working on a positive EP with TewSLy from EOG with all positive songs with good intentions.
For any of our viewers out there looking to link up and stay in tuned with you on the net, what social media outlets can they find you on?
Soundcloud: https://soundcloud.com/tweeze-aka-twee-ze/
YouTube: https://www.youtube.com/user/tweezedoitez
Twitter: https://twitter.com/tweezedoitez
Facebook: https://www.facebook.com/tweezakatweeze
Google+: https://plus.google.com/106818145522315238149/posts
EOG on Facebook: https://www.facebook.com/evidenceofgenius
Before we let you get back to the music Tweeze, is there anyone you'd like to thank or shoutout?
I'd like to send a big shout out and a thank you to my fans. I've gotten messages and followers from all over the world, and it's a great feeling.
I want to shout Petey, KD, and all of my EOG members: Keep grinding–rule number three!
Shout out to my parents. They've been so supportive. Shouts to CandaceK for keeping me on the right track. Also, shout out to Paul Santisi and the Music Mastermind artists. Huge shout out to God for allowing me to share my music around the world.
And shouts out to you for having me!
Never judge a book by its cover, as evident in Twee-ze's case. With a strong Southern drawl, clever wordplay and soulful production, the NC artist has his sights set on continually building upon his catalog one release at a time. GYBU would like to once again thank T for swinging thru for this edition of our "Buzz'N" iNterview series. Until next time, stay tuned to www.getyourbuzzup.com for more from Tweeze as it comes.
Interviewed by: @blitzb_60505