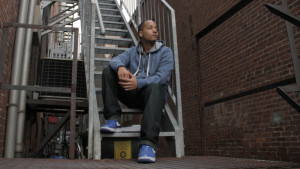 Massachusetts hosts home to a very talented artist that juggles multiple job titles such as poet, writer and producer. Having already established himself throughout the years with cosigns from the likes of Ghostface Killah, Sean Price and Planet Asia, the Springfield native put music to the side in order to focus more on social activism thru the Project 2050 effort. Now with new found inspiration and having left listeners without new material for some time, F1RST PERSON is set to release his official debut project, "The I is a 1" EP, on August 11th. With a strong single currently in rotation titled "Guaranteed", GYBU took notice to FP's musical catalog and reached out to learn more about the man and upcoming project in this edition of our "Buzz'N" iNterview series.
It's a pleasure having you join us for this interview F1RST. For those unfamiliar to your name and music, could you give us some insight into your background? How would you explain your style of creation?
No doubt! Peace Blitz, glad to connect. For those unfamiliar, I am authentically me. A mixture of the hood and the hill, the college and the concrete. I'm an emcee & producer driven by my love of Hip Hop, crafting potent lyrics and powerful production. I started rhyming through poetry. I would hit up open mics and perform spoken word. Slowly, the poems turned into rhymes and the rhymes turned into songs. I would practice in my room, close the door and record rhymes on an old tape deck recorder that my Grandfather had. I would take industry beats and just freestyle. I wouldn't play them for anyone, I was just practicing and perfecting my craft. In time the skills grew and I wanted to have more control over the soundscapes that my flow was delivered on. So, I started producing.
I began looping up records and teaching myself how to make beats. As I progressed, I wanted to create a project that showcased both my abilities as a producer and my skills as an emcee. My style of creation is raw. There is a drive that exists. A fury. A passion that boils to the surface and just flows out. When I am making beats I am jumping around, moving, nodding my head and letting the vibe consume me. My writing is similar. It's from the heart and who I am. I don't write as anyone else.  I don't write to sound like anyone else. I write to be me.
I've been having this on my brain for a minute… What's the story behind the 1 and I in your stage name? It's been driving me crazy trying to figure it out on my own! LBVS
That's a key inspiration behind "The I is a 1". One of the reasons behind the name "F1RST PERSON" was to tell my story. I tell people, do not be the next somebody, be the "F1RST" you. You are unique. You are powerful.  The "I" is a "1" is because that I, that individual, is number 1. There is no one like you and there will be no one like you. You are original. Be F1RST. Embrace that uniqueness and be the 1.
One of your earliest musical workings is a video for the song, "Seeing is Believing", which released in 2009. Your catalog is full of great production, which you mostly handle personally. Full of crispy drums and uplifting soul samples, it's pretty much safe to say you're a true Hip Hop artist. Please speak a little about the video/single and why you choose the soulful soundscapes you use.
Thank you, I'm glad that you can hear the essence in my production. Soul music has always had a feel to it that touches me. When I started producing and making beats, I wanted to create soundscapes that moved me and moved the listener. Soul records do that. Around the time this record was created, sped up samples were really big and I wanted to have that sound empowered my lyrics. Going into the creation of this beat, I had no idea how to even make that type of sound. I wanted that Just Blaze, that RZA, that Kanye feel because that is what I loved. So I had to teach myself that style. It was still early in my career as a producer so I was still learning. I was aiming for the sped up sample but also wanted a slower breakdown during the chorus. I was very proud of that, it still knocks to this day.
I had a soul record on deck that really moved me. The "Seeing is Believing" sample spoke to me. I was going through some difficult times and just felt that the truth is so important. It's not about what you say, not about what you hear, it's about what you see. Show and prove it. That really inspired both the creation of the beat and the lyrics.
The video itself was meant to play off that theme of seeing the truth. Is what you see real? Is what you see actually what is in front of you? The quick cuts, fast and slow motion, it all works to bring that idea to life visually.  The strategy of playing chess against…well. You have to check the video right?
What a great way to pitch the video btw! After your initial offerings, you dropped one of your most well known releases, "To The Top", which will be featured on the upcoming EP. The progression in the visuals and concepts from "Seeing Is Believing" to this video are phenomenal! The video was directed by Howard Grandison with cinematography by Kareem Black and graphics by Dress Code. I've watched this video over a dozen times since coming across it. How did this epic video come to be?
This video was a collaboration in the purest form by all of the talented artists you mentioned. Shout out to Howard, Kareem, and Dress Code. The creation of that song is unique as well, since the beat, lyrics, recording, and initial mix were all done in one day. I had an idea for the beat, chopped up the sample, laid down the drums, and the engineer began mixing. I went downstairs to the kitchen, locked in and wrote the song. Went back upstairs, jumped in the studio, recorded, mixed and sent it out.  All in a matter of hours. The overall reaction to the track was crazy. One of the first people I sent it to was the director, Howard, who was feeling it. That sparked the initial ideas, like maybe we should shoot a video?
Howard and I brainstormed about 5 or 6 different concepts. Howard, whose previous experience includes directorial contributions at MTV, took the lead on many of the concepts. We wanted a confident, dynamic and visually appealing video that enhanced the strength of the track's interwoven wordplay. One of the most powerful elements of the video is that it is only two shots. We learned the choreography and blocking, practiced and filmed it all in one day. Any simple mistake meant starting from the beginning and shooting again. We were focused, energized, and able to create a strong product. Glad you're feeling it. Howard brought in Kareem Black to help shoot it. Dress code killed it with the graphics. We knew we had something special so we wanted to give it the creative energy it deserved.
"To The Top" is actually a bonus track on the EP.  Howard and I have another video in the works, so stay tuned…
"To The Top" was initially the lead off single to the upcoming "The I is a 1" EP, which was at first slated to drop in Spring of 2013. We now know the EP is releasing on August 11th of this year. What occurred that pushed the release date back like that?
I am glad that you asked about that. Honestly, we were pretty ambitious. We had a few songs laid out, "To The Top" was in rotation and things didn't quite come together the way I was hoping at the time. I took a moment to step back, look at the situation from a distance and realize certain elements I wanted in place weren't ready yet. I am a perfectionist. I wanted to ensure that the EP wasn't just good, it was great. That the lyrics weren't just strong, they were powerful. That the beats didn't just make your head nod, they touched your soul.
To keep it all the way real, there was a lot going on in my personal life that I was dealing with. Family situations and my own demons had to be confronted. You can hear me speak on that in my song "Fighter" on the EP where I dig into my dealings with depression, alcohol, relationship struggles, pain and the fight to rise above it all.  That fight inspired this EP and inspired my music.  It took me to a better place and ultimately allowed me to craft a better project.
To revamp the campaign you started two promo collections, a video series titled "Behind The Rhyme" and "F1rst Fridays". Let's speak about the video series for a moment. The debut visual touches on the making of the track "Hip Hop". Why did you decide to do this video series for other than promoting the EP release? What more can we expect in both the "Behind The Rhyme" and "F1rst Friday" series?
The "Behind The Rhyme" series was something that as a fan of Hip Hop, I wanted to see.  I wanted to see what it really takes to be an emcee, producer and overall artist.  Most times we don't want people to see behind the curtain. There is a habit of rappers to front, to pose, to present something that they are not.  My entire reason for being F1RST PERSON is exemplify that it is okay to be YOU. Be who you are. Do not be the next anyone, be the F1RST you!  That inspired the series because I am not afraid to show people what really goes on. This is the life of an MC and producer who is passionately fighting for his dream.
In the "Behind The Rhyme" for "Hip Hop", I talk about how I was rapping behind a mattress.  We were in the corner of a room in my boy's apartment and I am rhyming into the mattress to dull the sound. To remove the echo of a large room. I speak on that to tell people, you can do this. You can reach your dreams.  It's not about the equipment. or the studio you have. It's about your drive and determination. We have other videos planned in the series where we showcase other artists and talents. It's bigger than just one person or genre. This is about giving the audience an authentic view into the creative process of the art we love.
Regarding "F1RST FRIDAYS", that just sprung up organically. As a poet, I love alliteration. Hence the title! When I reengaged artistically. I wanted a way to connect with fans, to connect with people who have supported me, and release the new material that I had. The initial response was extremely positive so we just kept it going!  Moving forward you can expect more music, more videos, and more content. When you want to know what's new from F1RST PERSON, Fridays are your destination. They are your jumping off point.
You took some time off in order to focus on helping the community and became involved with Project 2050. What role do you play in the organization? If anyone was seeking to get involved in the program, where can they get more information pertaining to it?
In project 2050 I was both an artist and a mentor. The mission of the project was to help uplift youth in the community through art, theatre, and Hip Hop. At its core, the project is about social justice. Through the use of theatre we aimed to show people that their voices mattered, their opinions matter and their perspectives mattered. While the program is no longer active in its original form, the artist, mentors and students involved are still an integral part of the community. We continue to perform through the US and abroad. To get in touch check it out here: facebook.com/2050Legacy
I have been blessed to work with many talented artist throughout the program. One of the members of Project 2050, Joy Conz, is featured as a vocalist on the EP for the song "Hello Morning". She is a talented musician who I am glad to have had the pleasure to work with during 2050 and on my EP.
Let's talk about "Wonder Why". In such a dire time in American society, the song offers up food for thought on the subject of police brutality & racial profiling. The video for it, which was directed by Skit and yourself, visually lays the cards onto the table. From your perspective, why do you feel this has always been such an issue in America?
I think America still has a very difficult time speaking honestly and openly about race. We have scars and wounds that have never healed. Economic disparity. Disparities in education and resources.  It causes a tension and that tension boils over and conflict ensues. It felt like police brutality is an epidemic. Like it is the new norm. Hearing about it, reading about it, seeing it daily.  As an artist we reflect the realities of life.  I had to speak up and speak out about what was going on.  Until we can have open dialogue about inequality and injustice, we will continue to face these issues.
Additionally in the song I wanted to touch upon the reality that some of the challenges in our communities are self-made.  I speak to my own demons, my own struggles. The contradictions that I live with and try to improve upon. I have hope for this country and feel through music we can touch upon emotions and pain in a way that both addresses them and gives us the positive energy to carry on.
The EP is dropping this month. To amp up the campaign behind it you released a brand new single titled "Guaranteed", which happens to be my favorite track from you thus far. I was thrown back the first time I heard it… I couldn't believe this was current material! Your production has a strong nineties inspiration basis. Soul samples, record scratches, hard drums… it's obvious that era has a big influence in your creative process. The verses are equally matched with strong emotions. How did you approach the creation of such a solid single?
In general, the first thing I do is create the beat. When I am working on sample based production, I am looking for samples that give me a feeling. The sound that makes you screw up your face. A sound that drives and gets your head nodding. Once I find it, it's off to chop it up and see where it takes me.  For this track I was already pretty clear on what direction I wanted to head in. I wanted something with hard hitting drums, something with that boom-bap feel. It was my intent specifically with this track. I had a framework of the beat that my engineer Skit and I enhanced with added drums, sounds and breaks.
Once it was done, the lyrics just flowed. The second verse is inspired by being one with the beat. One with the track. I put myself into the mind frame of being the song itself and ran with it. It's a metaphorical song all the way through and the second verse accentuates that with its delivery and content.
While that beat is inspired by the 90's, it was also given a modern feel. Some of my production has that "boom-bap" quality, while some can be more experimental, and yet others are stripped down with a minimal soundscape.  One of my goals for this EP was to push myself not only as a lyricist but as a producer as well. You will hear the range of my production on this project.
For anyone wanting to find out more about you and your music, where can they find you online?
Definitely check out my website: iamf1rstperson.com and my other social media avenues:
Twitter: @iamf1rstperson
Instagram: @iamf1rstperson
Facebook: f1rstpersonmusic.
You def want to stay locked into my Soundcloud, as that is where I release a lot of my material: soundcloud.com/f1rstperson
Man F1RST, it's been great having you with us and providing such great insight behind your music. Before we bring things to a close, would you like to send out some shouts or give any last words?
Thanks man, it's been good to link up with you. I want to give a major shout out to my Engineer Skit. Peace to everyone who has supported and encouraged me through the creation of this EP. My 413 people, C.R.U.M.B.S., the hood, the hill and my fam all over. Be unique. Be original. "The I is a 1".
With such a demanding sound both lyrically and sonically, Massachusetts has a true Hip Hop hero in F1RST PERSON. Whether it's the samples he chooses to flip or the poetics he pens, the Springfield native pours his soul into all that he puts out. GYBU would like to thank F1RST one more time for taking part in our "Buzz'N" iNterview series. Make sure to grab a copy of "The I is a 1" when it debuts on August 11th.
Interviewed By: @blitzb_60505