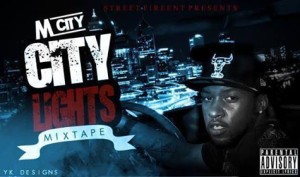 Best known for his freestyle battling skills, Madison, Wisconsin rap artist MCity is set to release his long awaited mixtape titled "City Lights". Clocking in at fourteen tracks with only two guest features, the battle rapper turns on his song creating abilities to show he can pen some quality tracks on top of his freestyle game. Let's take a closer look at MCity's "City Lights".
"City Lights Intro" starts this mixtape off and carries an Outkast type of effect over a saucy soul instrumental. MCity also gives an opening presentation to set things up. "State Of Mind" follows suit and happens to be the lead single & video to "City Lights". With the overall intensity and addictive hook, it's no wonder why MCity choose to lead off with this record. We then get a street styled track, "New Shit", where the Madison rapper spits a bouncy cadence over the eerie sounds. Freda Payne's "I Get High (On Your Memory)" gets flipped on "High", the sample made famous by Styles P, something to definitely smoke to.
"State Of Mind" Video
The mood quickly switches back to hood mode with "On Sight", a track detailing what will happen for wrong doing or double crossing. "City Lights" then takes an unexpected turn with the inviting sounds of "Riding", the production of this one carries some very strong Californian vibe to it. It also serves as a smoker record, like that of "High". This could be another strong single to back this project. "Tell Me" is another radio styled record that centers around a woman of MCity's interest. "Show Out" reminds me of a Jezzy styled club record, the type for the made men. Then once again, "City Lights" takes an unexpected turn of direction on the uplifting "Can I Live", another of the mixtape's standout records. I could see this record being widely accepted due to it's easily relateable content and sing-songy chorus, something even kids would enjoy.
"Juice" jumps off with a sample from the classic movie and kicks in quite saucy. reminds me of something from Kidd Kidd. The next track, "I Do", just doesn't seem to fit in with this project at all. With a different approach to the hook, it would fare well but with how it stands, this is one track that I could have done without. Then on "Too Loud", MCity attempts what feels like a Soldier Boy radio hit. It's decent but again, something that "City Lights" could do without. Things begin to pick back up on "All 4 U" which carries one of only two guest features, this particular track features Profit. "City Lights" cuts out on the Mark Anthony assisted "Family", a great record to close out with. The song details the Wisconsin rapper's son, family life and upbringing.
MCity's "City Lights" mixtape bolsters some solid hits with tracks such as "State Of Mind", "Riding", "City Lights" and "Family". All in all, for being known mostly for his freestyle battling skills, MCity does a good job crossing over into recording artist mode. "City Lights" will be available online on Tuesday, April 21st.
Reviewed by: @blitzb_60505