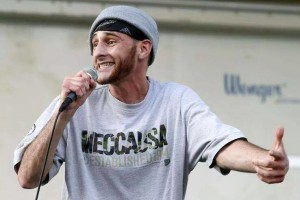 Well Buzzers, we are back with another installment of our "Buzz'N" iNterview series and for this edition, we are joined by a highly talented artist out of Rockford, Illinois. Not only did he just release his debut album, "The B-Side Love Songs", but also is a spoken work poet and a Hip Hop activist within his community and was able to gather local artists to pay homage to their hometown through a video titled "Rocktown (Remix)". Let's get to know more about The Last Wordbender, his artforms and his strong appreciation of Hip Hop.
Salutations Wordbender and congratulations on the release of your debut album. To get things started, what lead you to using the moniker The Last Wordbender? Also, how would you explain your musical style? You carry a vibe of Common's delivery & Action Bronson's vocal tones.
Appreciate you having me for the interview. We worked hard on the album, "The B-Side Love Songs," and I'm excited to get the word out. As far as the name, The Last Wordbender, I am a huge fan of cartoons. My favorite cartoon of all-time is "Avatar: The Last Airbender", and the follow-up "The Legend of Korra". So that's where the name comes from. I love cartoons, and I want to bring that love to my music and lyrics. After I came up with the name, I started to disassociate it from the cartoon character. The Last Wordbender started to develop it's own identity for me. Now when I think of The Last Wordbender, I don't think of a rapping version of Avatar Aang, I think of a tribal dude in an urban setting, putting pen to page, using his mind and the microphone to protect himself and preserve his culture.
In regards to my musical style, like any artist, I think I am a sum total of my influences. I am glad you mentioned Common and Action Bronson because those are two huge influences for me. "Be" by Common is one of my favorite albums of all time. Ten years after the release, I can still rap that album word for word. Action Bronson is one of my top lyricists out right now. The thing I love about Action is that he's so uncompromising. He's going to make it, and make it his own way, without bowing to industry standards. That gives me the confidence to be my own artist, because I recognize that my musical style may be from a bygone era, but it's the music I like to make, and guys like Action give me faith that there is still an appreciation for originality and individuality within this culture. Other artists that I think have influenced my personal style are MURS, Nappy Roots, Kanye West, Lupe Fiasco, Phonte, Method Man and Jay-Z.
You're not only an emcee but you are also very involved in spoken word and poetry slams. How did you get interested & involved in that style of expression? You participated back in 2013 at the Book Worm Bakery & Cafe's Certified Poetry Slam. Is this still a reoccurring event and do you still participate in poetry slams?
My introduction to Spoken Word was through Russell Simmons "Def Poetry Jam". I actually found a season of it on sale at Big Lots, bought it and watched it over and over. I started doing Spoken Word before I started rapping but they weren't necessarily two separate art forms for me. My poems were basically acapella rap verses. All of my poems rhymed. When I started rapping, it was a blessing because my poems got better. Now that I had the the outlet of rapping, my poems became more free, I stopped writing poems that rhymed and that allowed my pieces to become a little more free. It allowed me to address some different subject matter in my pieces. Now, Spoken Word and Rap are definitely two distinct canvases for me. Even though I bring the same personality, influences and experiences to each canvas, the brush strokes I take are different.
I still do Spoken Word regularly. I will be participating in Rustbelt 2015, the biggest annual Spoken Word Slam in the Midwest. It will be held here in Rockford, IL on June 19th and 20th. It was held in Detroit in 2014, and I went there and tied for 2nd place. I am excited to get back on the stage this summer and compete again. Rockford Certified Slam, the group that did the Bookworm Slam, is hosting Rustbelt 2015 here in Rockford, so they are still active.
Click Link: Rustbelt 2015 Rockford, Illinois Facebook Page 
Last year, you started a Youtube video vlog titled "16s On Sunday" via www.thelastwordbender.com. On your site blog, you select a previously released hip hop hit, freestyle over it and then pick out your favorite line form each video. One of my favorites is your rendition of Jay-Z's "Feelin It". Speak about this series and let us know if it is still ongoing or not.
I'm glad you found the "16s On Sunday" series. That was a fun thing for me to do, an artistic challenge. At the time I started that, I had already finished the writing for "The B-Side Love Songs" and we were finishing recording, mixing, mastering and the specifics of the release. I wanted to keep my pencil sharp and continue to develop as an emcee, despite the fact that I wasn't writing for the album anymore. It was also a chance to develop my style and continue to let that progress. "The B-Side Love Songs" is strongly tied to the concept of love and the modern relationship, and there's a lot of storytelling. But that's not all I am as an emcee. I love to play with words, and rap for the sake of rapping, so "16s On Sunday" was a chance to do that, just to flex my mic skills. But, it wasn't an attempt to gain exposure or a following, that's why the video and audio are a little rough. It was really just a personal challenge. I wanted to make myself write and memorize and perform on a regular basis. I made it public just to hold myself accountable, to actually come through with a legit verse. It was good for me. I remember being in a freestyle cypher after the series and thinking to myself, "I am a better rapper than I was a few months ago." That series is over for now, and I have some specific things I'm writing for but I will definitely pick that up for a second season, because I never want to settle as an artist.
GYBU was first introduced to you and your music through a video titled "Rocktown (Remix)". Firstly, is their an original version to this and where can we find that at online if so? Secondly, what influenced you to want to put a song together like this, with the slew of artists that guest feature on the track? The video pays homage to your hometown of Rockford, what makes the town so special to you?
The original, "Rocktown (Til I'm on my Back)," is one of my more popular tracks and you can find it and download it here: "Rocktown (Til I'm on my Back)". I always knew I was going to do a Rocktown Remix with artists from the city that I respect. I always felt the remix would be the more important of the two tracks, because it wouldn't just be my story, it would be everyone's story. I don't know what specifically influenced me to do the concept. I love my family in the city but it can be hard to be from the Midwest, Rockford specifically. It's not the industrial powerhouse that it used to be and that can make life here a little tough for people. I remember talking with one of my buddies before we did the remix and thinking, "I hope he leaves. I hope he gets out of here and makes something of himself, because he's so much better than what he's going to find here." That sentiment put me at odds with doing the remix a little bit, because I don't want people to mistake the track for promoting the sentiment of being dedicated to something that isn't equally dedicated to you. We shouldn't be willing to die over a geographical space. But, community, that's something different. The community I am part of, that I have built during my life here, that's something I would risk my life for, and that's what the song is about.
Akeem Kizart, TRIM Forte, Kid Ape, Gamoliel, & Pair-a-Dice, those are my brothers, and artists I have a huge amount of respect for. We are out here trying to represent for and build this Hip Hop culture in the city and beyond.
During the lead up to the release of "The B-Side Love Songs", you released a video to the intro track, "Now is the Time 4 Me", which is one of my favorite tracks from off the project. What inspired you to put this particular track together? From a first glimpse, it's no secret that the video is strongly influenced by the "Rocky" boxing movies. Why did you decide to lean towards a Sly Stallone approach with this single? I love seeing you running throughout particular areas of Rockford in the video BTW, LBVS! The beat is real moving as well, who produced the track?
DJ Brickrock produced the track, along with all but one of the tracks on "The B-Side Love Songs." He gave me that beat in the middle of the process of creating the album, so we already had a strong idea of the direction we were heading with everything. Brickrock is a genius when it comes to channeling a specific sentiment and that's exactly what he did with "Now is the Time 4 Me." When I heard that vocal sample and the music, I was like, "I feel like Rocky running up the steps in Philadelphia!" Then I just took that feeling and applied it to relationships, the idea of preparing to talk to a girl that you've been feeling for a while and just psyching yourself up to approach her. Because I had created the song with that mentality, I already knew where I wanted to head with the video. If you've decided that love is something worth fighting for, then you've got to train for it and that's the metaphor behind the video. We all know talking to a girl you're into can be as intimidating as stepping in the ring with Apollo Creed, so I feel like the metaphor is appropriate.
As far as the video, we lucked out on the day we recorded. We had that nice overcast day, and it really made it feel more like "Rocky." Jaime Perez for Pistolz Productions shot the video. He's got a great eye for shots.
You've recently released your debut album, "The B-Side Love Songs". Before we get into the project, let's talk about DJ Brickrock and his role in the creation of "TBSLS". How did the two of you come to work together? Why did you feel the need to rock with only one producer other than multiple ones?
"The B-Side Love Songs"  is a concept I've had for a long time. Initially it was going to be a book of poems, called "No Textbook" but I shied away from that. I don't think Spoken Word and written poetry are the same thing and I like performing Spoken Word a lot better than I like writing poetry to be read on a page. So I kind of kept the idea in the back of my head. Then I started recording music. The first track I recorded on the project was "Hard Not 2 Love Him", which is produced by DJ Terrible T. This was before "The B-Side Love Songs" existed as a concept. At the time I was recording, Brickrock sent a beat CD to my Hip Hop group, Hustle & Culture. The beat for "If Only You Knew…" was on the CD and I fell in love with the Patti LaBelle sampled track. Finally, Brickrock and I were able to connect and we recorded a track to that beat (though it wasn't the version of "If Only You Knew…" that made the album). I called it "The B-Side Love Song". He said he was impressed with my work and I was impressed with his. I told him I had an idea for a whole album centering around the idea of love and the modern relationship, based in soul samples and a classic Hip Hop sound. He really felt the idea and started sending me beats for the project. We would go back and forth with song concepts and beats and lyrics, and what developed became "The B-Side Love Songs." It was really a beautiful process.
"The B-Side Love Songs", why did you decide on this title specifically? The overall vibe of your debut release is old school hip hop strongly infused around love and relationships. Please share with our readers the inspiration behind the theme and TBSLS in general. Was your inspiration driven from personal experiences?
Love and relationships are just somethings I was really motivated to explore as an artist. I think it's something we all care about. If you think about it, one of the major determining factors in most people's lives are the way they conduct their relationships with significant others. It's also the factor that has the greatest effect in determining how our children grow up and what kind of lives they live. So, I think it's something that's important to meditate on.
Love is something that hasn't been explored too often in Hip Hop, at least not on complete albums. You have the rise of artists like Drake who are doing it, but that is only recently, and he catches a lot of criticism for speaking on love and being open with his emotions. I remember getting CDs as a kid and rappers would always save the love song for one of the last tracks. There would be like one song "for the ladies" on the album and it would usually be at the end. So if artists were making records, the love song would be like the b-side of the record. That's where the name came from.
As far as the sound. That's always the sound I was looking for. I love modern Hip Hop, but I feel like I am best at rapping over more Boom Bap era production. Growing up in the Midwest, the rise of Kanye West and the prominence of soul sampling had a huge effect on me. I was always looking for a producer like Brickrock to help me bring my music to life. Fortunately, I found him.
Other than "Now is the Time 4 Me", will we get a chance to see more videos released from the album? Do you have any upcoming shows or poetry slams you can share with us?
Definitely! I have plans to do two more videos. I am in love with this project and want to make sure I give it the proper treatment, so we are definitely going to highlight more tracks on the album.
I have plans to do shows for the album and travel to perform. Anyone interested in keeping up with me can stay up-to-date on my website www.thelastwordbender.com. I also have all of my social media links on the site.
As far as Spoken Word, make sure you come to Rockford on June 19th and 20th for the Rustbelt 2015 Slam. It will be a huge event with poets from all over the country, and I definitely plan to be on that finals stage again!
For anyone looking to stay updated with all things Last Wordbender, where can we find you online at? I previously mentioned your website earlier in the interview. Talk about that a little too.
My website www.thelastwordbender.com has all my up-to-date info, as well as my Facebook, Instagram, and Twitter accounts. As far as music, make sure to check out my SoundCloud and AudioMack accounts.
Also, I love to write, and I blog on my website www.thelastwordbender.com, so make sure to check that out!
http://www.thelastwordbender.com/
https://soundcloud.com/thelastwordbender
https://twitter.com/DjustinMcFly
https://www.facebook.com/thelastwordbender
https://instagram.com/djustinmcfly/
It's been a pleasure having you with us today Wordbender. Before we bring things to a close, would you like to shout anyone out or give thanks?
I got to shout out DJ Brickrock, DJ Terrible T, Mario "Kayo" Martinez, Akeem Kizart, TRIM Forte, The ImFamous KenFlow, Miss Ambitious, Carla Michelle, Shony Jones, Shepard Ferrari and Jaime Perez, as well as all the people who took part in the Think Tank, at my brother Matthew Simpson's place, that resulted in the interlude clips. It took a village to build this album!
Also, shout out to everyone who's a part of this Hip Hop culture and pushing it forward.
Rockford, Illinois should be proud to have an individual such as The Last Wordbender spreading around love, putting on for his city and representing Hip Hop in a true fashion. There are rappers, there are emcees, then there are artists and TLB is the definition of a true artist. GYBU would once again like to thank Wordbender for joining us for the interview and congratulate him on his first album release. Make sure to head over to his website & download "The B-Side Love Songs" today.
Interview By: @blitzb_60505