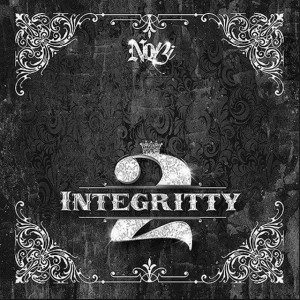 Known for his strong independent grind and equally matched mentality, Gritty Lyf Music's Nobi has an impressive discography full of a wide range of hits and on his latest endeavor, "InteGRITTY2", The New Yorker takes front stage in his latest video for his "Niggativity (Remix)" produced by Boola of Rocafella Records fame. In the song, Nobi touches on hard issues and new found outlooks of racism & prejudice in our modern world. We're going to cover his project, the video and some of it's topics in this installment of our "Buzz'N" iNterview series.
So Nobi, to start things off, why don't you bring people up to date on your musical background and who you are as an artist.
Peace people, my name is Nobi; Grittylyfmusic general, artist, humanitarian etc, etc. I been in this music hustle for quite a few years now, expanding our brand and putting out good music. I have recorded with everybody from Hip Hop legends to the emcees who lives around the corner and I just recently released a critically acclaimed album by the name of "InteGRITTY 2" Which you can pick up for free at www.Nobimusic.com and GYBU, of course.
With that being said, what sparked an interest in you wanting to begin the "InteGRITTY" series of albums in the first place?
"InteGRITTY" was actually a line that my brother A. Dash used in a song we did a few years ago. He said "You can't spell Integrity without spelling Gritty" and I was amazed at the word play but as I was winding down on my last few albums, I figured I'd go with the InteGRITTY series from 1 to 3 and close the curtain with my "Nobility" Project. I just like the way everything meshes together as far as these powerful words and me being able to link them to the names I use like Gritty and Nobi. It just came together so perfectly.
So before we get into the new video, let's touch on the original version of "Niggativity", which was produced by !llMind on a blaxploitation styled approach.  Was that the imagery you were trying to portray here for this version?
No, definitely not. I did 3 parts to "Niggativity" and part 3 will be on my "InteGRITTY 3" project, dropping this summer, but the thing is I wanted all 3 of them to have totally different vibes to them. The first one was more like okay, let me just lay all the cards on the table so we can all sit down and examine something that's probably over all of our heads because we're so used to it, that being stereotyping. No matter what, there is no way to escape it but the goal should be for us to be a little more understanding towards each other. The second one is more aggressive, where as I'm laying the cards out on the table again I am more aggressive in my tone.
This time, I want answers. I want to know why some white people are afraid of black people, why some black people have an inferiority complex when it comes to white people. I want to know why there is so much confusion. I have the answers in my head but I didn't want to make "solution music", I wanted to instead open up a lane for dialogue. Part three, which you will hear soon, is more of a vibe where I'm telling the police that not all of us are up to no good and also telling my people that not everybody who wears a badge is your enemy. I just wanted people to listen to these records and talk about it afterwards.
So this bring us to your latest video for the Boola produced remix of "Niggativity". This particular version seems a better fit to the message behind the music, making it sound more like a call of distress. Why did you decide to remix the song & how did Boola come into play with it?
Originally I wasn't going to remix it but a close friend of mine by the name of Jesse Janson was going back and forth with Boola about some other stuff and I guess Jesse let him hear the original version. From my understanding he liked it so much that he offered us the beat to do the remix. Like, just gave it to us, like "here, hold that" and I was bugging cause I've worked with Scram Jonez and numerous other industry producers but I met all those guys in the flesh. I didn't even meet Boola at the time but he heard the record and just gave me the remix. I thought it was dope because this is somebody who produced music for artists from Kanye to Nas to Neyo and back, you know? It even had me more hyped when I heard that he loved the remix. It was a great experience. He'll always be official in my book because he didn't have to do that so I salute that man all day.
The images embedded throughout the video help further solidify the ass backwards mentality of the world, America in particular. A. Dash helped really bring the video alive alongside you. The two of you have been working together for awhile now. Please share with our viewers how the ideas for the video came about.
Like I said, we just wanted to keep it simple but effective. So we found a nice spot in Jersey to shoot my solo scenes and went to a studio to do the green screen. We didn't want to over flood the video with background images but wanted to give just enough where the people could get the message we were trying to get across.
"You probably share the same feelings as Donald Sterling, don't you?", "America taught us to hate ourselves", "Blacks ain't the only niggas these days"… Very strong lyrics that could very well incite a riot. On "Niggativity", you start the verse of as black seen thru the white cop's eyes and then flip it around in the second verse. Though many won't admit to it, you're pretty dead on with your depictions Nobi. Let's talk about some of those lines just quoted and why is it that subconsciously alot of people see what's going on  yet stay oblivious to the facts?
When I say blacks ain't the only niggas nowadays, I mean it in a sense that anyone can be a nigga. It's not just blacks that are out here being ignorant to the race and culture of others. We all are guilty of prejudging and stereotyping each other. Where I'm from, when we see police we see the enemy. The fact that the officer is wearing a badge gives us enough reason to view him as the enemy and that's not always the case. Most police look at us as criminals and thugs and that's not always the case either. When some of us see a gay or lesbian couple we tend to act awkward around them. It's just the overall mentality that the people who do not want to be judged are the ones who are the most judgmental.
We as a human race are so confused and mentally ill that it's not even funny. You've got religious people who abuse alcohol, fornicate and all kinds of other shit who will say that a man who commits suicide is going to hell because God is against it and I'm just like, oh okay, your religious when its convenient. All we do is judge each other and like I said, there is no escaping it but to me personally, as corny as it sounds, I would rather judge you off of your character and not by your skin color, religion, occupation, sexual orientation, the music you listen to, etc. Live and let live cause I believe there is enough room on this Earth for all of us. I also think as adults we are stuck in our ways and that's why I believe if we want to shape and mold tomorrow, we have to start by reprogramming the kids so they don't grow up as ignorant as we are.
Touching on "Niggativity" one last time, what is your take on the use of the word "nigga" within the hip hop community and with other races using the term. The word has became a double edged sword; from one meaning to describe a close friend to another being used as a racial slur. How do you view this issue and how do you feel when the word is said to you or around you?
Honestly, I grew up around the word and have been saying it my whole life but have been trying to be more conscious of it and have been saying it alot less. You know when it really hit me was when my daughter asked me about the word. I can say it with my people all day but her innocence made me feel guilty and that's when I made a conscious decision to not use it as much. I mean, I don't like to lie to her so I can't contradict myself by saying "yeah, it's a bad word" but then I'm running around saying it every other second. It's just that I'm getting older and there's a whole bunch of stuff that I want to walk away from because as a man, I know it's wrong and when you know better you do better.
What is it that you feel makes the human race so judgmental? What is it, in your view, that makes it easier to hate than love?
I don't know man… I think love is associated with weakness and nobody wants to be weak. Even on a musical level, an artist might be a fan of yours but he wouldn't tell anyone because he feels it drains him of power. Like I said earlier, we are mentally ill. I have no problem showing love to everyone because I'm a free spirit; free of all doubt, worrying about others judging me, etc. I don't live in that hate world. In my world, hate is associated with weakness.
For viewers interested in keeping up to date with you, where can we find you on social media? You also run a music blog called Gritty Lyf Music, correct?
Yessir, we have 2 sites: Grittylyfmusic.com and Nobimusic.com. You can find me on Instagram & Twitter: @Nobi_GL & Facebook: facebook.com/Grittylyfmusic
It's been a pleasure having you with us today Nobi and for tackling some of the uderlying issues in today's American society. Before we bring the interview to a close, would you like to add some final words?
Yeah, I've got to thank you guys for all the support you have been giving me over the last few years, it's always appreciated…
Racism isn't dead, it's simply adapted to the current times. We've got to end the foolish stereotypes people have of one another and most importantly, we need to take a good look at ourselves and how we portray ourselves to society. GYBU would like to once again thank Nobi for taking part in this installment of our "Buzz'N" iNterview series, we will see you next time.
Interview by: @blitzb_60505