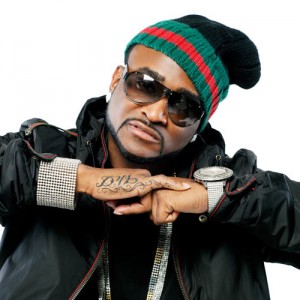 As 2014 slowly creeps to a close our next guest artist is creeping on a come up with a brand new video and recent mixtape that has flooded the internet and streets. Hailing from the notorious Bankhead area of Atlanta, Georgia we are pleased to be joined by Mr. Dunn Dunn It All himself, Shawty Lo.
Shawty it's an absolute pleasure having you join us for this edition of our "Buzz'N" iNterview series. So for those not familiar to your name and music, please explain to the Buzzers a little about yourself and background.
My name is Carlos Walker bka Shawty Lo. I got a few nicknames along the way like DunnDunn, L.O. and of course, KOB. I'm from Bankhead (in Atlanta), the real Bankhead. 2610 ask about me, no flaw.
You got your big start with the group D4L and the smash hit "Laffy Taffy", which Billboard stated was the song responsible for popularizing snap music. What exactly is snap music and do you feel that the statement made by Billboard holds alot of weight? Do you feel D4L brought this style of rap music to the limelight?
There's a lot of sauce and swag that D4L & I have blessed the city with along the way. Snap Music is just one of 'em. But at that time, that Billboard statement played a huge role in boosting our careers so much love to Billboard for that mention. Shoutout to all the DJs who helped break that record too, I was fresh out around that time.
You didn't waste anytime getting busy with music once you were released. After the success of the group, you decided to steer your musical career down the solo route with your debut album, "Units In The City", which carried some heavy hitters such as "Dey Know", "Foolish" & the street banger, "Dunn Dunn". Looking back at the album today, did you honestly think the project would end up such a huge commercial success? Born Immaculate also had his hands all over the album's production end, the two of you had some great chemistry in the studio together.
I knew that "Units in The City" would be a success because I had already seen what was possible with the "Down 4 Life" album. We went platinum, many artist from where I'm from don't even see gold. So you were definitely feeling myself once my solo project was ready, everything I touched felt like it turnt to gold. And shoutout to Born Immaculate for playing a major role in "Units In The City". It's been titled a classic!!!
Word circulating around the internet is that you're planning to drop your second studio album entitled, "Still Got Units" with big name features such as Rick Ross, Lil Wayne, Gucci Mane and once former rival T.I. What is status on this project and will the title remain the same or has it changed? Shawty fans wanna know! LOL!
I just signed a new deal with "300", so there is an album in the works with a lot of major features but definitely not TIP. If you listen to the "KOB" mixtape, there's a song called "Enemies", that should let you know the current status. I'm KOB and that's that.
You currently have a crazy mixtape that dropped on November 3rd titled "King Of Bankhead" which is hosted by both DJ Scream & DJ Swamp Izzo. The album features your patent swag and demeanor and also showcases features from next gen street rappers such as Young Thug, Rich Homie Quan, Chief Keef & Young Scooter. Please speak about the mixtape, the featured producers and why you chose to contract collabs from the younger artists of today.
It took me about 3 months to record "KOB". Everything came together perfectly but originally the playlist was totally different. A lot of songs that made the tape were finished the last week of recordings. Shoutout to TwaunOnTheBeat and Zaytoven. Also shoutout to my boy ToneTheGoat (MixxedByTone) for engineering and mixing the whole tape. We got visuals for everything coming soon too!
We will have to keep our eyes peeled out for that. While we're speaking about the mixtape, you just dropped a visual for the feel good anthem, "Celebrate". The video was shot by C3 and in the heart of Atlanta. Of all the songs on "King Of Bankhead", why did you decide to push this particular song to the camera? 
We wasn't supposed to do that video really, the original cameraman had flight trouble so we switched plans on the spot. "Celebrate" is just a feel good track and that's the mood we we're in right then and there. C3 brings the persistence, he was just ready on the spot so we filmed, LOL.
LOL! With 2014 being right around the corner, what do you have planned for the new year Shawty? Will you be touring, getting involved back into television or venturing out into new territory?
I'm already on the road performing songs from "KOB" but there's also a tour in the works. I'll be in Memphis, North Carolina and Florida at the top of the year.
Great to hear, if any of our readers are in that area check into see if Shawty will be performing near you. You've already worked with an impressive list of clientele but every artist has those few select, upper echelon people they'd love to work with. If you could name any artists and/or producers, who would you choose to hit the stu with?
First off, one of my favorite is my homie Gucci Mane, so FREE GUWOP. Other than that, I would be into working with anybody who's getting it like me, there's no pressure! I like working with the new upcoming talent too.
Mr. Bankhead, where can readers find you online to stay in tuned with everything going on and coming up?
Peep me on Twitter: @ThatsShawtyLo & on Instagram: @ShawtyLo_KOB
It's been an absolute blast having you here with us today Shawty Lo. Before we bring this interview to a close, would you like to send out any shoutouts?
Yeah, shoutout to my real Bankhead homie, Goldie. They just freed blood, did almost a 20 year bid.
With a much buzzed about mixtape out in rotation right now and big plans lined up in the approaching future it's no wonder why the Atlanta, Georgia native has so many reasons to be happy and "Celebrate". We'd like to once again thank Shawty Lo for stopping by for this installment of our "Buzz'N" iNterview series. Make sure to link up with Shawty via his social media outlets and keep your ears open for more music in the coming months. Until next time buzzers, keep the champagne glasses to the sky and celebrate a new year.
Interview by: @blitzb_60505