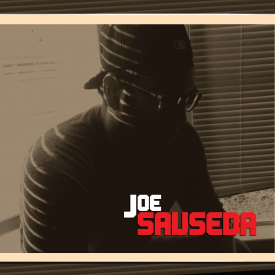 For this edition of our "Buzz'N" iNterview series we are joined by an emcee hailing from out of the Austin, Texas area and has recently just released his "So It Begins!" EP to great reviews. So much in so, it caught the eye of producer S1 and lead to an upcoming project between the two. Ladies and gentlemen, join us as we get to know more about Joe Sauseda.
Joe, it's great to have you with us today! You've got a nice buzz running thru your music right now but for those that may not be familiar to your name, please let everyone know who you are, your particular musical style and influences.
My name is Joe Sauseda and I'm originally from Waco, Texas. That sounds like I'm preparing to give a speech. Ha! Nah really though, I'm just a laid back person with an extreme passion for making music. I'm driven by this blessing and my will to actually change the world. I really want to change lives for the better. No matter what way it's happening, I ultimately wanna change peoples lives for the better. So that's part of my style; music with substance. I also love that old school, put on a beat and just spit to it sound. Just show you can rhyme either by freestyle or writing, just doing it and making the crowd love it. That's what I think of when I think of hip hop, and that's what I love. Therefore that's what I want coming from my music. Wordplay, lyrics, and meaning.
I also don't wanna bring the race card into it, but how many Mexicans do you see spitting out there? I wanna be the guy my race can be proud of, but I also wanna make people proud in general. Sounds like a bit too much but trust when I say I want people to rely on me.
My influences include Outkast, Nas, UGK, A Tribe Called Quest and Kanye West to name a few. Those first 3 kanye albums were a big transitioning part of my life in music. They opened me up to who I am today and by far have had the most personal musical influence on me. College dropout got me through some tough times and helped me find my way in music.
You reside in a state that's known prominently for chopped & screwed music, a sound that totally goes against that genre, why is that? Also, how has Texas influenced your music?
Texas doesn't have the best review as far as hip hop goes But just like all over the world, you will find real struggles in the area. There are a lot of artists from Texas (UGK, Z-Ro, Lil Keke, etc) that have told their stories of struggle. I was fortune enough to be exposed to those artist around the state. The chopped and screwed was what really took off but the real life stories are definitely still there. Just gotta find 'em.
Once it's all said and done, you're going to have 3 strong projects out. The first of the three is your recently released EP, "So It Begins!". The song title ultimately spells out a message. What sparked the concept behind that Joe? Is this a pattern you plan on continuing thru future releases?
When I write I never try to force the lyrics, it has to be something that just comes to me. The phrase, "This is your day to never be forgotten what are you gonna do about it, change the world!", just came to me. So I wrote it down and said it was gonna be something. I broke it down into 7 songs, some finished already and some in progress and just made it happen. The beats meshed well with the songs, it wasn't forced, so I knew it was right. It's definitely something I'll continue in the future. Don't waste words, art, or anything for that matter. Try to put meaning, a message, something into everything possible. I like the hidden messages and it also gives the fans something more to look for. I feel like if someone is having a bad day, that's when they figure out that message. It could turn their whole perception around. That's what it's all about for me.
So from your music and grind, you were able to link up with producer S1. (Yeah, that S1 that's produced for the likes of Kaye West, 50 Cent & Eminem and Beyoncé). A little known fact about S1 is that he's from out of Waco, Texas. Did that help make the connection happen? You guys are working on an EP together titled "From The Bottom". One of the EP's songs was released on your Soundcloud, "My World". The song is sonically endowed and you do an excellent job of carrying yourself over the beat. Could you speak a little about the song and the making of it?
Actually it did! We had mutual friends and it was something that took a little bit of time to come about. At first I was hesitant because I didn't want to seem too eager in just asking for S1's contact info. Since I didn't really know the guy that would be connecting me to him directly, I didn't wanna be that guy to him. The one that's just using people, not my style. So after a year or so of sitting on his friend's contact info I decided to just be up front. He introduced me to S1's wife, she gave me a chance to prove myself to S and here I am. Working with one of the greats.
It's an amazing feeling to be able to work with S1, he's a great producer and even better person, him and his wife. For the song, I went through a few of his beats and once I heard the "My World" instrumental, I had to have it. I immediately starting writing to it and wanted it to be personal. I wanted it have that raw personal feel to it with also a touch of my goal in life. I used my personal experience, ones that was current, with what I want people to achieve from my music. It worked well cause S had so many different dynamics in the track, it just worked, again it wasn't forced. The recording process was awesome cause I got insight on what I should do and how it should come out. Having S oversee the process and give me tips was a great learning experience.
The third an final project of this trilogy will be called, "Where Do We Go?". You also released some tracks from this project on your SC page. There are "Adrian", "Radio" & "Originator" with "Originator" speaking about struggle being used for something positive. The song was inspired by A Tribe Called Quest's, "Motivators". Who do you feel it's important to be original, especially in the genre of hip hop?
"Originality" just shows who you are. It's always cool to sample stuff or use someone's technique with delivery or ideas. But in the end you have to set yourself apart and it has to be your own original piece. That is what makes you stand out. Especially for me, putting out something that's me, is hopefully doing something good for someone else. And it came from me, had my touch, it's my original piece. Also, with a genre that has so many people trying to get in, it's important to be original. Too many people think it's easy to be a hip hop artist and just do what the other artist is doing. That's not a good look for anyone and isn't good for music.
You also have a track out with an artist by the name of Mandrike titled "Drips". Who is Mandrike and where will this track be featured on or is it just a single?
Mandrike is another friend of mine that produces for me. He's from the islands so he has a much different sound and touch on production. He brings a Caribbean/reggae feel to my music. At the same time he still has a hiphop sound so it works great when we collab. The song is currently just a single.
So Joe, you have "So It Begins!" out now along with the other project's singles. When can we expect to see a video or two for them? LBVS!
Soon! I'm looking into different film companies and shooting different ideas. Expect one from "So It Begins!" as well as the "From the Bottom" around the new year!
When people get into your music, what type of messages are you aiming to get across to them? You seem to be a positive guy and judging off of the EP only strengthens that assumption. What are you hoping people take away from the Sauseda musical experience?
Positivity. You can say I'm being cliche or cheesy or whatever but it's who I am. I wanna lift your spirit, your day, change your attitude when you're down. I wanna show people a better way for a better life as much as I can. That's what it's ultimately about for me.
For those interested in staying connected to you, where can we find you online?
A: you can reach my on twitter mainly, I'm always on there https://twitter.com/JoeSauseda. Also on soundcloud, all my music goes to soundcloud first: sausedamusic. I have contact info for further inquires on both sites and of course on Get Your Buzz Up!
Joe, it's been a pleasure having you join us today! Before we head out, is there anyone you'd like to shout out or any last words for the readers out there?
Just to the listeners out there, keep a lookout for me cause I'm bringing some good stuff!! I also wanna thank you guys at "Get Your Buzz Up" for your time and the interview!
Joe Sauseda isn't afraid to be himself and remain original in a genre that's fastly becoming watered down. With songs like "My World", "Change The World" and "Originator", he shouldn't have any problem solidifying himself into the hip hop realm whatsoever. We'd like to once again thank Joe for stoping thru for this installment of our "Buzz;N" iNterview series. Until next time Buzzers, bee cool…
Interview by: @blitzb_60505