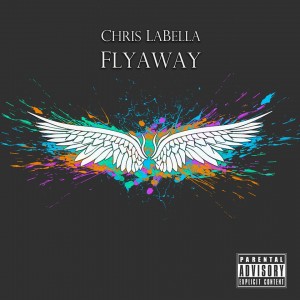 My how Chris LaBella has evolved as an artist & musician since switching his moniker from FreeQuenC and since DRT MiNDZ dropped their mixtape, "FTW" a couple of years back. With his debut EP "Flyaway" dropping November 11th, Chris aims to not only re-introduce himself to the music world but to set the bar for which all his future projects will uphold. The project features 5 tracks and 1 bonus song and is entirely self produced. Let's take a moment and get in depth with "Flyaway".
The EP starts off with "Subterraneruption", a very well produced record showcasing LaBella's guitar playing abilities and setting the overall mood to the project. "Where is my mind?/ swimming out in the water/ fluent spittin', school of fishes/ viscous like a piranha" is just one line of clever wordplay displayed thru the track.
"Head in the Clouds" speaks about an individual that is highly intelligent and very outspoken. It's a concept record dealing with the issue of ADD and how many children nowadays are being misdiagnosed and prescribed medicine for it. Once again, Chris puts his guitar to work and produces a solid song.
On "Good Times", listeners are taken on a ride down memory lane, revisiting being young and growing up. This is a great song to throw on and reminisce with old friends.
"Livin On Dreams" carries a strong resemblance to something from off a Whitey Ford project. The topic of the song is about a bad relationship that neither party wants to admit is toxic, an issue many listeners can relate to.
This brings us to the title track, "Flyaway" and features singer Paige. This is the type of song that has an international appeal to it, from song arangement, lyrics and production. "Flyaway" is the type of song to just chill & vibe out to.
On the bonus cut, "Up & Away", LaBella leans towards more of a hip hop vibe that is ideal to close the EP out with. This is a lyrical barrage of wordplay with lines like: "Interplanetary, galactic and universal/ super villians beware, if you wack, I'ma have to hurt you/ cause I'm Goku, super saiyan/ it's my purpose to murder verses".
Chris has not only set the bar for himself but for unsigned artists as a whole. "Flyaway" keeps its content solid on all aspects: production, lyricism and overall meaning. If this is a precursor as to what to expect from the Wisconsin musician, we can all eagerly anticipate all future Chris LaBella projects. Make sure to grab "Flyaway" on November 11th.
Written by: @blitzb_60505