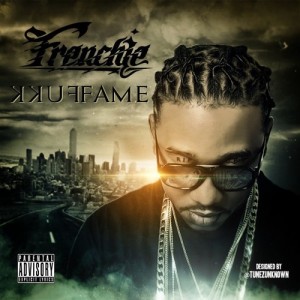 Get Your Buzz Up is proud to be joined by an artist hailing out of Atlanta, Georgia with strong tides to 1017 Brick Squad Records & Brick Squad Monopoly. He's solidified himself among the mixtape circuit with an impressive amount of releases such as his latest offering, "FUKK FAME". We are talking with none other than Frenchie for this edition of our "Buzz'N" iNterview series.
Well Frenchie, it's a pleasure having you with us today. Why don't we start things of by having you describe a little bit about yourself?
I am a rapper with dread locs and 4 children LOL!
LMAO, those are facts! Frenchie is a really interesting name. How did you end up with that particular moniker?
Frenchie is my father's name.
You grew up in South Jamaica, Queens (New York) but ended up finding yourself down south, in Atlanta to be more specific. What was the reason behind relocating, was it music related?
I had family that lived out there so I used to go back and forth to visit. I ended up staying there on one visit and boom, I became a resident.
Being cousins with Waka Flocka must be wild at times, LOL! Talk a little about your guys' relationship inside and outside of music. Any funny antics you'd care to share with our viewers?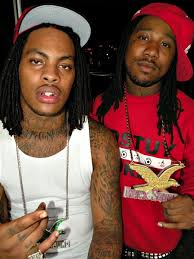 Yeah it's crazy we argue and fight all the time but at the end of the day we family so that shit fades away. We used to take baths together as kids (no homo).
ROTFL! Speaking of Waka and BSM,, you two had a huge hit together titled "Power Moves" last year. Congratulations on the success of the release! How did the song and video come about?
"Power Moves" came about while working on a mixtape. The song was so crazy and energetic. My manager told me to put Waka on it to give it a bigger bang so we did and it came out crazy, it even hit #44 on the charts! The concept behind the video was envisioned thru Max Hilva, he's dope with that video shit.
Another highly popular track of yours is the 808 Mafia produced "Dope Man". 808 Mafia not only produced many 1017/BSM records but the two of you seem to have a great working relationship together. How did you guys end up connecting? What is it about their production that gears you to working with them on tracks?
808 was around since the very beginning before all the super star nonsense, that's why and how we connected. The 808 mafia sound and bass just spells hits so it was only right to work together.
Here's a vlog of 808 Mafia & Frenchie in the studio working:
One of the singles you dropped off of your latest project, "FUKK FAME", is the DJ Pain 1 produced "Birds And Keys" which features Hustle Gang's Trae Da Truth. What was the inspiration for the track and how did you come about working with Pain?
That track was brought to me by my manager Bird who had reached out to Pain 1 after hearing the Lil Bibby record. After I heard the first 10 seconds I knew I needed to jump in the booth. Then after I laid down the verse, my team and I reached out to Trae Da Truth cause his voice and flow matched the tempo. The rest was history…
"FUKK FAME" could arguably be your best project to date. Talk about putting the mixtape together. What would you like your fans and our readers to know about it?
That it's an EP, LOL! But the EP was recorded in reality with three studio sessions, no bullshit. Shout out to my manager Bird, my label #Protekted (Jon, Karen) and Propane for helping create a great project for the fans.
So remember that "FUKK FAME" isn't a mixtape but an EP, LBVS. Where can we find you online and if an artist/ producer is looking for a feature from you, how can they go about contacting you?
Hit up my manager Bird @Birdman718_zoe for anything related to me. And as far as me www.FrenchieBSM.com or @FrenchieBSM on Twitter.
It's been fun choppin' it up with you Frenchie. Feel free to send out some shout outs homey. 
Shoutout to my label #Protekted, my manager and my family and cant forget GOD! Plus my real fans and supporters cause with out you guys I will be nothing.
With strong ties to the street and a commanding spot among the mixtape circuit, Frenchie shows no signs of slowing down his momentum. Make sure to download "FUKK FAME" today if you haven't already. We here at GYBU would like to thank Frenchie for dropping by for this edition of our "Buzz'N" iNterview series. Until next time buzzers, stay tuned…
Interview by: @blitzb_60505