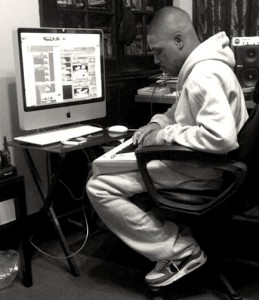 Get Your Buzz Up is thrilled to be joined by a producer best known for constructing die hard, hip hop classics such as Method Man's "Sub Crazy", songs from Wu-Tang's "Wu-Tang Forever", Killah Priest's "Heavy Mental" and nearly all of Killarmy's three albums. One in particular, "Silent Weapons For Quiet Wars", solidified him among top notch producers of that era such as RZA himself. We are pleased to have 4th Disciple here with us for our latest installment in our "Buzz'N" iNterview series.
4th Disciple, it's a blessing to have you join us for this interview segment. You have alot of die hard fans including Get Your Buzz Up. For those new to hip hop or are unfamiliar with Wu-Tang, please explain to the viewers who you are, where you're from and what it is you do musically.
Peace… I appreciate you reaching out. For those who don't know, 4th Disciple is a Wu-Tang producer extraordinaire from the Midwest area (Ohio] possessing many talents, such as DJing, sound design, audio mixing, mastering, etc.
A little known fact about you is that you were the turntablist for Wu-Tang's "Enter The 36 Chambers" which ultimately lead you into the studio working with the abbot himself, RZA. How did you come to be involved with the movement initially and what events lead you from behind the tables to behind the boards?
Well I was part of the movement way before it became a movement (i.e. Wu-Tang), I was there at its inception. I was mixing and cutting on the tables since I was about eleven years of physical age which migrated into beatmaking. Eleven sounds very young, but I was interested from a very young age and places like dj finance make purchasing the right equipment much easier and more affordable, so it's definitely possible to start at such an age. When RZA meet me I was already banging out beatz with my make shift setup. Back then I was using a Casio SK5, Akai S612 Sampler with MD280 Drive, Realistic Turntable from RadioShack, Gemini Mixer and Fostex 4-Track Cassette Tape Recorder. When I meet RZA and we began to build, I learned many thingz which helped to mold the 4th Disciple brand. Also, listening to the demos he did with clan members like Raekwon, Deck, Ghost and Meth, and a few of True Masters early demos inspired me as well. We're talking like 1990-1991.
Another little known fact that only die hard clan fans would know is that you were involved with the golden era of the Wu's music. From the "Wu-Tang Forever" double album to Method Man, ODB & Raekwon's debut albums, you played a part in the production or mixing of each project. It was a defining moment not only in Wu-Tang history but hip hop itself. What was it like working with RZA in the studio and what techniques did you pick up from him, and which album that you have participated in that you would say holds dearest to you?
I learned many thingz working with RZA but a few thingz were that he broaden my mind to different artist selections and catalogs for sampling, that old classic soul. I used to mostly sample jazz, rock and funk music beforehand and wasn't familiar with a lot of the artist and catalogs he put me up on. RZA also sparked me into viewing movies with more detail. Incorporating them into an art form and many other technical things as well such as eq, compression, using amps, etc. As far as albums that I hold dearest, I would have to say "Wu-Tang Forever", Killarmy, Killah Priest's "Heavy Mental" and Sunz of Man LPs. Many people tell me that those albums changed their lives for better conditions and it was a great experience constructing those records.
They really were groundbreaking for their time and still are to this day. The year was 1995, GZA dropped his Wu-Tang solo debut "Liquid Swords". Up until that point, RZA was the main producer of the clan. Low and behold, at the very end of the album, we get a taste of Killah Priest "B.I.B.L.E.", produced by none other than yourself! That was also a defining moment for the Wu-Tang dynasty. How did that moment come to be? When did the crew decide it was time to show other producer's talents?
The song was originally a demo that Priest and I did in RZA's Basement Studio, when we was finish they were very impressed. If I recall it was gonna be a single at first released on Wu-Tang Records. Later it found its way as a feature on GZA's debut release as a Wu-Tang Clansmen. The stage was always being prepared for me and others such as True Master and Mathematics to come thru. In the early years, Mathematics was mainly the dj before he started producing. He was the baby of the Wu production team (not in age, but in succession). He studied us (Myself, RZA and True Master) well and came into his own. It was a honor to see Mathematics unfold. (Thinking back to those times makes me smile, the good ole days).
Ah, the good ole days…. sounds like the beginning to "Can It Be So Simple". One of my top twenty albums of all time and quite arguably one of the best albums to drop in 1997 was "Silent Weapons For Quiet Wars", Killarmy's debut project. Back before social media and Facebook, Killarmy and yourself managed to literally blow up on the underground hip hop scene overnight. With fans in disbelief that there were other factors of Wu-Tang and other Wu producers than RZA things blew up. How did that project come to life? Was there alot of pressure from the label to deliver a solid project, especially at the time that everyone was used to seeing & hearing RZA beats?
Well I wouldn't say overnight. There were many factors and hard work that played a part to get us to a point of notoriety. Like you mentioned, this was way before social media so even though we had the power & popularity of the Clan behind us, which did help, to be heard or seen you had to do a lot of ground work. Which to me is what we must return to. There's too much dependence on social media and to many online promotional gimmicks. We didn't have any pressure from the label in that sense, we had creative control for the most part.
On "Silent Weapons For Quiet Wars", you shifted the entire soundscape from dirty analog drums and Kung Fu movie samples to clean drum patterns and a strong emphasize on Middle Eastern sounds. Doing so placed you among the elite producers of that time. The way RZA was able to provide the backdrops for the core Wu members, you were able to do the same for Killarmy. Please share with us what lead you into that genre of music? Killarmy focused alot on terrorism and war. Did that play a vital role in your production also?
Well to tell the truth, I had never known a genre as such till we demonstrated it. And like I mentioned before, RZA had sparked me into viewing movies with more detail and incorporating them into an art form, Prince Paul was also an influence for skit making. What a lot of people don't understand is that Killarmy, besides being a group, is also a concept of "killing the negative or ego within" (Jihad al-Nafs). That is the greatest and only war, the war of self and that is what we were striving to expound on for the most part and our music was to be the soundtrack to such revolutionary act. That's why we were on the militant vibe.
Wow, I don't know if many people even knew that. You just really put it into perspective 4th! Speaking of Killarmy, Shogun Assassin just dropped a single titled "Wile Out" which happens to be produced by none other than 4th Disciple. The song is available on iTunes here: Shogun Assassin- Wile Out. Could you talk about this track a little?
Well, that song was actually recorded around 1998 but the whole album I recorded with him was recorded over a span from mid 90's to 2k. The album recorded with him is also a part of the "Unreleased Classics Collection Series", which is a collection of music from the early 90's to early 2k's that has never been released commercially.
Word also has it that Method Man is working on a new project titled "The Meth Lab" which features some of your production. Can you speak about this project at all like release date, song's you two worked on, anything pertaining to it? We're dying to know!
Yeah, I don't know when the release date is going to be but as it stands now I have two (2) "works" that will be featured. Respects and gratitude goes to Meth and HanzOn for reaching out to me to be part and parcel to the project.
For those interested in possibly working with you and/or are looking for mixing & mastering, you provide those services online at 4thdisciple.net. For those that are interested in doing so, please explain how both processes work.
The process is explained in detail on the website.
Where can we find you online sir?
4thdisciple.net is the base, from there you can connect to the various social networks, etc. Also you can find tracks that will only be available exclusively on the website for download. We have a lot we are preparing for the people.
Everybody make sure to head over to the site and check it out, especially for the Wu fans. Lastly, is there anyone you'd like to thank or shout out?
I would like to thank Allah (SWT) and all people who have been supportive over the years, thru my ups and downs. May Allah BlessYou All. Peace & Love…
From working the tables very early on in his musical journey to becoming a pivotal part of the entire Wu-Tang movement, 4th Disciple managed to solidify himself during the most memorable period in hop history. In an era where the internet was just beginning to take over. He will forever remain a legend in the hearts of Wu-Tang, Killarmy and hip hop fans. We want to thank 4th Disciple again for his time, his music and for taking part in this installment of our "Buzz'N" iNterview series. This is Blitz for GYBU, we will see you next time. Peace
Interview by: @blitzb_60505