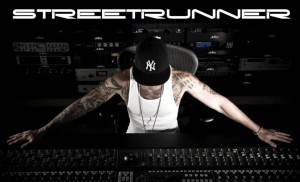 GYBU is back with the next chapter of our "Buzz'N" iNterview series. For this edition, we are blessed to be joined by a producer with a long list of credits ranging from Fat Joe, Lil Wayne and Eminem and that's just being modest. He is also platinum certified and holds a Grammy Award for his work on Lil Wayne's "Carter III" album. He also is working with Miami singer/rapper AdELA. Ladies and gentlemen, we're proud to bring to you STREETRUNNER.
STREETRUNNER, we're glad you could find the time to conduct this interview with us. Let's start things off by having you talk about your musical background and how you initially got into producing.
I got into music back in the early to mid 90's when I started DJing. I got my first DJ mixer, Technic 1200 turntables and began getting into scratching and battle DJing. I did that for a couple years, rocked a few house parties/ clubs, then realized I wanted to start making the music I was DJing. I got my first sampler and just started looping anything and matching it with drum breaks. I'm not going to lie, I was a little clueless back then. There was no internet or way to really research how to be a producer so it was all trial and error. I eventually jumped on the SP1200 drum machine where I learned how to chop up samples with limited sample time.
I rocked on that for about a year and then by 1999 I bought a MPC 2000XL which I still use in my studio to this day. A friend of mine suggested that I replace it soon with a Numark Mixtrack Platinum FX, but I love my MPC, even though I've had it for a long time. Maybe in the future, if I need another mixer, I'll get it, but I told him I was good for now. As I got better I would let local kids rock over my beats. Eventually giving everybody free studio time and beats got played out. I eventually started focusing on my music and crafting my sound. Thats when I met my homie Jay. He believed in my music and became my manager. We knocked on every door trying to get every executive, A&R, manager or artist to hear my beats. Less then a year later, we placed the Terror Squad record "Take Me Home" and it went on to be the second single released from that album.
So you landed a big placement with Fat Joe & the Terror Squad's "Take Me Home". Then in 2005 you hooked back up with Fat Joe for "Intro" (All Or Nothing). How did your relationship with Fat Joe begin?
I met Joe thru my homie Mike Beck (R.I.P) he called me up one night and said they were at the club and to be out there so he could introduce me to Joe. After I met Joe I got the invite from Khaled to come to the studio where they worked on the TS album. I would play beats for Joe and he seemed to always like everything he heard. After a couple of months I went on to sign with TS under management. That agreement came to an end but I continued to rock with Joe and make classic records to this day.
Word traveled fast of your production and your next accomplishment was working with Lil Wayne on "Carter III" which eventually lead to Grammy Nominations and an award. How did you manage to get connected into the Cash Money/ Young Money network? What was your reaction when you heard "Carter III" won Rap Album of the Year in 2008?
I met Lil Wayne thru Macho at the Hit Factory parking lot. Shit was really cool… Wayne was cool as hell! He just dropped "Tha Carter II". I was lucky cuz I had a beat cd in the car and I was able to pass that to him. Later that night we were in the studio with Joe when Birdman came in the session and said you gotta hear what Wayne working on for "Tha Carter III". I didn't think nothing of it so I went up to listen with Joe and thats when I heard "One Night Only", "Trouble" and "Rappa Pom Pom" finished. I was like damn I just gave Wayne this cd 3 hours ago and he had 3 finished records just like that?! At that point I knew this man was going to be a beast and he had something to prove so I rocked with him ever since. A lot of my records were lost in the leaks but I was happy to have "Gossip" and "Playing With Fire" placed on that project.
You then started working with Royce Da 5'9″ in 2009 on his "Street Hop" project which eventually landed your beat on the song of Royce's that featured Eminem on the chorus titled "Writer's Block". The beat was produced by yourself and your co-conspirator Sarom. The two of you have amassed quite a list of production credits together. How did the both of you come to form this production duo? What do you feel the advantages & disadvantages are between producing solo and collab producing?
I wouldn't call us a production duo. We are both separate entities. I met Sarom thru another producer, Steve Morales. I always thought Sarom made dope beats. One day he hit me that he was in Miami and we met up. We chopped it up and began working. Sarom is dope, I am dope, so when the two of us came together dope shit happened. We both have a strong work ethic so we banged out a lot of tracks together. I would say that is part of the advantage to working on co-productions, you are able to make a lot more tracks. I can't really say there is a disadvantage. I co-produce with a lot of other producers still to this day.
Speaking of Eminem, you were responsible for producing one of the toughest beats on his latest album, "MMLP2". Of course we are talking about the very first song on the album, "Bad Guy". When creating the track, did you have the intentions on making it solely for Eminem? What was your reaction finding out your beat was merged alongside S1's beat?
Yes, I made that beat and I knew right when I was finished Eminem would take it. I was very confident. No other artist heard that beat except for Eminem. I made it and about two weeks later I got confirmation to hold it down. I was hype!!! When I found out the record was combined I thought it was crazy cuz S1 is the homie. We actually made a few co-productions together. I'm not going to lie I would have liked to have my own spot light on the album but at the same time I made it on a fucking Eminem album. So its all good!
Yessir, that's a huge accomplishment! So now you've been working with a female artist out of Miami by the name of AdELA for a few years now and she just recently dropped her first single "I Was Waiting" from her upcoming "Off The Burner" project. Will you be producing the entire album or just some of the songs? Also, what is it about her musical traits that keeps you so motivated to work with each other?
Yes, AdELA is dope! I consider her one of my artists. I produced the majority of her project so far. We have a certain formula that works. She allows me to produce for her with the confidence that she will receive the best product. It's working so far and soon I'm sure the fans will agree.
For producers looking to submit beats for placements, what advice can you provide to them on how to go about that pathway? What method do you use to shop beats?
Deal with artists directly. Try to cut out the middle man. They just slow down progress and fuck everything up.
What upcoming productions do you have releasing this year? Any chance of a STREETRUNNER production project?
I got some new heat in the works with 2 Chainz you should be hearing soon. Lil Wayne, Pusha T, Lupe Fiasco and others. I'm also working with alot of new artists to add onto the Run The Streets brand and I'm looking to start scoring movies.
Where can our readers find you online?
I'm on Twitter @SRbeats, IG @streetrunnermusic and I have my own website in the works www.STREETRUNNERBEATS.com.
Lastly, is there anyone you's like to shoutout?
S/O to my fam AdELA, Rugah Rahj, Vinny Venditto, I.L.O, Sarom and Dizzy.
With a long list of solid credentials, established artist relations and groundbreaking production skills, STREETRUNNER shows no signs of letting up anytime soon. The game really needs producers such as him to keep pushing the envelope and creating timeless pieces. We want to thank STREETRUNNER for taking time away from behind the boards and taking part in this installment of our "Buzz'N" iNterview series. Until next time Buzzers, bee easy.
Interview by: @blitzb_60505