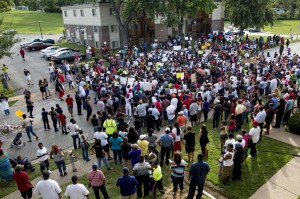 Update: Last night started peaceful as protesters took to the streets again a week after the shooting of Michael Brown. However a peaceful protest turned into a standoff between protesters and looters outside the liquor store where Michael Brown was suspected of stealing cigars. The night ended again with police having to use tear gas again to break up the looters and protesters.
Update: Now that Gov. Jay Nixon announced Thursday that the Missouri Highway Patrol will take control of security in Ferguson and that the unit in the embattled town would be overseen by Capt. Ron Johnson, who was born and raised near the community things look like they could be headed in the right direction.
Kimaly Diouf, co-owner of Rehoboth Pharmacy, said the reason for the difference was simple: "Because they're not tear gassing us tonight."
Captain Johnson, who is African-American and grew up in the area, said: "We're just starting today anew. We're starting a new partnership today. We're going to move forward today, to put yesterday and the day before behind us."
Update: Obama speaks on the events that transpired last night in Ferguson MO. Also Today, senior leaders began to call for what Missouri Gov. Jay Nixon dubbed, "a different tone." Both Nixon and Sen. Claire McCaskill, D-Missouri, said the police need to change how they handle the protests.
"We need to de-militarize this situation," Sen. Claire McCaskill, D-Missouri, said today in a written statement. "This kind of response by the police has become the problem instead of the solution. I obviously respect law enforcement's work to provide public safety, but my constituents are allowed to have peaceful protests, and the police need to respect that right and protect that right. Today is going to be a new start, we can and need to do better."
Obama Speaking about Ferguson:
Watch more news videos | Latest from the US
Obama talking about Iraq and Ferguson:

Update:
After the live feed stopped after about 30+ minutes we started searching for more angles and more footage and we have found some more from a different angle and closer.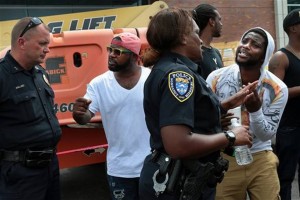 This is a live broadcast of the events going on in Ferguson, MO