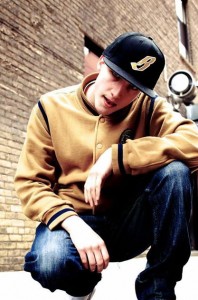 GYBU is back once again for another installment of our "Buzz'N" iNterview series. For this edition, we're pleased to be joined by Wisconsin emcee Tom Blonde who just so happens to have released his debut album, "Blonde Bombshell", on August 5th. So without further ado, let's get into it.

Firstly, we'd like to thank you for taking part in our interview series Tom. Please explain to the viewers who you are, what style of music you make and the meaning behind your moniker Tom Blonde.
I am an emcee creating some hip-hop in my own unique style, somewhere between grimy and lyrical; I make music that's dirty in content but intelligent in it's presentation. My lyrics are often descriptions and illustrations of Tom Blonde as a character, behaving obscenely and disturbing the peace in many vulgar ways.
As for the name itself, it occurred to me in high school. I was doodling an evil, Frankenstein-looking face and I named the character Tom Blonde. It wasn't until years later that I took the name upon myself for the purposes of hip-hop. The name doesn't really have any hidden meanings, it just really stuck in my mind the way it rolls off the tongue.
So you just released your debut project "Blonde Bombshell". Congratulations with that! Why did you decide on that as a title and what artists/ producers are featured on it?
I chose the title "Blonde Bombshell" as a play on words, normally it refers to an attractive woman of the blonde persuasion, but it in the context of the title the phrase is much more literal. The theme of this album is that Tom Blonde's life has gone to pieces, he can't handle the stress anymore so he builds and detonates a suicide bomb to kill himself and everyone around him.
This album has some great production and also a couple appearances from guest emcee's. The album contains beats from Rawz Option, Duke Daeo, And Oz, as well as featured verses by Rawz Option and Black Zeus. The whole thing was mixed and mastered by Flip Phil, and he also did some nice cuts on a few tracks.
You've dropped two singles from "Blonde Bombshell" this far, "Bastard Tom" was the first of the two. With the sharp organ riff and grimy drums, the song gives off a hardcore feeling to itself. What was the influence behind the creation of the track?
This track is a personal favorite of mine, it is one of the most evil tracks on the album and I say that endearingly. When I first heard this beat, I knew that the lyrics would be deranged and malevolent in nature. The song itself is an illustration of Tom Blonde at his worst or as "Bastard Tom". The lyrics describe him victimizing almost everyone and perpetrating most types of crime.
The second single is titled "Bombsquad" and features Rawz Option. This particular cut has a very nineties hip hop vibe to it. Was that the direction you were aiming for? How did you and Rawz link up?
This song really illustrates the plot of the album, where Tom Blonde blows himself up to end it all. I think Rawz brought a lot to this song, on the hook and especially on the third verse where he vividly describes a descent into insanity. I like Bombsquad because it manages to be a very fun and upbeat song in spite of it's dark lyrical undertones. Rawz And I met back in 2009 when we were both going to college in Milwaukee, we both had hip-hop interests and would freestyle together and hone our skills back in the day.
Aside from your solo endeavor, you are one half of the musical duo The Syndicate, alongside Black Zeus. Could you shed some light on The Syndicate, it's direction and if there is any new music underway for you two?
Black Zeus and I started The Syndicate when we both lived in the twin cities. We had a really dynamic sound because of the contrast between our styles, I have a more aggressive, faster flow and he has a flow that's very smooth and mellow. I feel his style a lot because he's pretty well read and throws some smart, intellectual references into his rhymes, that's not too common in hip-hop these days. We still work together even though we live in different cities, though it's usually under our individual names now. He's got an ill verse on the song Reality off the new album.
You name Cage & Company Flow as your main inspiration for creating your own spin on hip hop music, why is that?
Those are some of my primary influences. Others include: Camu Tao, RA The Rugged Man, Tha Alkaholiks, Canibus, Mobb Deep, Dusted Dons, and Copywrite. Lately I've been bumping DJ Przm in my whip, I like aggressive hip-hop with strong lyricism but I feel a sense of humor is very crucial to a well-rounded style. I feel that's what draws me to many of the artists I like is the ability to entertain the audience and make them laugh, I include humor as a fundamental part of my style, I think it may be my favorite aspect of hip-hop.
Are there any videos for "Blonde Bombshell" dropping in the near future or any other projects you are a part of our readers should be informed of?
There aren't any videos on the agenda, they would likely be too horrific and traumatic to viewers. I have been working on a project with Rawz, we've got some tracks together and are looking to release them sometime in the near future, so keep your eyes open for that.
Other than music, what other talents or skills do you possess? What's else is in store for Tom Blonde in 2014?
I am intelligent, creative, and well-hung. I've been trying for a while to learn production, but it's very different than emceeing and i'm still learning the ropes. I hope to release another solo project in the future, probably sometime in 2015.
Tom, where can we find you at online?
I can be found starring in numerous adult videos on the web but if you're looking for my music online, you can download the album for free at tomblonde.bandcamp.com.
Also peep my page at facebook.com/tomblondehiphop for my latest wrongdoings.
LOL, so it sounds like you've got a back up plan in porn if the music thing dies out! Last but definitely not least, is there anyone you'd like to shout out or give thanks to?
I'd like to shout out to Flip Phil for recording and mastering the album, Rawz option for the verses and beats, Black Zeus for his verse, and Oz for providing the beats and interludes.
Tom Blonde is poised to continue on the hip hop tradition with his album "Blonde Bombshell" and shows no signs of slowing down for anything. Make sure to grab yourself a copy and stay tuned to Tom online for future releases. This is GYBU with another installment in our "Buzz'N" iNterview series, so long until next time.
Written by: @blitzb_60505